20+ Components of Successful Channel Management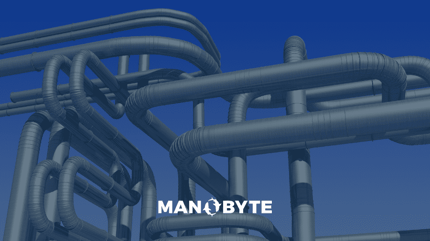 To be successful at managing your channel distribution strategy requires intentional management by you, the manufacturer, and yields highest returns when your partners are enabled to sell more, sell better, and communicate active sales deals to you.
To set up your channel for success, manufacturers must invest the resources into a solid through channel marketing automation strategy to complement existing channel activities.
What is Channel Management
Channel management is a system where you first identify the best distribution channels to get your building product into customer's hands, and then provide those channels with resources to obtain maximum results. Broadly, it is the channel marketing automation and channel sales enablement strategies you are using to capture and satisfy various customers. Channel management encompasses the creation, development, and delivery of marketing and sales tools, information, and resources to your distribution partners, your vendor channels, and indirect sales representatives.
Effective channel management requires the right tools and the right people in the right place. It requires that you focus on solving for your customer's customer.
Use channel management strategies to recruit, engage, guide, and grow highly engaged channel partners. Effective channel management is the difference between achieving your and your partners' desired end goals–generating more indirect sales revenue– or developing channel conflict, which isn't good for anyone.
Channel Management Requires Optimizing the Entire System
Your channel marketing strategy is like a plumbing system. The well pump represents your top level lead generation efforts as a manufacturer; the piping represents your channel distribution network; the faucet represents deals that are won through effective sales tactics by your indirect sales reps.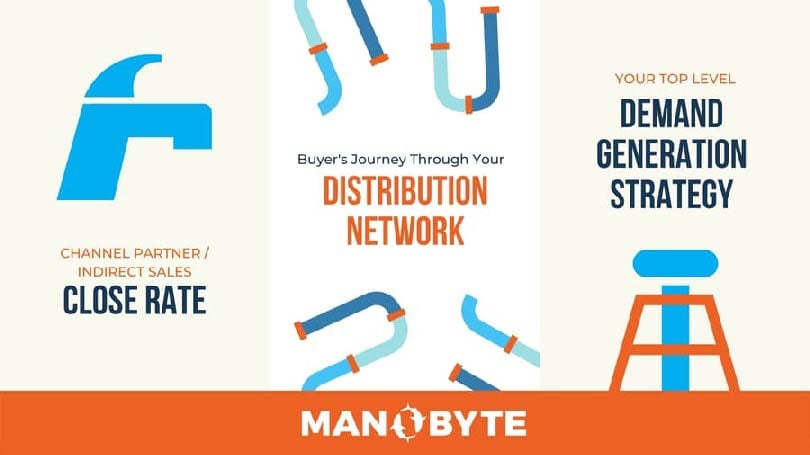 Too many channel strategies stop short of fully delivering on their potential revenue because the manual or non-existent lead routing process is like a broken plumbing system. Then, even when the channel system is effectively set up, manufacturers must generate leads for partners to close.
If you have a great end user lead generation strategy, but poor lead routing and follow through by your partners, your revenue potential will be much higher than your actual revenue, because sales will be lost to cracks in your channel. You're pumping a lot of water, but you have a leaky system, and so very little of it makes it out of the faucet.
If your channel network is set up optimally, but there is not a top level lead generation strategy that is effective, then you may not be losing sales to leaks in the pipe, but you could increase your revenues by generating more interest to send through the channel.
If your indirect sales partners have inadequate sales tactics, it doesn't matter how much demand for your products you generate to send through the channel because poor sales close rates by your channel partners is acting as a broken faucet - leaving a mess on the floor and tarnishing your brand image.
As the prospects flow through the system, they should be routed to the entity or person in your channel who is best suited to get them to make the purchase in the right timing.
It's common for manufacturers to disregard B2B customers on their websites, but what happens when an end user seeks out your website, ready to purchase, but is unable to find where to buy your products or who to purchase from?
How To Improve Your Channel Management Strategy
You need a solution that fits in with your existing channel marketing strategy and does not create channel conflict like eCommerce or third-party marketplace listings might. You also need a solution that does not require large investments from your indirect sales partners. Fortunately, you can make a few couple tweaks to the digital footprint that you directly control and optimize your channel sales pipeline.
These solutions fall into three main categories: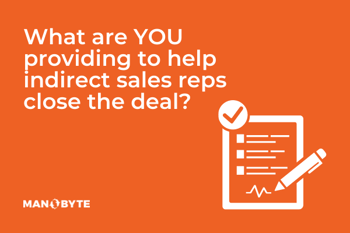 #1: Increase Partner Sales Close Rates
You can fix the "leaky faucet" by implementing channel sales enablement measures like sales training, sales playbooks, deal closing materials, lead nurturing templates, a channel account manager to help indirect sales reps close the deal, and other tactics.
#2: Improve the Omni-Channel Buyer's Journey
Then, you can improve the buyer's journey through your channel by implementing through channel marketing automation measures, for example, housing a partner directory / product locator directory on your website. Taking that one step further, you can automate lead routing using various channel management tools, which is good for partners and customers alike.
If your HubSpot website does not have this capability already, you can download and install the "FindIt" app from the HubSpot App Marketplace. The FindIt app lets you add and customize filter and search functionality onto your HubSpot website with no coding experience required. Simply use the drag-and-drop module along with a HubDB table to add filter and search functionality for your partners, products, locations, staff, agents, resources, and more. Learn more about the FindIt App and how to improve your through channel marketing lead routing with it.
#3: Improve the Flow of Prospects through Your Partner sellers
Finally, you can increase the volume and rate of leads being sent through your channel by implementing inbound and content marketing. It's a fallacy that distributors and partners are your customers and consequently that what is tracked as "leads" need be solely new recruitment opportunities.
That's only a piece of the opportunity pie that your website should be generating. A large piece is to generate demand for your products, guide end customer prospects through your website content, and ultimately route purchase ready prospects to your partners. This means all website leads should be being nurtured into customers, and if they are not, your inbound & content marketing approaches need attention.
Pump more to your channel partners rather than assuming they can siphon leads into their own sales pipeline for your sake.
K.I.S.S. method of channel marketing
The keep it simple silly method works in channel management as much as it works with most things in life. The simpler you can keep your complex relationship, the more lucrative and functional it will be. Some ways to keep it simple are:
Pay attention to your partners' experiences and be responsive to their needs.
Create frictionless processes and systems
Make resources readily available - human support and digital support
Educate and train
Strategize together and often
Components of Successful Channel Management
No channel management program will look exactly the same because there are so many variables between enterprises, even just within the building products space. What CAN be similar for organization who leverage channel partners and indirect sales models is the framework and tactics deployed to improve revenues from partners. Below we have illustrated the framework and tactics that ManoByte most often deploys when aiding in channel management program strategy and development: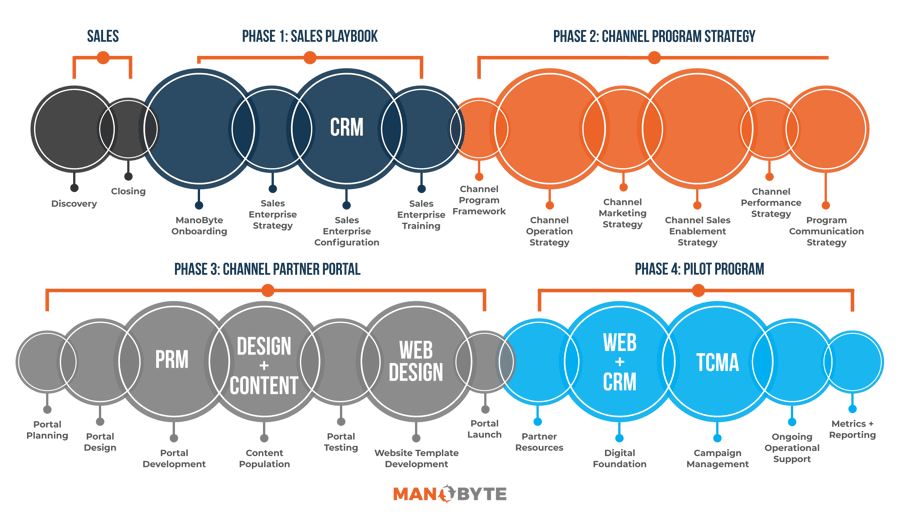 A Channel Management Program is the culmination of various other strategies that many organizations are often deploying in piece-meal fashion rather than as a seamless indirect sales driving system. Included in a successful channel management program is, at a minimum, these strategies and tactics:
Channel Sales Readiness Checklist
At a high level those are three ways to improve revenues from your existing channel distribution network. Implementing most of this will take time and will happen over iterations, so we recommend you start this week by solving first for "self-serve" lead distribution. A solution of this sort will make it simple for end user leads who land on your website to find a distributor's information to make a purchase from.
Know that you have a leak in your channel system but not sure where to start to fix it? Utilize this Channel Growth Readiness Checklist to identify where to focus first to improve your channel sales strategy.
Ready to Dive In?
Work with our team of HubSpot experts and watch us take clunky systems, tech stacks, websites, and portals and turn them into tailored, intelligent workflows that deliver business outcomes.