Sales Enablement Solutions
A Technically Smooth CRM Implementation Process With Robust User Training and Personalized Sales Enablement Materials to Ensure Successful CRM Adoption Across Your Organization
Don't Just "Get" a CRM
Sales enablement is more than just purchasing SalesForce, HubSpot, Netsuite or another CRM. We specialize in migrating the complex ecosystem that relates to running a mid-market b2b operation onto a CRM that you and your teams will actually use.
We'll work with you to write intentional sales playbooks, develop necessary custom CRM functionality, train stakeholders on proper system use, and provide ongoing team support and system improvements to streamline your direct and indirect sales processes for years to come. (Because we firmly believe you shouldn't have to migrate your CRM ever again.)
CRM Implementation Plan
ManoByte has helped over 150 companies implement HubSpot's CRM, Marketing Automation, Sales Enablement, and Operational Services tools. Leverage our team of Web Application Developers, MarTech Nerds, Integration Aficionados, Indirect Sales Enablers, and Inbound Marketing Strategists to sell more products and services, better.
CRM solutions give sales and marketing teams the ability to automate many administrative and data-entry tasks as well as create more meaningful relationships with customers. CRM solutions can also support indirect sales channel management in conjunction with your PRM.
We've implemented the HubSpot CRM for teams with fewer than ten users and over a hundred users and everything in between. Every CRM migration is custom to your sales operations and team needs. While time varies considerably overall for CRM implementation, for a mid-market b2b company who needs to train between 50 and 100 people on the new system, the process takes about 11 months to a year. We set up the system to work for you rather than try to fit you inside of a CRM box.
CRM Implementation Process

CRM Strategy
As we start your CRM implementation project, our first priority is understanding your sales processes and knowing who owns the leads / contacts in your database and why. For example, are leads assigned based on purchase type? Based on territory? Based on other factors? We uncover this information from the very beginning because it will inform the remainder of the implementation process.
We also look at how new contacts are added to your database and work with you to outline a plan to automate data entry where possible and to optimize data entry efficiency when automation is not possible.
Our team will also work with you to define the stages of your sales pipeline(s) and setup any automation related to your sales funnel. Once we nail down the CRM strategy to deploy, we take the next steps.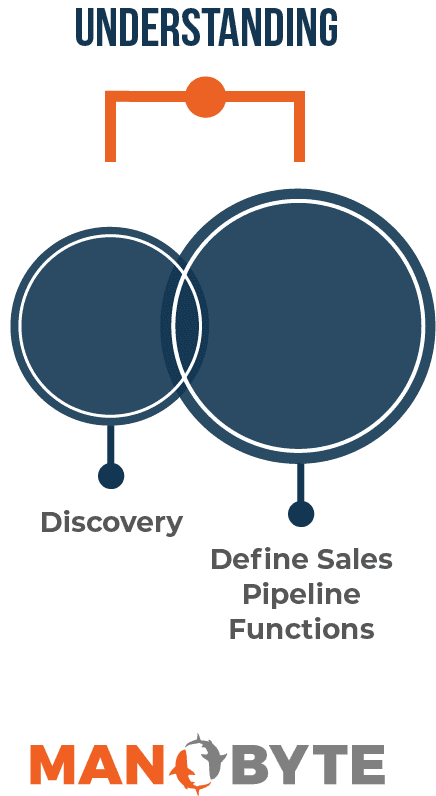 Migrating Data
Oftentimes, there are thousands and tens of thousands contact records that need to be collected from more than one system (and spreadsheets); scrubbed; and sorted into relevant lists that reflect your customers, current leads and prospects, vendors and partners, and other contact types.
We recognize that this overwhelming task is often what holds manufacturing teams back from taking the next step onto a better system. That's why we come alongside your teams to work through this undertaking together, in a manageable and proven way.
During this stage of your CRM implementation we will also define and create any custom contact, company, deal, and service properties so that your teams have all of the RIGHT information at their fingertips.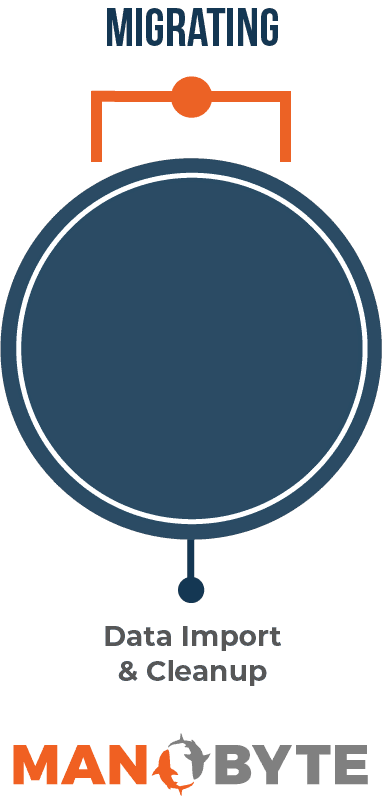 Configuring Sales Operations
During the CRM Strategy phase, we gained an understanding of your sales operations, deals management needs, and sales funnel automation needs. After importing your contact data and getting it organized we move on to setting up your sales pipeline.
During this stage our focus is on creating your sales pipeline(s) and customizing the deals stages for each pipeline. This includes mapping win probabilities to enable sales projection reporting as well as fine tuning the details of each deal record. We will set up necessary automations, internal and external instant communications automations, and configure lead routing among implementing other necessary configurations so that your CRM works they way you and your team does, not the other way around. Now that the platform is set up, we start connecting the platform to your other business tools and setting up each individual user's permissions and functionality within the CRM.
Each user will have an individual account and we will coach them through
configuring their Google or Outlook email inbox both to and from the CRM,
setting up their personal ""schedule a meeting"" calendar
creating sales email templates, sales documents, snippets, and sequences
While we do hands on work with team members at this juncture, we have more in-depth training we go through with everyone a bit later."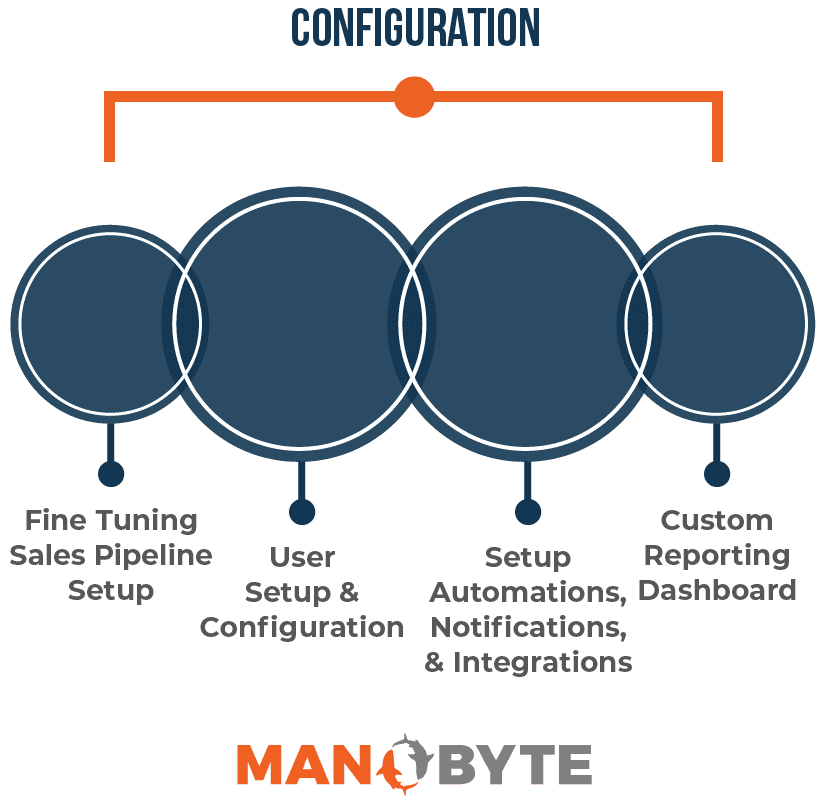 Beta Launch
As with any new CRM system that teams both large and small are transitioning to, there's going to be a learning curve. Our top priority is your success, so we will come alongside your team in group training sessions and individual training sessions to bring everyone up to speed. This last step is crucial because without team-wide adoption of the CRM, the value decision makers will get out of the tool will be greatly diminished. You can choose to launch the new CRM with a group of Beta users, or Super Users who will manage the adoption of the CRM by other team members, to iron out any kinks before a full rollout across the entire organization. The ManoByte team will be alongside your leaders each step of the way to fine tune the CRM system, automations, integrations, and customizations to ensure your team can work well with the new system.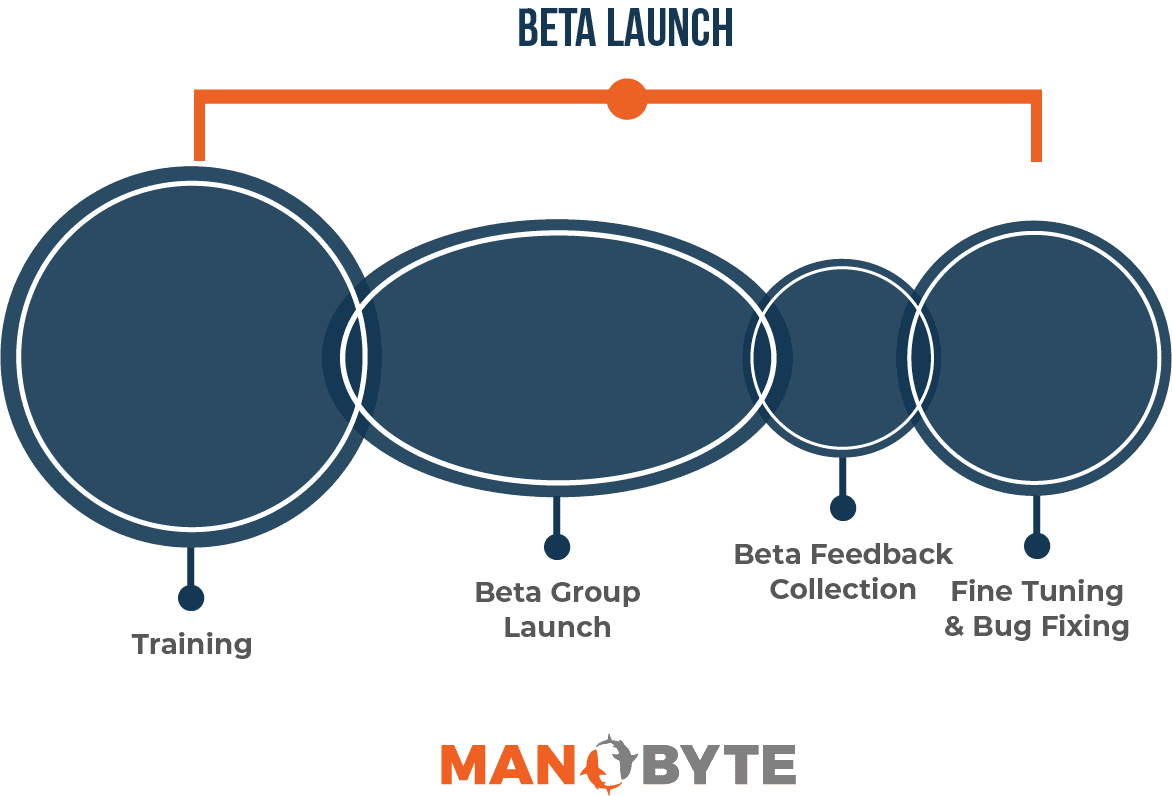 Full Rollout
Full rollout and User Training is a substantial portion of the CRM implementation project and is one of our highest priorities for the project because without user adoption, there is less benefit to your organization. We are then available for continuous improvement via creation of new custom reports, keeping data clean, creating new automations, adding and training new users, etc on a retainer basis.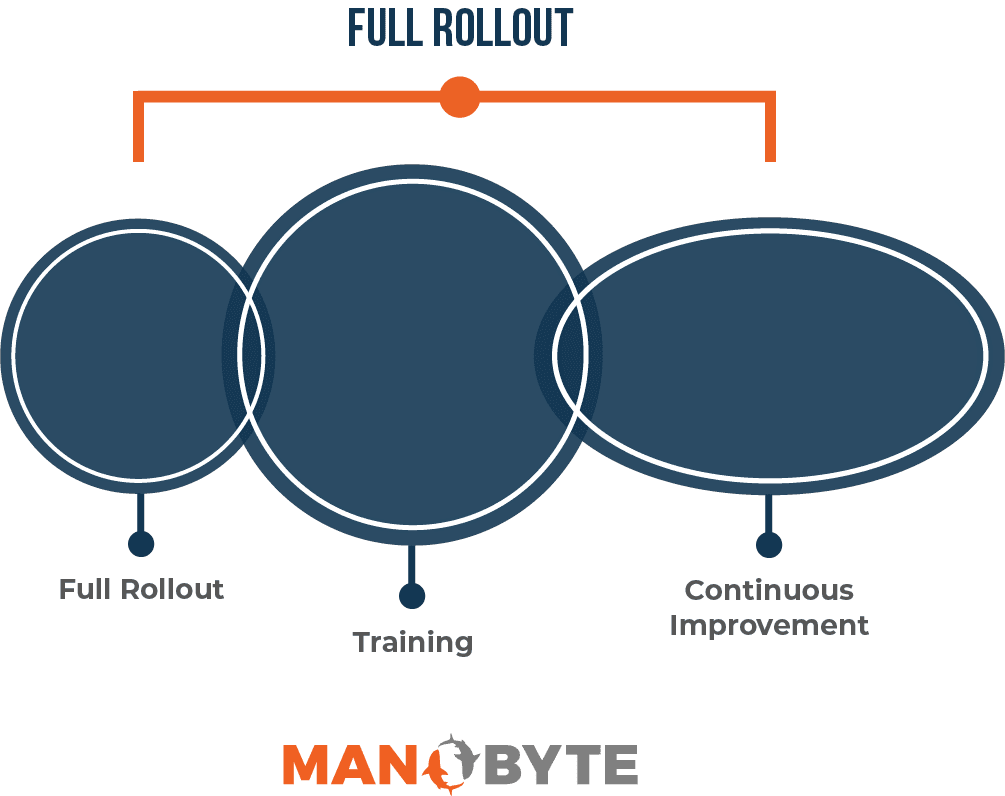 Don't Just Take it From Us
"Having come from a semi-structured idea of our CRM layout, they were able to help us dive into what we really needed to focus on to continue to extend our brand and voice in our industry and create new meaningful content with direction and goals. Great experience, would highly recommend their expertise!"
3rd Time's the Charm
When UFP Industries came to ManoByte, they had tried implementing a CRM throughout their organization two times prior, both times unsuccessfully....
The missing key was sales enablement integrated with the CRM launch to ensure successful user adoption of the tool into their day-to-day operations. Here's how ManoByte ensured the third time would be the charm.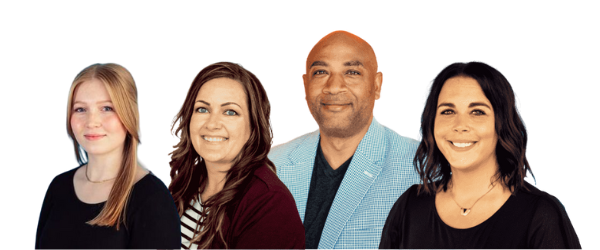 Contact Us
ManoByte has helped over 150 companies successfully implement HubSpot tools.