The Impact of Lead Generation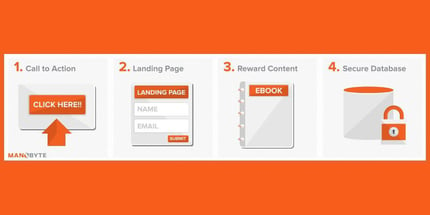 One of the most important part of any inbound marketing strategy is lead generation. After all, attracting visitors to your website only benefits you if you can convince them to take an action when they get there. Leads generation is a significant part of the second stage of the inbound marketing methodology--which is conversion.
What is Lead Generation?
Lead generation is the act of convincing a visitor to give you their contact information so you can get in touch and make the sale. In most cases, this means getting the visitor to sign up for an email list, but it could mean collecting a telephone number, social media contact information or a physical address too. You should design your pages with a prominent "call to action" buttons or forms. This step of convincing a visitor to give you information is what turns them from a visitor into a lead.
Nearly anything you do as part of your inbound marketing strategy can generate and cultivate leads. When you create content, think beyond SEO and provide information that convinces visitors to take an action. When you build connections on social media, plant the seeds for conversion. When you can answer the question "What is leads generation?" and start implementing it in your activities, you should see a dramatic increase in your conversion rate.
Why is lead generation important?
Did you know that in inbound marketing between five 10 ten percent of qualified leads convert to a sale? This means that up to one out of every 10 potential buyers who are those that express interest in your product or service usually by submitting an email address in exchange for receiving a promotional offer, will become a paying customer. When you factor in that for most businesses each qualified lead costs $135 in marketing costs, your takeaway revenue can be significant.
A software company's average product costs $1,500. It spends $10,000 on an inbound marketing campaign promoting an eBook that results in 246 leads captures. If they nurture and develop these leads at a better than average level of competency, they generate approximately $111,000 in sales. With a profit margin is 35 percent, the profit is $28,850.
If you have a lower potential revenue due to a relatively inexpensive average sale price or low-profit margin, you may need to operate with a leaner marketing budget, which is highly feasible considering that the top leads generation efforts are either already necessary and included in your existing marketing budget or are relatively easy to create. An email marketing campaign and a business website stand out from a category including social media, blogs, press releases, pay-per-click advertising and email signatures, as the most effective leads generation strategies, according to a survey of 42,000 business members of LinkedIn's B2B Technology Marketing Community sponsored by IDG Enterprise.
How does lead generation work?
In leads generation you would need:
A call-to-action: An offer that promotes an eBook, discount coupon, complimentary product, consultation or other introductory teaser, to the web page visitor.
A landing or lead generation page: A web page that advertises a call-to-action, and requests in exchange on a form valuable contact information from them, such as an email address, phone number, mailing address or demographic data, such as age and gender, that you can use when your sales department proceeds to lead nurturing or contacting them afterward via the available contact channels provided.
A process for storing the lead contact details: A database, sales software, or third party marketing management to categorize the leads and keep the contact details on file for future use.
Small details can influence the success of a leads generation campaign, such as placing the call-to-action button on the landing page, which leads to a second page where the contact details form is located. It may help to consult with a digital strategist to ensure that your inbound marketing strategy and marketing efforts are maximized.
Ready to Dive In?
Work with our team of HubSpot experts and watch us take clunky systems, tech stacks, websites, and portals and turn them into tailored, intelligent workflows that deliver business outcomes.