How Manufacturers Should Sell Through Distributors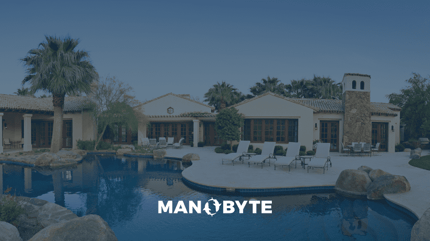 Selling through distributors can feel like a complex maze to navigate, but it doesn't have to be. Using some key components you can make the most of this relationship.
At the core, is understanding that your distributors are an extension of your business and not a separate entity. The more you connect with your distributor base and their role within your sales channel, the more you both stand to profit.
Foundation for Selling Through Indirect Sales Partners
Following are some essential keys to understanding how to sell through distributors and develop a strong, effective network.
Offer Real Value.
Whether you are developing a new distributor relationship or enhancing a partnership held for years, one vital key is the value you provide as the manufacturer. Besides the obvious profit level available, your distributors are looking to you for a complete package including sales and marketing support. Do you assist in drawing in the final customer? Is your marketing scalable for your distributors to easily use and share? Does your sales material offer real information that informs and provides solutions that your distributors can offer to your final customers? Having a solid inbound marketing plan offers valuable support for your distributors.
Be a Team Player.
Even though you, as manufacturer, and your distributor have different roles within the sales channel, you are still on the same team, with the same end customer. How well do you know your distributors and their respective businesses? Get to know them, the size of their business and the unique challenges they face. Understand the characteristics and personas of the end customer so that you are all sharing the same information and offering the right solutions. Ensure that ongoing support and service are always available and that your distributor is not working alone.
Create Opportunity for Growth.
Your products are just as important to their success as well as your own. Conduct regular and ongoing sales training and communicate new product introductions and enhancements well in advance. Clearly define goals, how they will be measured and the advantages of surpassing expectations. By having a layered sales and marketing strategy, your distributors will have an arsenal of materials at their disposal to attract, convert, close and delight your shared customers.
The common thread in understanding how to effectively sell through your distributors is partnership. By offering real value in an effective sales and inbound marketing program you can gain momentum as a cohesive team, poised for future growth.
So, how do you make all this happen?
Step 1: Use Through Channel Marketing Automation
To sell effectively through distributors, use through channel marketing automation.
Your partners aren't closing deals, your materials are being value-engineered out, and demand for your building products is dwindling. You need a way to engage partners to sell more and sell better, a way to prove the value of your materials, and a way to increase buyer interest in your products. In other words, you need through channel marketing automation.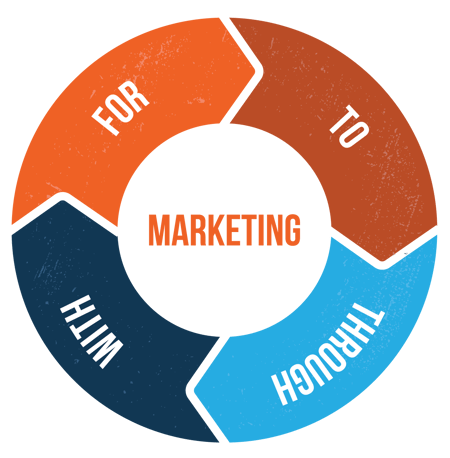 Through-channel marketing automation (TCMA) is a channel marketing technique designed to help businesses who sell primarily through a distribution network, such as building products, construction commodities, pool and spa components, and beyond. TCMA gives these companies the ability to scale channel wide marketing efforts, ensure a consistent message across all distribution partners, and gain visibility in partners' sales pipelines. Here are more of the basics of TCMA.
Intended specifically for the needs of indirect distribution networks, through-channel marketing automation simplifies marketing to, through, with, and for distribution partners and gives manufacturers more insight into their marketing performance.
Step 2: Systematize Partner Relationship Management
It is still commonplace for the primary partner relationship management mix to involve emails, emails, emails, and spreadsheets. Accountability across the board is near impossible with this kind of "system." It is possible to conduct a TCMA strategy without a PRM, but we DO NOT recommend it for risk of increasing parter and employee turnover due to disorganization and inefficiency.
We recommend utilizing a PRM or developing a custom partner portal at a minimum. We endorse MindMatrix because part of MindMatrix's complete channel enablement platform is a host of through channel marketing automation (TCMA) tools, like social media automation, email marketing, localized campaign automation, and content syndication. MindMatrix will also integrate with over 15 different CRM providers, including HubSpot and SalesForce.
Must have features in your PRM or partner portal include:
Partner Contract Management

Onboarding Management

Lead & Deal Management

Market Development Fund Management

Content Syndication

Campaign & Asset Library

Co-Branded Landing Pages

Product Details Management

Partner Support Management

Integration with Your CRM
Step 3: Use the REGG Framework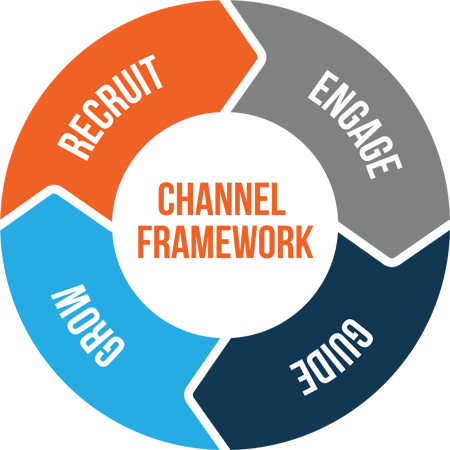 We recommend using an approach we've coined as the "REGG" framework for indirect channel selling.
Recruit
Engage
Guide
Grow
When you take the time to understand your dealers and distributors problems and provide them solutions, they will reciprocate with loyalty and more eagerness to sell your products above your competitors'. Further, when you drive demand for your products through strategic content marketing and then route leads to your partners, end buyer leads will not fall through the cracks.
RECRUIT
Some manufacturers opt to measure the number of new partner leads that results from their website and online presence. If one of your objectives is to increase the number of distribution partners on your roster, TCMA is an ideal strategy to optimize your online presence and user journey towards recruiting dealers and distributors to grow your indirect sales network. We're here to help you and your direct sales team to find them and sign them.
ENGAGE
Once you have partners in your distribution network, you need to engage them. This piece of your TCMA strategy is the biggest challenge because your deals and distributors are inundated with other brand partners vying for their attention and for their indirect sales. You can become a partner's go to recommendation by improving your partner onboarding experience, providing ongoing product and end user training, and by developing resources and business aids that directly support their day to day responsibilities. This means you focus on solving the problems that dealers and distributors have so they can grow their business regardless of what products they are selling. It's the principle of reciprocity. When you help them, they will help you.
GUIDE
Once you've iteratively improved your recruitment and engagement processes and content, NOW you can guide them towards selling your products specifically. This phase of the REGG framework is likely the phase that you have the most defined already because it involves providing spec sheets, use case info, installation info, maintenance info, and other technical information pertaining to your materials and products specifically.
GROW
Even after you've provided technical specifications to your distribution partners, you're not done yet! Through channel marketing automations and content to support your partners to sell more are your next area of focus. In short, it's time to help them sell (as opposed to them waiting to take chance orders). YOU, the manufacturer, need to take the reins to conceptualize and implement marketing campaigns targeted at end consumers.
Step 4: Optimize and Automate Your Channel Program
You also need to configure lead routing and lead distribution for leads from your website to be assigned to a specific partner to follow up with and sell to. It's not as complicated as you may feel when using a locator app along with HubSpot's workflows to trigger the lead assignments automatically based on any number of criteria.
By taking the reins, you ensure that qualified buyers do not slip through the cracks when indirect sales reps do manual check ins with their accounts. Even more relieving is that by automating much of this process, most manufacturers are able to overcome staffing challenges while simultaneously handling higher volume of sales.
It's a win-win for you and your distribution partners, and we love setting up a good win-win.


Ready to Dive In?
Work with our team of HubSpot experts and watch us take clunky systems, tech stacks, websites, and portals and turn them into tailored, intelligent workflows that deliver business outcomes.