Manufacturers selling indirectly through a network of partners, such as distributors, dealers, contractors and value-added resellers, lag behind companies who sell directly to customers when it comes to reacting to trends in buyer behavior. It's no secret the internet and quickly advancing technology has changed our lives dramatically—especially in how we shop for goods and services. People are searching for you and your partners online, and they want products quickly and answers instantaneously.Outdated communication systems and processes between manufacturers and their indirect partners are causing indirect distribution channels to fall behind their direct channel counterparts. But, making matters worse, solutions for direct distribution such as traditional CRM and marketing automation aren't fit for indirect models where multiple organizations need the same resources.
Solving the indirect distribution digital problem requires an understanding of a few key areas. When building an indirect distribution channel strategy, your focus should be on:
Transforming each of these areas for rising buyer and partner expectations is key to modernizing your indirect distribution channel and getting a leg up on your competitors.
What is through channel marketing automation?
Resellers, dealers, distributors, and agents play a critical role in the customer buying journey and need to be supported with integrated campaigns including email, search, social, video, web, and physical marketing assets. All companies need to create content today and get exposure through local marketing initiatives. For a brand to support this at scale, it must have an automated system backed by control mechanisms, workflows, and analytics to drive performance. Specifically, TCMA helps:
Amplify corporate voice to customers.
B2B companies typically have hundreds or thousands of third-party channel partners engaging with customers in the sales process. Leveraging those voices as an extension to internal branding and demand generation efforts provides a cost effective way to reach more customers.
Deliver a more consistent brand experience.
Third-party channels have different marketing maturity levels, and TCMA can accelerate the leaders while supporting the laggards with do-it-for me and do-it-on-behalf-of assistance. Left to their own devices, partners can slow deals, confuse customers, or even misrepresent the firm's brand.
Enable interactive campaigns.
Distributed marketing leverages the trust that local partners have built and helps them execute rich media campaigns using digital tools, syndication, and physical assets. With integrated budgeting and fund management, TCMA tools can either automate the end-to-end process for the partner or provide the concierge service on behalf of the partner. For small contractors with minimal marketing resources, this can create a light and day difference in your indirect sales gained from their customers.
Drive partners to profitable revenue faster.
With proactive marketing support, your firm can onboard new partners, scale partner revenue generation efforts, and build partner loyalty more quickly. With maturing business intelligence and marketing analytics tools, brands can get real-time feedback on performance and next best action.
Why Through Channel Marketing
Through-channel marketing is seen by many B2B marketing pros as a logical follow-on to customer relationship management (CRM) and marketing automation. With an increasing amount of B2B revenue flowing through or being influenced by third-party channels, they realize that extending and amplifying the brand is an important next step. Forrester survey data finds that 50% of global marketing decision makers whose firms focus primarily on B2B are currently implementing or have already implemented a TCMA solution.
Through-channel marketing requires more than just a repository of assets that a partner can leverage. It needs to provide the end-to-end management of marketing funds, campaign execution, and analytics to optimize investment and drive broader adoption. TCMA is now a critical component of the marketing portfolio that amplifies customer-facing content and messaging.
Forrester survey data finds that 73% of global marketing decision makers consider managing their channel partners to be a challenge, with 42% citing this as a major challenge. One furniture manufacturer customer we spoke with uses TCMA to facilitate 25 percent of their marketing budget and has 70 percent of their dealers actively using self service tools to optimize their local search, email, and social campaigns.
What is a channel marketing program?
A channel marketing program is designed to organize the organizations, people, processes that a product or service is sold through. In other words, a channel marketing program is that strategy that cohesively defines how an offering will be taken to market through the various intermediaries and value-added resellers along the sale.
Channel marketing is directly tied to distributor marketing and channel management when you are selling a traditional product, like construction and home improvement materials.
A good channel marketing program is built in stages and is continually improved, optimized, and reconfigured to match changing buyer expectations and market forces. ManoByte follows the "storming, forming, norming, performing" approach to channel marketing program development, illustrated below: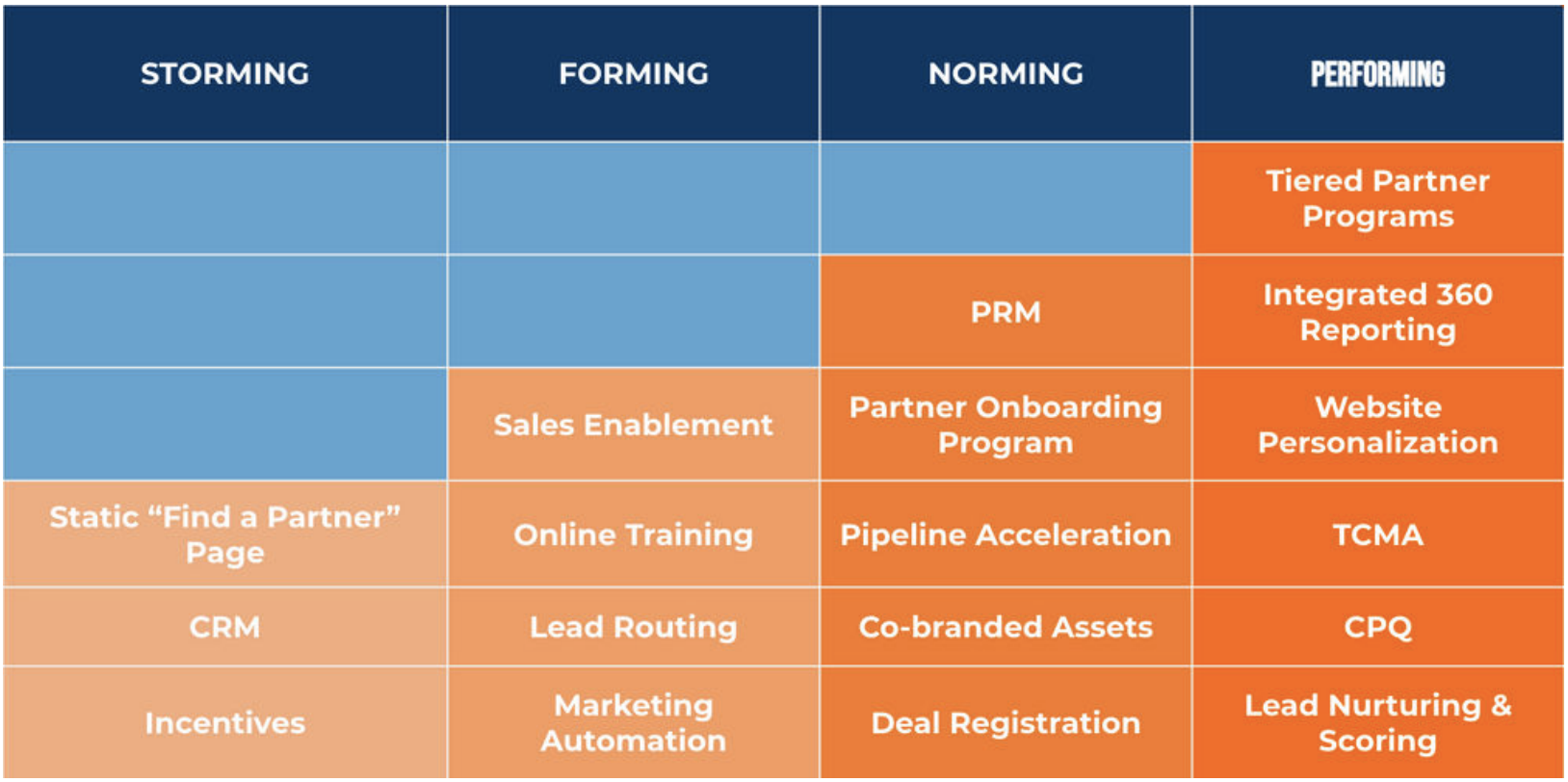 As you successfully establish the necessary relationships, tools, and accountability frameworks for the "storming" phase, you can begin to building upon those frameworks and launching components of the "forming" phase, and then the "norming phase" and then the "performing phase."
As the names suggest, the first two phases involve starting from a blank slate in building a partner program and channel marketing strategy while the latter two phases are when your company will really feel like the program is hitting its stride and starting to yield results.
Because of the scope of building materials indirect sales, to each of these phases take on average 12-24 weeks, so building a full program generally is a two-year process. But it's well worth the effort.
What is cross channel marketing automation?
It's common for "channel marketing" and "cross-channel marketing" or "omni-channel marketing" to be confused as the same, but they are not.
Channel marketing is how your product is delivered to the end consumer.
Cross-channel marketing and omni-channel marketing are methods used to combine marketing tactics to increase brand awareness, product sales, and campaign ROI.
Likewise, channel marketing automation is the automated system deployed to enable how your product is delivered to the end consumer.
Whereas cross-channel marketing automation is the automated system of marketing collateral and campaigns, like lead nurture drip campaigns, automated Pay-Per-Click campaigns and other inbound marketing tactics.

This means you can deploy cross-channel marketing automation as part of your through channel marketing automation strategy, but just because you are deploying cross-channel marketing automation does not mean you are selling your offerings through a distributor channel using channel marketing strategies.
Interested in learning more about how to use both to sell more building materials better? Here's ManoByte's Channel Program Strategy Approach.
We don't think Building Products Manufacturers need to spend more on their marketing. We do think what you allocate your budget to can be optimized to drive better results from the same budget.
Here's a marketing budget we'd recommend.