The Growing Role of Channel Partner Ecosystems
Following in step with the progression of other industries that leverage distribution partners to go-to-market, the building materials industry is facing the new task of re-tooling existing indirect distribution models and partner programs to form ecosystems that delight their shared customers.
What is a channel partner ecosystem?
A channel partner ecosystem is the evolution of traditional channel programs that add value throughout the distribution chain into a go-to-market strategy that involves a more collaborative and innovative use of various product and service providers to deliver on the entire customer's experience with a manufacturer's product.
What is a channel partner?
A channel partner is an individual or organization that plays a role in delivering your building product to the end customer.
What are ecosystem partners?
Ecosystem partners are the partners in your go-to-market strategy that help you deliver on customer expectations, outside of simple product acquisition, that your company is not set up to deliver on alone.
What's the difference between a distribution channel partner and an ecosystem partner?
In a distribution channel framework where "value-add" is the primary focus as progression is made through the channel, partners are not intending to work together to create value. They are expecting to deliver on their unique value proposition and then leave it to their partners to deliver on their own unique value proposition. The traditional distribution channel framework is a partnership model of value stacking instead of a combined effort of value creation for the end customer.
This is in contrast to a channel partner ecosystem, in that with the ecosystem framework, the assumption is that value cannot be created by one part of the whole. Rather, that it is the sum of the ecosystem partners working together to provide solutions for the customer that creates the value for their shared customer.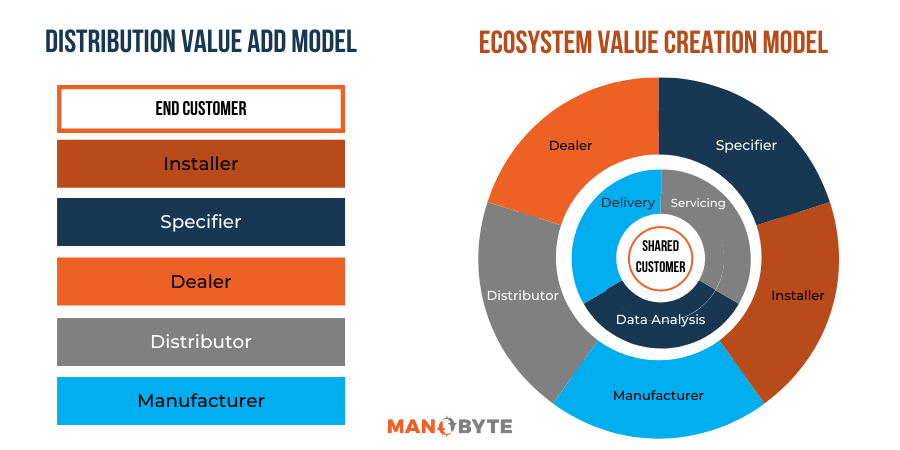 The future of distribution channels is the channel partner ecosystem. Leading industries like tech companies and healthcare are already adopting this model en masse. A few short years from now, it will be the defining attribute that separates building products companies that thrive from those who become more and more irrelevant.
Barriers to Leveraging a Channel Partner Ecosystem
One of the biggest barriers to breaking ground on a channel partner ecosystem is the mindset shift that is required. Ecosystem partners must all be coming from the mindset of "we can do it ourselves" to the mindset of "we can do it together".
There is a significant trust gap between most organizations, even organizations that are already partnered. In business, there's always the expectation that any proposition will answer the question, "what's in it for me?".
In order to justify partnering in the traditional distribution channel model, both sides have to win and any hesitancy must often be addressed with a clear ROI forecast.
In making the shift to leveraging a channel partner ecosystem to sell your offerings in the construction and home improvement industries, leadership must look past the way things have always been done and begin to lineup the resources needed to create value with others.
"Retooling" your human capital is another challenge to adopting a channel partner ecosystem model. Your leaders, managers, and implementers must all refocus go-to-market strategies and day-to-day activities to accommodate the wider vision of partner ecosystem success rather than just your organization's success. Emphasize relationship building that goes outside of the normal distribution channel box. Focus on building trust for long term ecosystem partnership establishment and collaborate on campaigns that foster success and reciprocity within the ecosystem you build.
You have to have to think outside the walls of your company and brand.
It's the application of the same basic principles of channel management as before, but with more upward and sideways collaboration with additional industry providers.
Why Now?
Kevin mentions regularly that he foresees that the future of building products manufacturing is not to be 100% a manufacturer. Rather, those who survive the next seasons of disruption will be those who set themself up to function as one part manufacturer, one part service provider (installation/maintenance), and one part marketing agency. It's for this reason that Nest Thermostats become a seemingly overnight success.
They manufactured a product but didn't sell it through traditional distribution verticals. They created revenue streams from alternative sources than just the customer. They lowered the barrier to entry for the market for consumers by partnering with some utility companies to subsidize it, thus generating revenue and increasing market share quickly. And because it's Google, they have streams of revenue flowing from the data collection inherent in their products too.
That's not the only way Nest leveraged an ecosystem approach to go-to-market. They also created a Contractor Program, the servicing element. They didn't ask contractors to start telling their customers and prospects about the nifty new gadget. They proved their value to contractors first by routing them closed deals and making it easy for the contractor to complete the work without the barrier of selling and sales overhead.
Their success was being one part quality manufacturer, one part service provider, and one part marketing agency by owning the bulk of a customer's path to purchase journey.
And their story is just one of the first.
What are the Benefits of a Partner Ecosystem?
Let's compare the attributes of a traditional channel partner distribution model with the attributes of a channel partner ecosystem distribution model.
While a traditional channel partners model is a value-add approach across market verticals that are most directly focused within the building and home improvement industry, an ecosystem partners model is a value-creation approach across market horizontals that leverage providers within other industries and can thus deliver for customers outside of traditional indirect sales distribution constraints.
Thus, the primary benefits of a channel partner ecosystem approach involves the value of the following:
Convenience for customers.
Economies of scale by leveraging others and reducing internal overhead.
Decentralization of delivery, but centralization of objective between partners.
Customer loyalty enhancement.
Resource expansion without liabilities expansion by gaining more capabilities through technologies, skills and expertise.
Agility in that robust, tenured manufacturers are often stymied and slowed in efforts that are critical to their adaptation to market changes. Smaller, more agile companies with which manufacturer establish strategic partnerships are one way for structured enterprises like building products manufacturers and millworks to stay relevant in the market and move more quickly.
What is Partner Ecosystem Management?
What is built must then also be managed.
Partner ecosystem management is the processes, people, and systems used for recruitment, engagement, guidance, and growth (REGG) of your ecosystem.
A successful partner ecosystem strategy is one that optimizes existing partner relationships and establishes new relationships where value creation is required to meet rising consumer demands. Build your partner ecosystem around two kinds of partners: the ones who influence the sale and the ones who help retain the business.
You may already have partners who influence the sales that you can communicate your ecosystem ambitions with and stir up new ways to create value for customers with them. You may need to fill some gaps that are keeping customers from closing the deal with your product. Uncover what preference and purchase motivations are keeping them from purchasing your offering and recruit ecosystem partners to help you fill those gaps.
Then, do the same evaluation with partnerships that already exist or need to be forged in order to help retain the customer's business. Partnering with maintenance and service providers are an example of generating recurring revenue and maintaining a semblance of oversight into the customer's experience after the initial installation.
Looking Forward: What a Channel Partner Ecosystem Model Would Mean for You
Building products manufacturers and distributors have been dealing with no small task for the last several years as massive disruption shook the pillars of many company's business models. The next disruption is likely to take the shape of competing against companies that adopt a channel partner ecosystem model of distribution.
Ready to Dive In?
Work with our team of HubSpot experts and watch us take clunky systems, tech stacks, websites, and portals and turn them into tailored, intelligent workflows that deliver business outcomes.