Looking ahead: What Manufacturers Should Learn From Nest Thermostats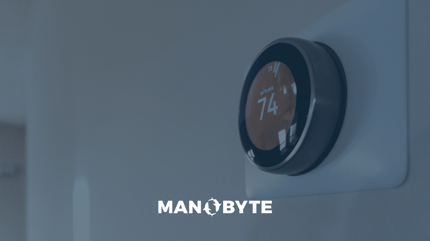 Nest thermostats are a prime example of how the door is wide open for Tech-Minded entrepreneurs, start-ups, and investors to change the way the game is played.
When Mark Mitchell joined us on Building Materials Marketing Unboxed, he made reference to Nest Thermostats and the way Nest disrupted the industry. Let's build on that.
Building products manufacturers can either pivot to solve for changing consumer demands, or they can prepare to be disrupted by the facts that:
The kinds of finished construction projects and lifestyle features consumers want are changing
How consumers want to acquire home improvement products has changed and continues to
What customers like architects, builders and contractors expect from distributors and manufacturers is mirroring B2C purchase behaviors
Now comes the balanced passage of the tightrope stretched between the organizational chasm that exists in so many building products companies: R&D on the one side and Marketing & Sales. Does one spend more on R&D for product development in order to stay ahead of the tech companies barging into the building materials space or does one spend more on optimization efforts to improve customer experience at each stage of the channel?
I recommend you spend on solutions that will provide the most convenient experience for your customers and your customer's customers. In some cases, that will mean spending more on R&D and operational systems to make your product easier to install, more user friendly, and require less maintenance. In other cases, that will mean spending on channel marketing solutions that enable your customer's to sell better to their customers.
Lessons Learned from Nest Thermostats
Why did Nest become so wildly popular? Because they didn't choose the "or" approach; instead, they chose the "and" approach. They didn't just develop a thermostat that fit the bill for customers to install and maintain, but they made it easy to procure as well. Here's what Mark has to say:
It's not time to be riding things out anymore. Research from The Farnsworth Group and HIRI are showing that sentiments towards COVID are not impacting home improvement decisions, but that customers are faced with other challenges (like labor, availability, lead time communication, distribution nightmares, etc)as a result of the response to COVID. It's time to be rebuilding, re-engineering, optimizing, and improving each and every aspect of your offering's convenience level as it impacts your customer and their customer.
This applies to large construction product categories too which are being disrupted by large project systems offerings, such as DecksDirect.com and offerings for sprinkler systems in a box, even that late Katerra's bathroom in a box offering. DecksDirect.com succeeds because it is a drop dead simple way to compare options AND place an order while standing in your backyard, rather than scheduling an appointment at a dealer's show room. Sprinkler systems in a box have been offered by many a contractor for decades, but the ability to select and order these systems online is disrupting those VAR's business models, often to the detriment of certain MEP manufacturers that have strong channel partner relationships, but poor digital purchasing experiences.
Looking Ahead: Channel Ecosystems Models
As we look back at the disruption of Nest Thermostats and as we look ahead at the building materials landscape now laid, manufacturers need to pivot to make their vertical channels flatter. I do 100% think the channel will still exist, but I reckon building materials channel sales of the future is less likely to be linear, and more likely to operate as if spokes from a hub, the hub being the manufacturer.
Just like B2B tech and B2B healthcare industries started readily adopting ecosystems models for channel sales in 2018, 2022 may very well be the precipice for similar channel ecosystems adoption for the construction industry.

Manufacturers need to centralize many of the efforts and resources that used to be entirely, and still are predominantly, delegated to others in the channel and instead become the single source of convenience for all channel stakeholders to thrive off of.
As it becomes harder and harder for "the little guys" to rank in search engines against large name brands, big-box stores offering contractor services, and contracting franchises dominating the market, partner directories, lead routing, and even all in one scheduling at time of product order, managed from manufacturers' digital systems will be how smaller contractors will be able to manage their business.
As consumer expectations to know pricing during their initial research journey (even for custom products) continues, pivoting towards price transparency models, like Pella Windows did, will be critical to demand generation efforts, direct sales opportunities, and indirect sales opportunities.
As means of instant gratification become more and more insatiable, manufacturers will need to partner with delivery and order fulfillment services that match fast paced consumer expectations.
Physical showrooms will still exist but will be complimented by visualizers to improve the buyer's journey during the first 70% of their research process.
Physical samples will still be used to establish and maintain relationships with specifiers, but digital sample procurement options and evaluation options will be the first avenues customers seek.
Channel partners will continue to struggle hiring qualified and knowledgeable employees and will continue to need support with training and business development techniques.
Manufacturers need to be investigating the demand, utility, and feasibility of subscription models for repair, replacement, and maintenance.
The future of Building Products Manufacturing will be less and less about manufacturing a quality product and more and more about the customer experience with your company and channel partners at every stage of using your brand.
These are the challenges we are helping BPMs to identify, navigate, and overcome with strategic channel management programs and through channel marketing initiatives. We're always happy to brainstorm with you.
Ready to Dive In?
Work with our team of HubSpot experts and watch us take clunky systems, tech stacks, websites, and portals and turn them into tailored, intelligent workflows that deliver business outcomes.