Let's be honest, there are a lot of buzzwords out there in marketing today. Sometimes, that can make it hard to cut reality from all the "marketing fluff" to identify what you really need to go to market effectively in a way that resonates best with your unique prospects. One of those newer phrases you are probably starting to hear more is something called Account Based Marketing, or ABM. But what is ABM? And is it a good fit for your specific business? Read on to find out.
What is Account-Based Marketing?
For many B2B companies today, the idea of casting a wide net to thousands or tens of thousands of people simply isn't the best way to go to market; and instead, the better plan is to hyper-focus their marketing efforts on a smaller number of key accounts. This type of enterprise marketing is called Account-Based Marketing (ABM). It focuses on creating a more customized and personalized sales experience, making the sales funnel more narrow through calculated and targeted efforts, and, when executed on correctly, it proves to be highly effective.
"ABM efforts had higher ROI than other marketing activities, according to 97% of marketers in a survey" (Alterra Group)
ABM essentially just flips the traditional sales funnel around: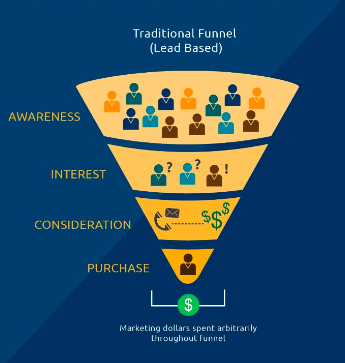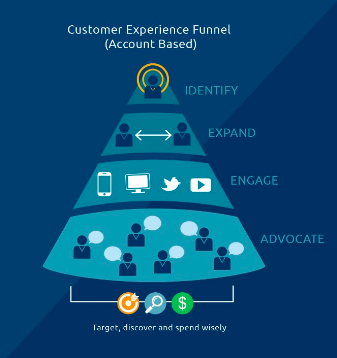 Photo Courtesy: Terminus
ABM Benefits
Sales, Marketing, and Customer Service Alignment
During an ABM implementation, you target specific enterprise accounts, and you'll think more on a scale of quality over quantity. Enhancing the quality of your relationships will be a target focus. In order to track and monitor these engagements, you'll need a CRM that provides the tools to organize, monitor, and nurture your lead relationships with the sales, marketing, and customer support teams. This process pulls everything together for effectiveness and efficiency.
Speeds Up Sales Processes
When big money is involved, there usually need to be multiple stakeholders in agreeance in order to make a decision on a business purchase. In more traditional marketing processes, this can slow down the sales process as marketers and salespeople try to get everyone on the same page. ABM works with hyper-targeted advertising, content, and campaigns that are working whenever the primary decision maker is moving around online, which makes them more prepared to make a decision with the other stakeholders. (The key is that those relevant stakeholders are also reading the same kinds of information online, just catered to their specific role and challenges.)
Clear Path to ROI
Because they're so targeted, ABM marketing strategies are smaller, so there's less clutter to cut through to see how things are actually working and how the efforts are paying off.
Faster Sales Conversions
Reaching target accounts through ABM efforts sets the sales team up for better conversations with the prospects. By the time the salesperson reaches out to the target account, the buyer has already been exposed to content and information about your company, making the conversion much easier.
Enhanced Customer Experience
You know more about your customer through your ABM identification and marketing efforts, which will also prove to be valuable as they grow as a valued customer. Specific company needs or concerns can be addressed quickly and easily by anyone in marketing, sales, and customer support.
"Nearly 85% of marketers said ABM provided significant benefits to retain and expand existing client relationships." (Marketo)
Is ABM Right For My Business?
Some of the questions you'll want to consider as you evaluate if an ABM strategy makes sense for your specific business include:
1. Are your products or services meant for a very narrow or specific type of customer?
2. Is your buyer persona defined, proven, and tested for success?
3. Do you know the exact companies you are looking to go after?
4. Do you know exactly who the people are you need to engage with at these companies?
Although ABM works for B2B spaces, it's a person-to-person process that requires in-depth research and clearly defined processes for approaching key prospects. The targets should be identified as those who would respond to a more personal approach to sales rather than being part of a wide net.
ABM With HubSpot
You may have heard about specific tools that are specific for ABM, and while those tools are awesome, you can also opt out of paying for another platform and utilize the features you already have in HubSpot. And with the Customer Connect tools set to launch later this year, it will only further enhance the ABM process within the HubSpot platform. Here's how you can use HubSpot for ABM processes:
CRM: With the HubSpot CRM you can add a single contact and HubSpot will automatically populate all information it has on that contact company and affiliations. All activities on marketing and sales (and soon, customer service) will be available in one clear record. When you have a clear picture of every interaction that ensures the relationships are handled appropriately without interruptive and excessive communication.
Personalization Tools and Integrations: With HubSpot you can create website pages, emails, landing pages, and CTAs with smart content for specific accounts and site visitors. Additionally, the Perfect Audience integration can take that personalization to new levels with off-site advertising options.
Account-Based Reports: HubSpot allows you the functionality to report on your target prospects over time, the job titles of interest, engagement level, and company-level revenue.
If you are looking to implement at ABM marketing strategy for your business, we'd love to talk with you about how we can partner with you to make that process a reality. Contact us today to learn more about how we can become your ABM inbound marketing agency. Or, if you're not ready for all that yet, feel free to subscribe to our blog below, we deliver up new content each week and send you one email recapping the latest posts.