In Today's Work Environment, Culture is Everything.
Take it from us, ManoByte has recently relocated to a bright, buzzing, and beautiful new space that fosters creativity, engages team members, and creates a more productive and positive workspace. So grab some popcorn from our theatre style lounge-area, sit back on one of our many new couches, relax, and learn how we make inbound magic happen in our awesome new Shark Tank.

What do we Bring to the Table?
Some pretty neat work, conferencing, and seating solutions- they're all the rage.
Open Desk Clusters- ManoByte

encourages a collaborative environment; open communication between the designers, developers, and Inbound Marketing Consultant's. Desks are clustered in groups to make communication easier!
Variety of Work Spaces

- Even the most aesthetic desks and comfortable swivel chairs can get tiring. That's why our new space offers cushy couches, a variety of calming conference rooms, and even a luxury high top table with bright HubSpot orange stools surrounding it. With the portability of a laptop, we don't have to be chained to our desks. This mobility lets us move and shake, eat, giggle, focus, chat, brainstorm, and work wherever the creative spark hits us. Modern offices done the feng-shui way!





Who wouldn't want to hold a brainstorming session on that cozy couch?!
A Massive Whiteboard Wall-

Our organic work spaces allow for impromptu meetings and team collaboration. In the middle of our open office sits a large sectional couch that's facing an appleTV, and a whiteboard wall. Yes, the perfect hub for collaborating around brainstorm sessions, and perfect for mapping out work flows, agenda setting, and taking notes during our meetings.
Individualized Conference Rooms-

Our new space is equipped with three small and more private conference rooms (each with a different personality) that offer an intimate space for meeting spaces that allow you to kick back (with foot rests tucked in every corner), and get work done. Each room is lovingly named after a Finding Nemo character and is adorned with cushy couches, fancy chairs, and beautiful decor. Whiteboards, a phone for conference calls, and AppleTV's in each room inspire collaboration.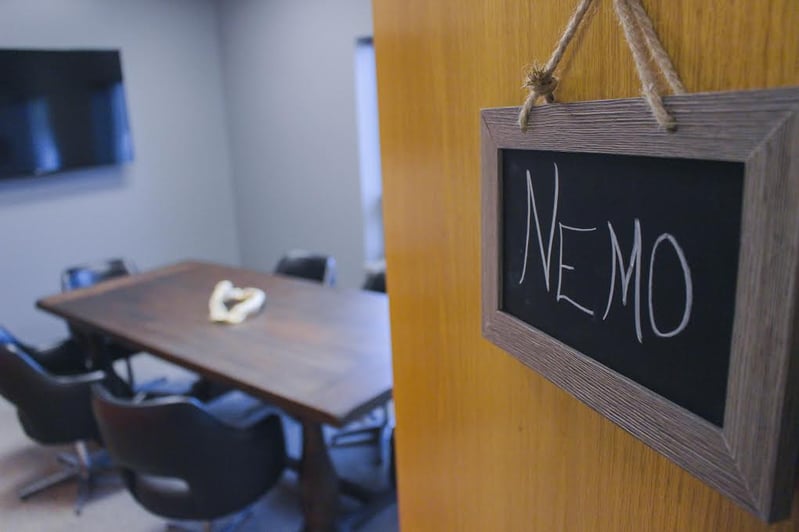 Looking for Nemo? At ManoByte, Nemo is the name of our largest conference room, a hotspot for productive fun.
Lounge Area-

When the ManoByte sharks aren't swimming in productivity, they like to relax in our theatre lounge area. Adorned with a GIANT TV, a marvelous leather couch (with electronically-enabled foot rests and power sources hidden in the armrests), movie-style decor, and a snack station (can you say popcorn for breakfast?) it's ideal for just having fun, too. We even have a cool garage door that opens up so we can grill out, hang out, or disconnect from the office- we guess you could say our new space is

literally

a breath of fresh air!
In sum, our new creative space boasts productivity-enhancing workspaces, hubs that encourage teamwork, and colors of collaboration that defy traditional office expectations.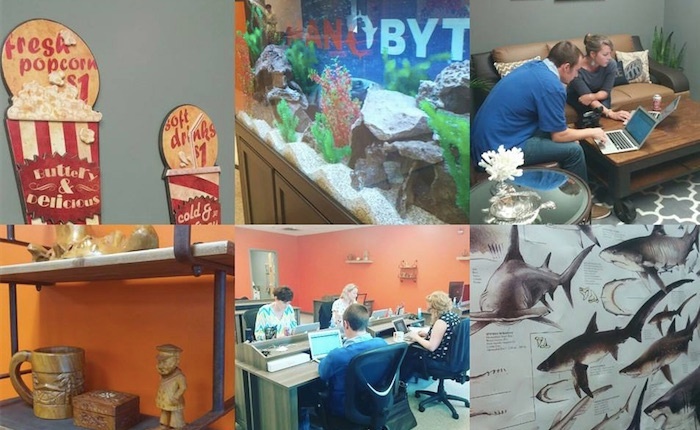 Here's a glimpse into our Shark Tank. Can't you see how we exude inspiration? Click here to follow our Instagram for more behind the scenes fun!


"Wait, but I wanna see more!"
That's awesome because we want you to come and see it, too! Join us on Thursday, October 13th from 4-6 PM to celebrate our new Shark Tank. Bring your friends, your neighbors, and heck - even your crazy Uncle Frank. We can't wait to show off our groovy new space.