7 Tips to Gain the Edge Over Distribution Competitors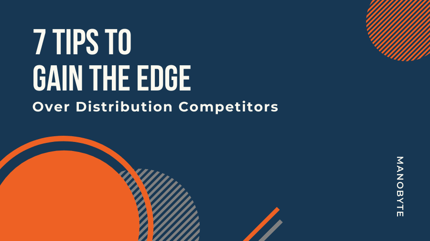 When it comes to distribution marketing, what sets you apart? How you approach your customers, sales, and delivery could give you the edge. You need to be memorable and wow customers so they naturally look to purchase through you. Here are 7 things you can do to gain that edge on the competition.
1. Know Your Customers
Don't assume you know what kind of customer is going to buy from you, do the work and determine who your top customers really are. Give your partners names and details to create a buyer persona, or even better create end user buyer personas for all of your partners to reference. Get to know who the decision makers and researchers are that are purchasing your products wholesale for their company or organization. Make as many personas as you have clearly different buyer types that vary in their roles, titles, interests, and pain points. Always created content and business decisions with them in mind.
2. Use Data and Analytics
Don't shy away from analyzing the data. Sorting through hard numbers might be more dreary than trusting your gut and moving along, but data are very important to acting quickly with accuracy. Collect critical purchasing data, partner engagement data, sales close rate data, and similar metrics to help you see how you are doing and where you are failing or succeeding. Know your cash flow, open invoices, sales margins, cash conversion cycle and revenue by keeping a pulse on those numbers and implementing changes when figures are below baseline.
3. Automate with Technology
Embrace digital transformation and use technologies that make your job easier. Automate the data entry process so that you are more prepared to answer important customer questions. Send out automated alerts to keep the buyer in the loop with updates at every step of the process, helping them know exactly where their orders are and when they are expected from the manufacturer so that you can ensure they deliver on their brand promises also.
Similarly, implement partner deal registration and lead routing automations to streamline both the customer's buying journey and your partner's selling experience.
4. Focus on Competitive Distribution Service
Companies who communicate, communicate, communicate, like those who kept their partners informed and supported during COVID-19 disruptions, offer a valuable service that had nothing to do with their products. Your partners have key interests and your end consumers have key interests. Get to know what matters to them and focus on providing services that they find important. Communication, speed of support, professionalism, and personalized marketing may be some of the ways your service will stand out from the competition. Having the data on hand will also help, since you will be able to answer partners questions quickly if they reach out with a question about a product, their account, or an order.
5. Supplement with Distribution Marketing Content
Blog posts, email newsletters, tutorial videos, product images – there are so many ways you can create content that supports your partners and addresses the challenges and purchase motivations of your end customers. When you supplement your customer service and knowledge with content they resonate with, you offer them the value of your expertise and a solution that makes sense.
Let your content work like a magnet, drawing in new customers and retaining the old customers with value that supports the products they are getting through you. Most buyers and researchers are starting their queries online, so content is important for supporting that part of their journey towards a purchase.
6. Differentiate Your Brand
Using that marketing content, you can set your brand apart. If you are taking your own product photos, writing your own website copy, or writing articles, then you can create a brand look and voice. Stay consistent with every product so that your customer can count on how you will approach any given item. You can always rebrand and change your approach, but there needs to be consistency that brings cohesiveness to your content and product listings.
7. Think Ahead and Set Goals
Don't just start walking and hope you arrive where you intended to go. Strategize first. Implement second.
The only way to get ahead of your competition is to have a plan for where you are heading and define exactly how your distribution partners fit into that plan. Identify ways to ensure it makes sense for your partners to attach themselves to you over the long term. Every goal should be S.M.A.R.T.:
Specific – Choose goals that are detailed and contain figures (not general aspirations or non-concrete hopes)
Measurable – Pick goals that can succeed or fail based on a measurement, like revenue or percent changes, and then define what the measure of success will be.
Achievable – Don't just stab in the dark, look at your numbers, look at industry averages, and choose a goal that is challenging, but possible.
Realistic – Identify each stakeholder involved in making your goal a reality and assess why challenges you need to overcome within the realm of what you control and identify what you can't control.
Time-based – Set a deadline for when you will analyze your efforts and reevaluate trajectory and activities.
Competitive distribution marketing can be a tough industry to crack. If you are doing well, don't get complacent and stop pushing forward. The minute you let up, the competition will be able to edge its way in towards winning the hearts and minds of both your distribution partners and your end consumers.
Ready to Dive In?
Work with our team of HubSpot experts and watch us take clunky systems, tech stacks, websites, and portals and turn them into tailored, intelligent workflows that deliver business outcomes.