How to Deliver a Consistent Call Center Experience [+ Why it Matters]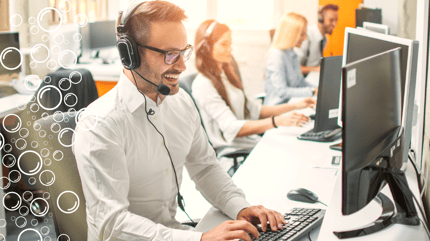 Have you ever begrudgingly dialed into a company's help line, only to be pleasantly surprised with an incredibly personable and supportive person greeting you by name? – And, not only did this person make solving your problem feel effortless by already being aware of your service and purchase history, their friendliness and efficiency actually turned your dreaded phone call into an oddly delightful experience.
These efficient, yet memorable service interactions are everything to your customer, and your company's ability to provide such an experience is proven to make or break their relationship with your brand. (Don't worry, we've got stats below to back this up.)
This blog post will take a look at the importance of creating a dependable and delightful customer service (CS) call experience, and best practices in doing so consistently. We'll also dig into how integrating your CS and Customer Relationship Management (CRM) software into your call center strategy increases agent efficiencies and keeps your customers coming back for more. As an added bonus, we also offer up a brief comparison of some of our favorite call center platforms and features.
Let's dig in!
Are people actually still picking up the phone for customer support?

In short, they absolutely are.
Even with ample omnichannel self-help tools like online Knowledge Bases, chats and online forms available, there are still many cases - whether more urgent, serious, or based on preference alone - that warrant a call to a live agent.
In fact, more than 65% of customers across all age groups tend to go to the phone to solve an issue with a company, especially when they're dissatisfied.
Your call and contact center reps are the face of your brand, and the experiences they deliver have the potential to cement your customer's brand loyalty. In fact , 73% of customers "fall in love" with a company because of experiences with friendly service agents.
Additionally, customers have come to expect consistent, tailored, and cohesive customer support experiences. According to HubSpot, 72% of consumers expect service reps to be familiar with their previous interactions (including who they are, what they've purchased, etc.).
So, with people still calling in, and more than 82% of customers preferring to take their business elsewhere after a poor customer service experience, it's never been more critical to equip your call center agents with the tools they need to deliver consistent, exceptional service.
On a personal note...
I think back to a past experience where my dog chewed up my only debit card at the time and I was so frustrated it was almost comical. (Hi, Chelsea here, author of this particular post.) Even though the bank was at zero fault for this particular incident, it was their incredibly friendly call center agent who I ultimately connected with to help me get my life back together.
Not only did she address me by name, empathize with me, and actually make me laugh at one point, she also quickly had the new card on its way and offered additional suggestions to help me access my account until it arrived. (I admittedly still think of her from time to time when I see that debit card and hope she's doing well to this day.)
But as a millennial who hates talking on the phone and was also embarrassed to tell another human that my dog basically ate the adult version of my homework, this incredibly personable and breezy call experience she provided was ultimately what turned my day around and left me with a lasting impression of how awesome my bank is.

Service Hub and the Importance of Interconnectivity
When it comes to empowering call and contact center service teams to deliver stellar customer service, the good news is that there are a lot of great CS platform options at your disposal.

As a Diamond HubSpot partner, ManoByte's natural platform of choice is HubSpot's Service Hub, which is built right into HubSpot's (free) CRM platform. This intrinsically connected customer service and CRM functionality enables teams to prioritize the customer experience (CX) with an easy and connected platform that delivers authentic support and service when customers need them most.
HubSpot also recently re-launched it's Service Hub with a host of new key customer service features in March of 2022, as part of its mission of becoming the #1 customer service platform for growing businesses.
But let's go back to that interconnectivity that's at the foundation of HubSpot. Service Hub was built on the foundation of HubSpot's free CRM platform, and all of HubSpot's additional "Hubs" (including Sales, Marketing, Service and Operations) were built in-house and make cross-department communication, hand-offs, and operations a breeze. We've found that this emphasis on operational interconnectivity creates visibility for service teams and makes for a seamless end-to-end experience for customers.

For example, after a Service Hub ticket has been closed, teams can send out custom surveys to gather feedback and ensure customer satisfaction. From there, sales can also see the closed ticket associated with their customer, giving them a well-informed check-in and up-sell opportunity. Similarly, giving marketing teams access enables them to view common issues and ticket trends that help them create targeted content to help customers find what they need more efficiently (which ultimately comes full circle and supports your service team).

This all-in-one approach is also incredibly helpful to ensure consistent team improvement, as it provides high-level insight into key service analytics and performance metrics. From one dashboard, leaders can specifically address opportunities for growth, further promoting a seamless CX from end to end.
Additional information on HubSpot's Service Hub, as well as pricing and tiers is available on their website.
The Purpose of Contact Center Service Platforms
In order to better understand potential CRM integrations, it helps to understand exactly what Contact Center as a Service (CCaaS) platforms were designed to do.
CCaaS platforms are cloud-based customer service tools designed with the intent to meet ever-evolving customer needs and expectations. They include a virtual phone system (more on this later) and bring multiple channels together in a single platform. Not only does this streamline communication between customers and agents, but it also allows teams to efficiently collaborate on customer issues.
These tools address three primary customer service issues, including:
Driving customer satisfaction through quick responses and efficient problem resolution
Improve performance of agents in direct contact with customers
Tools to analyze agent activity and help them succeed at their job
A Call Center Strategy that Prioritizes CX and Drives Team Efficiency

So, what does a CRM have to do with your call center strategy?
A good place to start is proof of efficiency. Referring back to the state of service survey we referred to earlier, here's a pretty powerful statistic: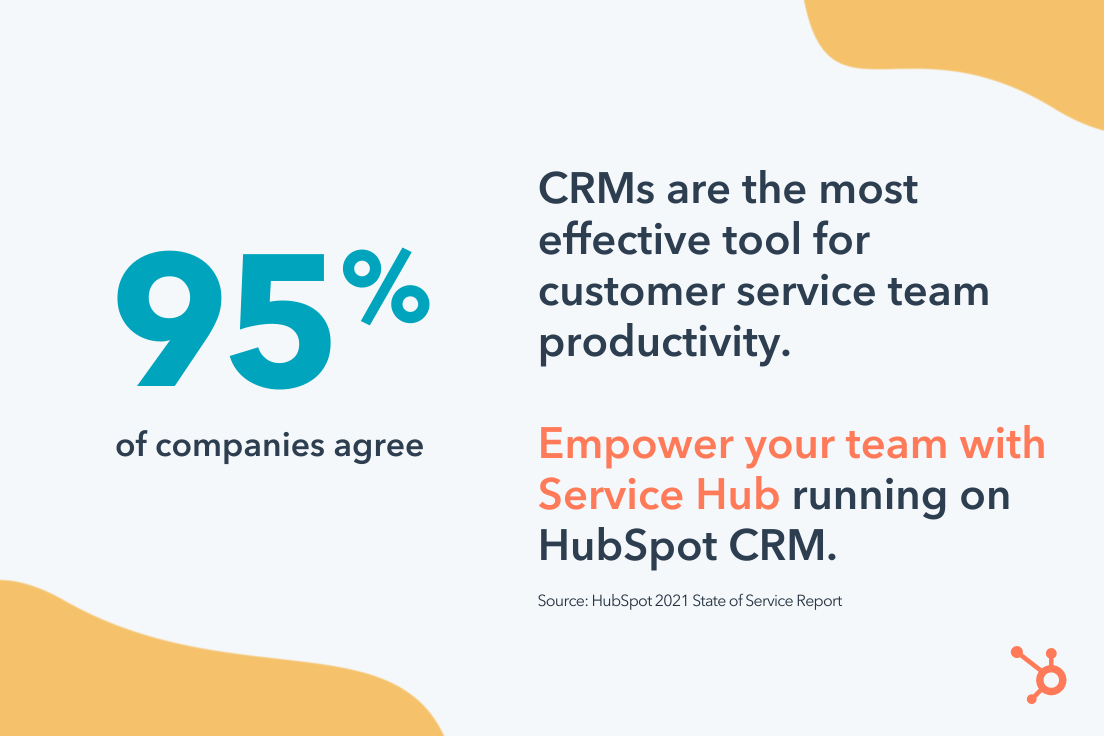 Not only is integrating your call center software (or CCaaS) with your CRM helpful for productivity, it's one of the best ways to drive personalized, efficient and delightful customer service experiences. Without the appropriate, connected technology, you risk longer customer hold times as agents struggle to solve problems. On top of that, you're also depriving team leads of valuable service metrics that would help them understand where inefficiencies exist and how to address them. – In these situations, even the most well-intended service efforts can be quickly derailed due to lack of quality monitoring and analytics.
A proper CS, CRM and call center integration enables service leaders to gain insight into key analytics that help them easily track and manage team progress (like call duration tracking, information capture, record creation, and other productivity metrics), plus, agents will be empowered to respond quicker and more effectively with rich, contextual information about each customer.
Quick note: Even if your call center technology doesn't list [X, Y, Z] CRM platform compatibility, you can enlist the help of a professional agency (like ManoByte) to build a custom integration that connects to most CRMs through the use of Application Program Interfaces (APIs).
Picture being a call center agent and when a call comes in. If you work on a team that takes advantage of this computer-telephony integration (CTI), the customer's information will pop-up on the computer screen immediately identifying the customer by their phone number. Before you even answer the phone, you can confidently tailor the conversation from your very first greeting with the knowledge of their name, company, any associated SLAs and any purchases or other service history. Don't you think you'd feel a bit more empowered to handle this call as opposed to blindly picking up and not knowing who or what is waiting on the other end?
As we touched on earlier, customers find it frustrating to have to repeat their issue as they're transferred from rep to rep.
To a customer, these issues are 100% on the company, and in all fairness, they shouldn't have to jump through hoops to get the appropriate support they need, especially when the tools are available to the business to make this a much better experience. Plus, with so many other businesses already implementing these tools and providing top-notch customer support, it's never been easier for them to jump your proverbial brand ship. (Not to mention your agents will feel appreciated when you provide them with the best possible tools to do their jobs effectively.)
A CRM and call center integration directly addresses these issues and provides your agents with a wealth of helpful information to optimally serve incoming callers.
By having such a rich context of customer history, you're setting your agents up with enough context to deliver authentic, personalized and helpful service that will leave your customers feeling delighted.
Customer Service Enablement + Call Center Terms and Technology

Before we dig into a few leading call center platforms that are compatible with Service Hub through custom integrations (or APIs), it helps to understand a few key call center terms that will come into play in the following section.
Call Centers are made up of teams that field and manage incoming (reactive) and outgoing (

proactive

) customer service calls. Service representatives are responsible for managing all phone calls and ensuring open tickets or transactions are solved efficiently.

Contact Centers are similar to call centers in that they field and handle service requests, but the key difference is that they're used for omnichannel support, including online chat, email, social media, etc

Interactive Voice Response (IVR) automates and directs inbound call traffic and uses recorded scripts that help route calls to the proper agent. This tool is often used to deliver automated messages to inbound callers, informing them how long they can expect to wait until speaking with an agent, and help route callers to an appropriate agent based on input from the caller.

A common example of IVR in action is when you call the doctor's office. In most cases, you'll hear an automated voice thanking you for your call, telling you the location you're calling, its office hours and any other information deemed necessary in the greeting. From there, you'll typically hear something along the lines of, "To schedule, reschedule, or cancel an appointment, press one. If you're calling about a prescription refill request or any other prescription-related question, press two," and so on.


Voice Over Internet Protocol (VoIP) is an internet-based phone system that converts voice into a digital signal, rather than making calls from a traditional, analog phone line.

VoIP technology has been found to

cost 50% less

than traditional landlines, and often includes features like call recording and routing, sharing of a single phone number across multiple devices (like laptops, tablets, or smartphones via app usage or VoIP-compatible headsets), CRM integrations, and call notifications that remind teams to follow up on conversations.

Since VoIP communication isn't connected to an address like your traditional landline, it enables some other unique features suited to optimize service and business operations.

Have you ever picked up a call from a business or service representative because the caller ID displayed a phone number with your same area code? Chances are, the team or agent that called you wasn't actually calling from your locale, but rather, used this VoIP-specific functionality to select your matching area code to encourage you to pick up the phone.

Teams can also collaborate and communicate more efficiently with VoIP technology as it enables remote connectivity for work-from-home teams or those working in various satellite locations. This advanced connection not only helps teams to reduce the amount of missed calls from customers, but promotes streamlined hand-offs, efficient call routing and a better overall customer experience.
Call and Contact Center Platform Comparison
ALVARIA:
What is it? Alvaria CX Suite is a cloud-based contact center software commonly used for its contact center and call center functionalities.
Who was it designed for? Alvaria was designed with mid-sized businesses and large enterprises in mind to configure customer experience and workforce engagement management applications - from provisioning and security to user management and administrative tasks - into one, collective space.


What are some standout features? Shared real-time and historical reporting among all platform capabilities, its robust set of APIs to support custom dashboards, CRMs and other tools, role-based desktops for agents, management and administration, automatic call distribution and automated routing. A full list of features is available on

Alvaria's website.




Is it compatible with my CRM? Yes, Alvaria is CRM compatible, and its website states that it offers "

robust interaction with CRM applications,

" likely through its vast set of APIs.
AVAYA:
What is it? Avaya is a cloud-based communication management software most often used for its Interactive Voice Response (IVR) and Voice Over Internet Protocol (VoIP) technologies. It's also commonly used as a Business Phone System.
Who was it designed for? Avaya was designed with mid-sized businesses in mind with the purpose of streamlining inbound and outbound call operations and unifying communications.
What are some standout features? Popular Avaya features include threat management, roll fraud detection and call reporting, with access to multiple contacts and phone lines through one portal. A full list of Avaya's features can be found on the

Pricing and Packages page

of their website.


Is it compatible with my CRM? Yes,

Avaya offers ready-to-use integrations with two known CRM applications

including SalesForce and Microsoft Dynamics CRM and can also be integrated to other CRM platforms through the use of APIs.
CISCO:
What is it? Cisco's call center software, Cisco Unified Communications Manager (CUCM), is a cloud-based platform most commonly utilized for its communications and VoIP functions.
Who was it designed for? CUCM was designed to suit business call centers ranging from small to large enterprises.
What are some standout features? Popular CUCM features include access controls and permissions, call recording, reporting and routing capabilities, video conferencing, and its enablement of third party integrations and connectivity through application programming interfaces (APIs). A full list of features is available on

Cisco's CUCM website

.


Is it compatible with my CRM?: Cisco's Unified CallConnector software

integrates Cisco Unified Communications with Microsoft Dynamics CRM

and other third-party apps through the use of APIs.
GENESYS:
What is it? Genesys Cloud CX is a leading cloud-based omnichannel contact center commonly used for its Customer Experience, IVR and Help Desk capabilities.


Who was it designed for? Genesys Cloud CX was built within a multi-tenant cloud architecture, making it a great platform for efficient deployment and scalability for companies ranging from small to enterprise.
What are some standout features? Popular Genesys features include its security-related permissions management for administrators, as well as device management, presence alerts, call routing and recording, as well as its robust API integrations making it compatible with multiple tools and platforms. Additional information on key features and functionality is available on the

Genesys Cloud CX website.




Is it compatible with my CRM?

Genysys lists three compatible-ready CRM platforms

including Salesforce, Microsoft Dynamics CRM and ZenDesk. Other CRM integrations are also possible through the use of APIs.
In Conclusion...
A call center that's backed by customer service and customer relationship management tools is an incredibly powerful way to empower your service team to keep your customers happy. And with 90% of Americans using customer service as a factor in deciding whether or not to do any business with a company, and when investing in new customers is 5 to 25 times more expensive than retaining existing ones, it's never been more critical to equip your team with the right tools to make sure your customers are delighted by your service and stay that way.
If you're wondering what integrating your call center, CS and CRM could do for your business, our team of experts here to help!
ManoByte is one of HubSpot's leading Service Hub consultants and implementation experts.
Have additional questions regarding a successful Call Center integrations and implementation strategy?
Ready to Dive In?
Work with our team of HubSpot experts and watch us take clunky systems, tech stacks, websites, and portals and turn them into tailored, intelligent workflows that deliver business outcomes.