Comparing Customer Service Solutions: HubSpot, Salesforce, or Zendesk?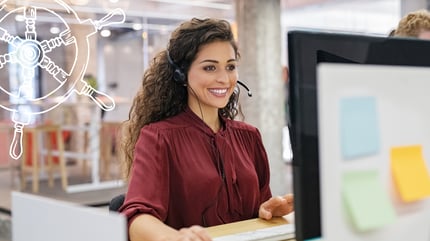 Today's educated and connected consumer expects your business to be nimble and ready to meet them with personalized customer care on any channel at any given time.
In fact, according to a 2021, international state of service survey of 1,400+ businesses ranging from mom-and-pop shops to corporations of 10,000+ employees, nearly 90% of customer service leaders reported that consumer expectations have risen to an all-time high.

By the same metric, 79% of respondents also noted that customers are both smarter and more informed, and another 85% agreed that customers are more likely to share their experiences (for better or worse) now than in the past.

With a sea of other companies and competitors offering stellar products and services that are backed by personalized, multi-channel, and round-the-clock customer support, it's never been more critical to provide consistent, best-in-class service because it's never been easier for your customer to jump your proverbial brand ship.

Thankfully, leading software companies like HubSpot, Salesforce, and Zendesk provide comprehensive platforms designed for efficient and effective 24/7 customer service to ensure your prospects and buyers won't stray because they feel - and keep feeling - the love from your brand.

In the spirit of transparency, ManoByte is a HubSpot Elite Agency Partner. Yes, HubSpot is the right customer service solution for us, and yes, it's literally our job to also help businesses get the most out of the platform. But as an honest-to-goodness agency and growth consultancy, it's also our job to make sure companies find the right solution for their needs - which means understanding your options.
This guide contrasts HubSpot's, Salesforce's, and Zendesk's individual takes on their respective customer service solution and provides a high-level round-up of the origins, key features, usability, and optimal use cases for each.
HubSpot Service Hub vs. Salesforce Service Cloud vs. Zendesk Suite
Which is best? What's the difference?
Selecting the best customer service platform becomes a bit more digestible when you understand the basics of what they were designed to do (and the problems they've set out to address).

So, what does the origin story, or primary purpose of each platform look like and what have HubSpot, Salesforce, and Zendesk set out to accomplish - and for who?
HubSpot Service Hub:
What it is:
Service Hub lives within HubSpot's online customer relationship management (CRM) platform. The platform's interconnected design unifies customer service functions with sales, marketing, content management, and operations software to act as a single source of truth that supports the end-to-end customer journey.
Who it was designed for:
HubSpot's Service Hub was designed for scaling companies that want to prioritize customer experience with an easy and connected platform that delivers authentic service where and when their customers need them most.
How it was built:
HubSpot is a CRM platform that gives cross-department teams a one-stop-shop for efficient communication and collaboration. Each of its "Hubs" (Service Hub, Sales Hub, Marketing Hub, and CMS Hub) were built in-house and are rooted in HubSpot's CRM to promote unified internal handoffs, while also helping to support a streamlined, personalized, and coherent end-to-end customer experience.


Salesforce Service Cloud:
What it is:
Service Cloud is a cloud-based, customer service CRM module offered by Salesforce that can be connected with other Salesforce sales, marketing, commerce, or IT solutions. It can act as its own individual customer service solution or be used in combination with any other Salesforce software module to fit and support your own set of unique business needs.
Who it was designed for:
Salesforce's Service Cloud app was designed to give customer service agents and field service teams a comprehensive view of their customers to unify communication and support. It works best when combined with other Salesforce modules, then it can act as a tool to unify cross-department teams and enhance the overall customer experience and strengthen relationships.
How it was built:
Salesforce was built through individual app acquisitions derived from their own solution-based silo. Originating as a Software as a Service (SaaS) CRM company to support sales teams (shocker with the name, right?), today's selection of Salesforce app options enable companies to customize their own connected Salesforce tech stack. Those looking to implement and unify the full, cross-operational functionalities of Salesforce can purchase Customer 360, which connects all of the Salesforce "Clouds" including Service Cloud, Sales Cloud, Marketing Cloud or Commerce Cloud.

Zendesk Suite:
What it is:
Zendesk is a cloud-based software that was literally built on the foundation of customer service and help desk solutions, which varying levels of Zendesk Suite (for service) remains focused on to this day. Zendesk options have since expanded to offering a CRM option, called Zendesk Sell, as an a-la-carte sales solution, or gives companies the option to combine sales and omnichannel service functionality through its all-in-one platform connecting the two, named Zendesk Sunshine.
Who it was designed for:
Zendesk Suite was designed to support service teams with a centralized help desk tool, ticketing system, and omnichannel support that increases productivity, and strengthens quality of service for better customer relations and experience.
How it was built:
Zendesk originated as a help desk platform for customer service teams that has since grown to offer its own CRM to connect its service tools. In 2018, Zendesk purchased the CRM platform, Base, which was known for its integrated tools to help with sales functions including communication, lead scoring, and reporting that centered on giving salespeople tools to sell easier while also focusing on the customer experience. Today, Zendesk has married the two platforms and offers combination or à la carte options for sales and service.

Use Cases, Tiers, Pricing and Popular Features:
Each platform offers their own version of tiered pricing for their customer service software solutions and includes a range of different features within each of their packages.

To help you determine which software solution - as well as the tier within each respective platform - will best help you address certain pain points or deliver needed solutions, we've rounded up a current list of tiers (as of May 2022), their respective key features and free trial information on each.
In the spirit of keeping things simple, we're comparing tiered pricing of HubSpot, Salesforce, and Zendesk service solution costs when billed annually.
It's important to note that each platform also offers their own monthly rates at a small price jump, which you can also find at each of the below source links.
HubSpot's Service Hub
Annual Tiered Pricing:


Can I use it for free?
Yes - for as long as it suits you. HubSpot offers a free Service Hub (and other Hub) plans to help you establish your footing with essentials like live chat, ticketing, shared inbox, and general contact management.

HubSpot's free version of Service Hub is also tied to its CRM software for sales and Content Management Software (CMS) for marketing, so you'll also reap the added benefits of other useful tools that connect and unify your sales, marketing, and service operations into one central location.

So, what's the catch, right? Oddly enough, there really isn't one. HubSpot doesn't require a credit card and actually offers a fairly extensive list of free tools to give you some pretty solid footing. But if you start to use HubSpot and find yourself growing or needing additional functionality, you can always upgrade for added features or request a demo of higher-tiered solutions to determine the best fit.
Key, Tiered Service Hub Features:
Service Hub, Free:
Team email

Shared Inbox

Ticketing

Tickets Closed Reports
Service Hub, Starter:
Free Features, Plus:

Basic Ticket Automations

Multi-Ticket Pipelines

Conversation Routing

Multiple Currencies
Service Hub, Professional:
Starter and Free Features, Plus:

Customer Portal

Automated Help Desk

Knowledge Base

Service Level Agreements (SLAs)
Service Hub, Enterprise:
Professional, Starter, and Free Features, Plus:

Team Management

Goals

Playbooks

Conversation Intelligence
A full list of features within each Service Hub tier can also be found here, or right on HubSpot's Service Hub page.
HubSpot Service Hub Use Cases:
Quickly respond to customer inquiries in real-time and on flexible schedules with live chat and mobile help desk


Automate time-consuming tasks so you can focus on delivering more personalized service


Leverage conversation intelligence to identify key terms and trends for service managers so you can transform customers insights into customer-first actions


Add a knowledge base (including SSO) to provide immediate answers and self-service for your growing audience


Help desk automation to expedite customer care with a personal touch


Connect help desk automation workflows to sequences to optimize and personalize outreach, follow ups, and other communication at scale


Salesforce's Service Cloud
Annual Tiered Pricing: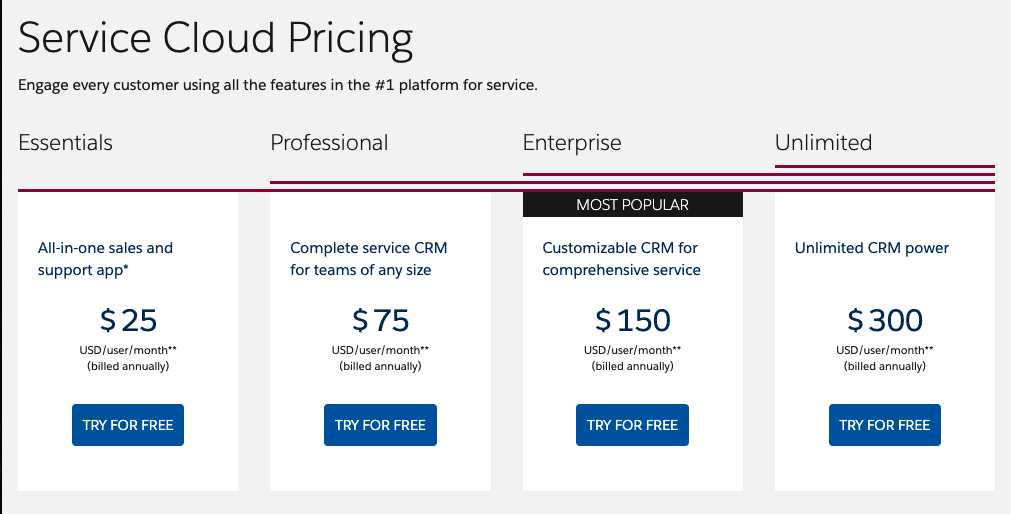 Can I use it for free?
Yes - for 30 days. Built on the Salesforce platform, Service Cloud lets you choose which of its tiers you'd like to demo. So essentially, you can pick the price point and functionalities you think would be best suited for your team, and take that level for a spin so you'll know exactly what to expect.

All tiers, from Essentials up to the Unlimited package, offer features including account, lead, contact and case management, service console apps, knowledge base, Computer Telephony Integration (CTI), and service console apps.

In contrast to HubSpot and Zendesk's tier setups where you get more functionality with each tier, Salesforce's Service Cloud tiers aren't necessarily as linear. For example, there are some features within its Essentials and Unlimited packages (the lowest and highest tiers) that aren't included in its Professional and Enterprise (middle) tiers. A specific example of this includes the Knowledge Base Web and In-App Chat features. You'll get access to these functionalities with its low and high tiers, but have to pay an add-on fee to access the Knowledge Base and Web/In-App Chat for its two mid-level packages.
With that, we've rounded up some key features within each.
Key, Tiered Service Cloud Features:
Service Cloud, Essentials:
Service Console
Multi-Channel Support
Customizable Templates to Create a Self-Service Help Center
Macros for Automation
Service Cloud, Professional:
Most Essentials Features, Plus:
Channel Menu
Unlimited Custom Applications
Developer Sandbox
Service Cloud, Enterprise:
Most Essentials and Professional Features, Plus:
Workflow and Approval Automation
Self-Service Help Center
Advanced Case Management
Service Cloud, Unlimited:
All Essentials, Pro, and Enterprise Features, Plus:
Einstein Bots (or Salesforce AI) for Customer Engagement and Troubleshooting
Developer Pro Sandbox (with more storage space and functionality)
Premier Success Plan
A full list of features within each tier is available here.
Salesforce Service Cloud Use Cases:
Case management for timely customer care, and basic automations to help agents address high ticket volumes



Omnichannel support and automation tools to meet customers with prompt and appropriate service no matter where they're communicating with your business from



Field Service Lightning (FSL) extension offering workforce management for remote teams, field technicians and others who carry out service functions outside of your brick-and-mortar location



Service analytics to help team leads understand employee workloads, team progress and reporting functions to monitor case trends, and other customizable reports


Zendesk Suite
Annual Tiered Pricing:

Can I use it for free?
Yes - though Zendesk doesn't specify their free trial duration up-front, there are sources that tell us it's 30 days. On its tier pricing page, it also appears that you can take any level tier for a spin, based on your functionality needs.

Each Zendesk Suite tier offers key help desk features like multi-channel ticketing systems and chat support, basic automations and workflows, and a shared agent workspace for efficient handoffs and streamlined customer communication and online support.

Zendesk's tiers are also set up more similarly to HubSpot in that as tier levels increase, its limits, functionality, and offerings also become more robust. Some standout features within each of Zendesk's Suite tiers include:
Key, Tiered Zendesk Suite features:
Zendesk Suite, Team:
Unified agent workspace with interaction history
Ticket sharing between multiple Zendesk accounts
Macro responses, custom triggers and automations
API access for developers
Zendesk Suite, Growth:
All Team Features, Plus:

Customer portal

Customer Satisfaction (CSAT) ratings and follow-up surveys following ticket resolution

SLA management

Help article recommendations
Zendesk Suite, Professional:
All Team and Growth features, Plus:

Agent operating hours

Community forums

Conversation routing based on agent skill level
Zendesk Suite, Enterprise:
All Team, Growth, and Professional features, Plus:

Automatic email archiving

Up to 300 help centers with federated search

Customizable live reporting dashboards
An exhaustive list comparing Zendesk Suite features is available online.
Zendesk Suite Use Cases:
Triggers to help with appropriate customer routing for companies with multiple brands, or international locations (for example, setting up varying country locations to help customers get serviced by the correct team, in their appropriate language)



Centralized dashboard for any type of incoming customer serviceCom conversation regardless of channel usage



Workflow management to help keep teams organized with custom automations for relevant and timely customer care
In Conclusion...
We're happy to report that you've got some great options at your disposal, when it comes to exceeding customer expectations and giving your service teams the tools they need to make it happen! With some extra knowledge in your tool belt, we hope that this round-up spares you excessive time researching and trying to better understand each platform -- and gives you some solid footing to make the best-informed decision for your team that continues to delight your customer.

If you're considering implementing HubSpot as a new platform for your customer service team, or are thinking of making the switch from one platform to another, our team of solutions experts are here for you every step of the way.

We help businesses of all sizes (and industries) with successful HubSpot onboarding, team training and implementation on a daily basis, and we want to ensure you get the best bang for your buck and extract the most value from this powerful customer service tool.
Ready to Dive In?
Work with our team of HubSpot experts and watch us take clunky systems, tech stacks, websites, and portals and turn them into tailored, intelligent workflows that deliver business outcomes.