Meet the Sharks: Jeanie, ManoByte's Creative Director

We are excited to continue our series of interviews, "Meet the Sharks" here on the ManoByte blog. With this series, we'll highlight the amazing people who work to make inbound magic happen for our clients each day. This week, we'd like you to learn more about our Creative Director, Jeanie.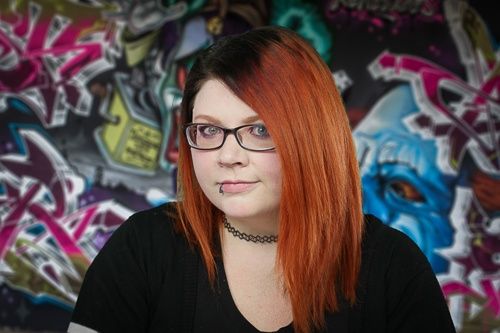 MB: Give us a few facts about you and your background:
JH: First things first, I'm pretty easy to spot at work; just look for the girl in all black with bright hair and her face buried in her laptop! But seriously, I'm pretty quiet but I have a million ideas running through my head. I'm a nerd, I love to read, play video games and go to concerts. I'm very passionate about rescue animals and removing the stereotype around certain breeds. I have a 4-year-old Staffordshire Terrier Named Baloo and he is the best thing in the entire world.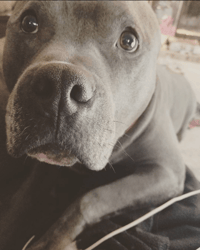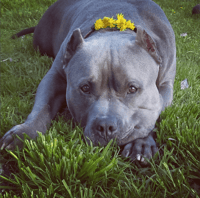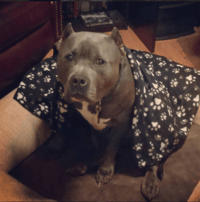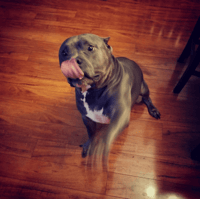 In high school I was in every art class they offered, from ceramics, illustration and painting to graphic design. I was also very into science, math and computers (also taking all the courses offered) so when it came to deciding what I wanted to go to college for I was very split on my options. My Junior year my art teachers started submitting my art for various awards and I was awarded two Gold Key awards from Kendall College which included two free summer courses. After I completed the summer classes I decided I wanted to apply to Kendall and combine my love for art and computers by getting my degree in Graphic Design.
I was accepted into Kendall and awarded a Portfolio Scholarship award to help me pay for my classes. (Fun fact, I almost left Kendall to go to U of M Flint and get a degree in engineering, but my S.O. decided to move to GR instead.) I graduated Kendall College of Art and Design and got my BFA in Graphic Design in 2013.
Lastly, I'm a very motivated person. My parents never had to tell me to do my homework or chores, I just made sure I to get them done. If I have a goal in front of me I find a way to accomplish it. I was able to put myself through college by getting a scholarship from Kendall and working full-time at various customer service jobs. I'm not afraid of hard work that will help further my knowledge and advance my career.
MB: Now, tell us a bit about how you ended up at ManoByte:
JH: When I graduated college in 2013, I was pretty set on wanting to do traditional advertising like billboards or magazines. I was applying to different jobs when my sister sent me a listing for ManoByte (a social media and digital marketing agency at the time) and I decided to just go for it. Kevin asked me to come prepared with a sample blog, blog image, and call-to-action. If I'm being honest, I had no idea what he was asking me to do. I'm applying for a design position and he wants me to write a blog?! What?! But, I went ahead and did it and to this day no one has ever read that blog. After a great interview Kevin offered me the job and the rest is history.
MB: So, what exactly do you do at ManoByte?
JH: What does my job title say I do, or what can I do? Ha! I can't decide so I'll answer both. My official title is Creative Director. I oversee all the design work from web design to branding to blog images. I also oversee our development department making sure that our design vision comes to life on the screen with our amazing developers. Now, what can I do? I'm always down to help out my coworkers with an issue they are having, help strategize for a client or lend a helping hand on tedious tasks that need to get done. I strive to always be learning and pushing myself to the next level. I have a thirst for knowledge and it is my goal to learn all aspects of our business. I feel like if you have a good handle on everything we can offer with HubSpot, it really helps align our design and development work with the strategy for our clients. I currently hold 14 of the 18 available certifications from HubSpot, but check back in with me in a few weeks and I'll probably have all of them. I am also certified in all three levels of Google Analytics.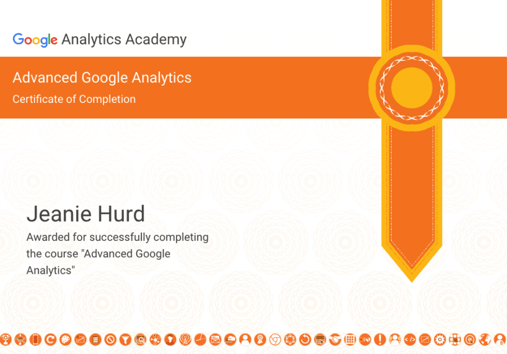 Want to know more about HubSpot? We have an entire guide that walks you through virtually every aspect of the platform. Get it here.
MB: What is your favorite part of your specific job role?
JH: I think my favorite part of graphic design would be taking an idea that a client or coworker has and bringing it to life. The moment when they say "YES! That is exactly what I was thinking!" is the absolute best feeling. I also feel like a broken record at this point, but my favorite part of my job is getting to learn new skills and implementing them in my design or in our strategy. I like that I'm not boxed into my title and I have the freedom to grow and contribute to the company in different ways.
MB: What do you not like about your specific job?
JH: Honestly, I find things I don't like are just the things that I need to learn more about and grow my skills. But the one thing I HATE doing would be Powerpoint designs -- no thanks! While I know that in certain situations they are necessary, I feel like we can spend our time doing more strategic and intentional designs that will make a bigger impact for the client.
MB: What is your favorite part of what we do as an agency?
JH: My favorite part of what we do as an agency is being able to work as a team to solve an issue with a creative solution. Brainstorm meetings are the best because we are able to build off each others' suggestions to come up with a really good strategy to tackle the issue at hand.
MB: If you could tell businesses one thing they should do differently when it comes to designing their websites, what would you suggest that be?
JH: I would tell someone that that their website is not for the business. While it needs to convey information about you as a business and your values and culture, at the end of the day, it's for your buyer personas. Also - your logo doesn't need to be bigger! Everyone can see it just fine. ;)
MB: What do you think people should or would want to know about our business and the services we provide?
JH: We have a team of really talented, smart individuals who strive to help grow and scale your business. We put a lot of time and effort into the strategies we come up with for each of our clients.
MB: If you had to pick one project we've done that was your favorite, what would it be and why?
JH: My favorite project would have to be our own website. I think we are on the 4th or 5th iteration of our website since I have been with ManoByte over the last 5 years. I feel like now we are at a point where we can be as creative as we want with it and it really shows our personality, from our custom shark on the homepage to the cartoons of all of our employees on the about page.
MB: What is something you think people would be surprised to know about ManoByte?
JH: We don't have a vacation or sick day policy. When we tell anyone that in an interview you can see the red flags going off in their head until we explain that we have no policy because we trust that everyone we hire won't abuse it. Having a set number of days of vacation time is just another thing we have to keep track of, so instead we can just take as much time off as we choose as long as we communicate with our team and the work gets done. If you are sick, please stay home and get better! No one at the office wants to catch what you have!
MB: What is your favorite part of working at ManoByte?
JH: The people! (So glad I'm getting interviewed early because this is what all of us say). No one dreads coming into work here. While we might have tough days we know we can lean on each other. I have never worked somewhere where I truly enjoyed everyone I work with, which is BIG! How many people can say that? I love that we have a culture where everyone can be themselves and get along.
MB: Anything else you care to share about our business?
JH: I love my job, the people that I work with, and our clients that we serve. I'm very fortunate to be the creative director here and I wouldn't trade it for anything in the world. Let's keep rocking on!
Want to meet all the ManoByte Sharks? Click and subscribe below to get one email per week recapping our latest blog posts, including our Meet the Sharks series.
Ready to Dive In?
Work with our team of HubSpot experts and watch us take clunky systems, tech stacks, websites, and portals and turn them into tailored, intelligent workflows that deliver business outcomes.