Today, we continue our Meet the Sharks series with our newest shark in the tank, our ManoByte Content Specialist, Emily Neier.
MB: Tell us a little bit about you your background?
EN: I'm from Rockford, Michigan, so I've lived in the Grand Rapids area my entire life. Growing up, I was involved in ballet and choir—I even used to dance on pointe. I always loved to write, though, and through middle and high school I carried around a separate notebook for my personal creative writing projects. I attended GVSU to study creative writing, and I added a geology minor halfway through. I like to tell people I studied abroad in college because I took a field trip with my mineralogy class to Ontario, Canada for a week.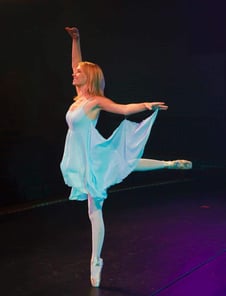 MB: What do you like to do outside of work?
EN: Outside of work, I do a lot of writing (that's right, I spend all day writing to go home and write some more). In my free time, I write mostly fiction, so it's a little different than blogging! I even have Google Docs on my phone so I can write while I'm waiting at the dentist's office or in line at the grocery store.
When I'm not writing, I like to do crazy things to my hair (like dye it pink!) and spend time with my boyfriend and our two cats, Sakamoto and Shiro. I'm also a volunteer for the Japanese Animation, Film, and Art Expo (JAFAX), which is the longest-running anime and manga event in Michigan (23 years and counting!). As a part of JAFAX, I attend about half a dozen similar events in the Midwest each year, which is great for adding to my collection of plush animals disguised as food.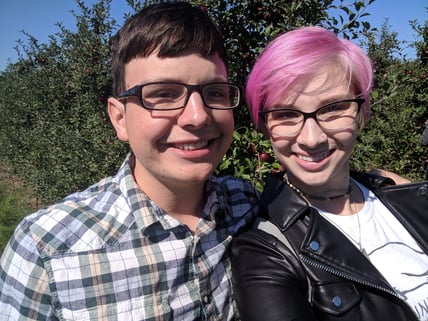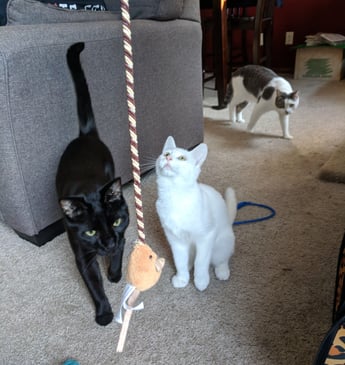 MB: What got you interested in working at Manobyte?
EN: So I first became interested in working at ManoByte because of the sharks inside the logo. I saw the logo on the job description, and it reminded me of my friend and college roommate who loves sharks and would draw them all over the windows of our apartment in dry erase marker (unfortunately I no longer have photos). Throughout college we were big cheerleaders for each other, and I applied because I knew if she saw the sharks, she'd want me to work here.
MB: What was your interview process like here at ManoByte?
EN: I remember very clearly walking in for my interview and expecting to check in with a receptionist at a desk and seeing only a giant fish tank. Was I supposed to tell the fish I had an interview at nine? Thankfully, Kevin, ManoByte's CEO, came out of his office to meet me so I did not thoroughly embarrass myself.
After my initial interview, I had to write a sample article. It was a little nerve-wracking since I hadn't taken a writing test in a while, but it also was exciting to be writing with a purpose again and not just for my own amusement. After finishing my writing assignment, I was invited back in and offered the job.
MB: What do you find challenging about your job?
EN: The most challenging thing but also the most rewarding is having my writing in front of an audience again. I love the creation part of the writing process and having all my words to myself, but it's a lonely world, and it's hard to get better as a writer when there's no outside feedback—even when the feedback might be hard to hear. So it's a challenge, but without it, it's a lot harder to move forward (like if you try leveling up in a video game by fighting a hundred low level enemies instead of a dozen higher level ones!)
MB: What do you like best about being at ManoByte?
EN: Everyone here is so talented at what they do. It makes me want to get better and better at my job because of all the cool stuff I see going on around the office. It's really motivating to work with people who are doing work they're passionate about.
MB: What do you think someone would be surprised to know about ManoByte?
EN: Definitely what surprised my family and friends the most was when I told them we have couches and blankets. I don't think they quite understood exactly how laid back it can be here!
MB: Is there anything else we haven't asked you about that you'd like to add?
EN: My favorite punctuation mark is the em dash ( — ) so you'll probably see it a lot in my blogs.
To read about all the ManoByte sharks, click here and then on the photo of the person you'd like to learn more about.