Your trade show is finally over. After months of preparation and gallons of hand sanitizer, you are finally back in your office, in the chair that has a permanent imprint of your butt, with the keyboard where you left all those cookie crumbs that you were saving for later. Time to sit back, put your feet up, and wait for those sales to come rolling in. Right?
Nope. (Come on, you knew that was coming).
The time immediately after a trade show is the best possible time to follow up with leads you either generated or nurtured with your attendance.
In some circles this is known as "striking while the iron is hot." In others, it's known as "doing your job." No matter what you call it, the time is now.
So how can you make sure that you're writing good tradeshow emails that don't get lost in the proverbial shuffle?
Read on.

1. You Don't Write the Email
It might go without saying, but if you don't actually write the email, you're not going to see very good results. In fact, one study suggests that up to 80% of leads collected at a trade show are never followed up. Not making contact with the leads you spent so much time, energy and money to connect with is a huge mistake.
If you don't have the resources to personally follow up on every lead, consider utilizing some form of email automation, like a HubSpot workflow, to ensure a that everyone you talked to hears from you promptly. (Note: While automated workflows are awesome, a personal trade show follow up can be much more effective in this particular instance.)
2. You Wait Too Long to Send the Email
If you're anything like me, you have so many things going on that it's hard to remember what you had for lunch, much less the name and value proposition of a person you met last week. That's why it is absolutely essential to follow up quickly with trade show leads. A good rule of thumb is to make sure everyone you spoke with -- who is a qualified lead -- hears from you within 48 hours of the end of the show. You don't have to draft a novel, just send a quick note to help your leads remember who you are and settle them into your sales funnel.
3. You Don't Segment Your Leads
Trade shows are great precisely because they can get your brand in front of people who have never heard of you before while also offering you a chance to connect face-to-face with current customers and red hot leads. While I'm sure all these people are wonderful, they are not all so deserving of your time. The more ready the lead is, that is, how far they are through the buyer's journey, can tell you just how much time you should spend on your contact with them. If someone stopped by your booth for a free Vitamin Water and doesn't fit neatly into your buyer personas, you may want to enroll them in a nurturing workflow to get them warmed up before you reach out personally. If someone was already on your radar and used the trade show as a chance to talk in person -- they're ready for more. Just like any other inbound marketing process, when you segment your leads effectively, you'll see better results.
4. You Don't Include Anything Memorable
Speaking of memory, if your emails read something like this: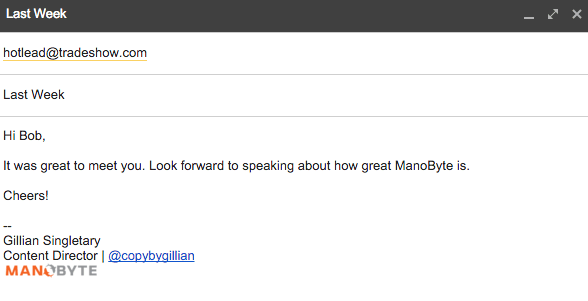 you aren't doing it right.
In addition to including a mention of the specific trade show where you met, leave at least a clue as to who you are, what you do, and what you talked about. More like this: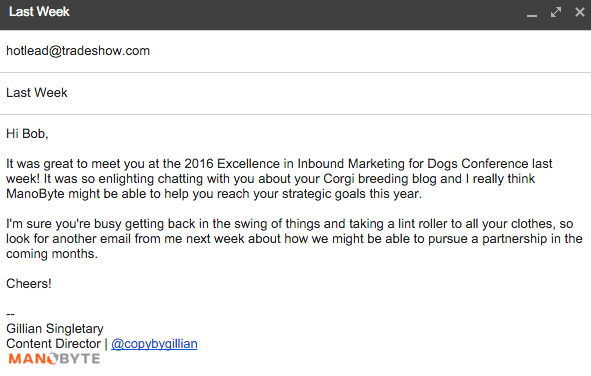 Even though this email is still short and to the point, it definitely gives the recipient - your lead - a much clearer picture of who you are and how you can help them.
5. You Stop With One
One follow up email? What is this, amateur hour? You know your prospects are busy, so don't expect them to jump at the chance to talk to you after just one email. Some of them will but many more of them won't. Be sure to utilize inbound marketing best practices in your trade show follow up email in order to keep your leads in your funnel. This means offering useful content that is relevant to their needs at their particular stage of the buyer's journey.
When you take the time to properly reach out to and nurture the leads you collect at a trade show, you'll be making the most of your trade show investment.
For tips on how to get the most leads at your trade show - do that you can follow up with them later - be sure to download our presentation below: