The 6 Best Manufacturing CRM Softwares in 2021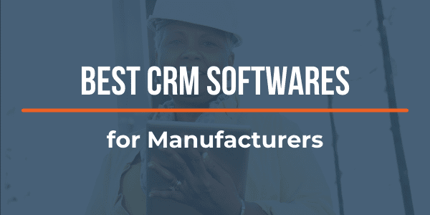 CRMs are a core part of many businesses—that's why the number of available platforms continues to grow. While there are many all-purpose and industry-specific CRMs out there, choosing the best one for your manufacturing business means careful consideration of a few specific things.
Effective CRMs for channel sellers need to be
Easy to use and quick to learn for technologically savvy and less-astute team members and channel partners.

Customizable for indirect channel sales management.

Cross-functional for departments and channel visibility.

Scalable to encourage and manage channel growth.

Align marketing and sales teams to have better interactions and provide consistent value to customers.
Oftentimes, sales teams can find their company's CRM to be a burden and interaction logging and other data entry to be dreadful chore that serves no tangible purpose. This can be for a number of reasons, like lack of company wide adoption and utilization, poor training, incomplete CRM configuration, or the company just has the wrong CRM for their needs.
Let's take a closer look at the best of the best in CRMs for manufacturers, and why they may be exactly what you need to improve your internal business operation and channel management objectives.
1. HubSpot CRM
Perhaps the best CRM for manufacturers looking to get more out of their customers and distributors, the HubSpot CRM. With several tiers available within their various "Hubs" of digital growth tools, the Sales Hub Pro and Enterprise tiers are ideal options for manufacturers who need to integrate streams of data sources, provide varying user permissions across departments, build out custom objects for data collection and analysis, and build out reports that inform business decisions.
Let's dive into one of these key offerings: the ability to create custom objects. This allows you to build your CRM the way you want to use it with your unique sales process. The key to remember about most other CRMs it that, out of the box, have 90% of what manufacturers need, but then lack the critical 10% that would be most helpful to manufacturing teams. That's why the custom objects feature of HubSpot's CRM is so unique - it fills the gap for the 10% of missing features out of the box and ensure your company is not confined to a way of doing things that doesn't match the human behavior and processes already in place.
Additionally, the mobile HubSpot app makes it easy for users to manage partner, vendor, and customer relationships as they are out and about. It also has robust tools to segment contacts and companies by standard or custom identifiers, a common function of any good CRM.
HubSpot CRM really beats other CRM options by providing plenty of self serve educational content to help you and your cross-functional teams dive in and start using it immediately along with HubSpot Support Teams able to assist via chat, phone, or email.
2. PipelineDeals
There are a few things that make PipelineDeals a solid choice for manufacturers. This CRM is one of the most used options for small to mid-size manufacturing companies that have strong sales teams in numerous industries. The platform is easy to use, and there are numerous customizable features to it. Another feature that helps it stand out is the robust customer support provided as a component of the program's services.
Overall, PipelineDeals is an effective tool that enables business growth and solid connectivity. It also offers good integration of email and calendar features to make managing time easy. The only drawbacks of this CRM is less-than-ideal functionality and lacks built-in automation for common marketing tasks.
3. SolidPerformers CRM
The SolidPerformers CRM has some of the best features for busy organizations. Perhaps one of the best features of this CRM is that it can perform multiple functions at one time, really helping organizations to get the most out of their time. SolidPerformers also offers a wide range of features including lead follow-up management, client management, lead to client conversion in One Click, and finance management, to name a few.
The custom module creation option of this B2B CRM software allows for the creation of additional functions based on the company's needs, which is highly beneficial for manufacturers. However, it can be a bit slow in operational features, and it doesn't offer the robust automation features of some other systems.
4. Salesforce CRM
Salesforce is one of the most well-known CRMs, and it offers perhaps the best overall combination of features in a cloud-based system that can be operated anywhere. Additionally, this platform is exceptionally flexible and customizable. While more expensive for small business operations, the Salesforce CRM can be a solid choice for most organizations.
Recognized for being easy to use and implement, Salesforce has an interface that's attractive and efficient. The free version provides basic services, but leaves users without the functionality needed for manufacturing companies. However, it offers key features such as digitizing lifestyle marketing, streamlining distribution with online buying tools, intelligent field service, and channel management.
5. Zoho CRM
This CRM is a great option for manufacturers who need a simple tool to manage inventory and customers on a single platform. Zoho is ideal for manufacturers because it provides price quote tools, delivery of goods tools, and account management features.
A few other things make the Zoho CRM stand out, like its selling tools and the ability to sell either goods or services (which may fit the plan for some manufacturers). The only drawbacks of this platform are the limited customizations and the lack of marketing automation, which many of today's manufacturers need.
6. Keap/Infusionsoft
You may know Keap by its previous name, Infusionsoft. This cloud-based manufacturing CRM allows users to effortlessly create customer relationships with ample customization. It also incorporates marketing automation and includes eCommerce functionality in the package, making pretty comprehensive. For small manufacturers that need help streamlining sales while also managing customer experiences, Keap works well.
Keap offers a range of features including tools to track customer interactions (excellent for easily tracking tasks, emails, and all other communication) and segmenting contacts. There are numerous personalization tools for running campaigns, too, to enhance campaign engagement. It also includes inventory management tools, payment, and purchase fulfillment features, and digital storefront activity tracking.
Don't Set & Forget Your Company's CRM
While all of these CRMs are well suited to help manufacturers optimize their sales process and growth their business, they must be implemented correctly in order to reap the best ROI. Don't fall into the trap of pushing out a new CRM without taking the time to properly set it up, integrate with existing systems, and train your team—or you risk frustrating your team further and paying for a platform no one can effectively use.
Ready to Dive In?
Work with our team of HubSpot experts and watch us take clunky systems, tech stacks, websites, and portals and turn them into tailored, intelligent workflows that deliver business outcomes.