How Long Does it Take to Implement a New Manufacturing CRM?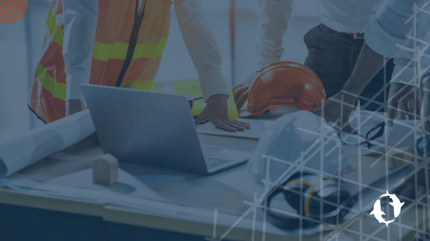 The CRM (customer relationship management) is an essential part of today's business landscape. These software tools perform a myriad of important customer relations functions quickly and efficiently. They help your business stay on top of customer communication, while freeing your employees to handle more sensitive, non-routine matters.
Factors that Affect Your CRM Implementation Timeline
Each company has its own unique set of circumstances that affect how long it will take to get a CRM system up and running smoothly. The entire implementation process can vary considerably, depending on:
The size of the business, including number of locations
The size of the customer database
The number of people who need to be trained on the new system
The new CRM being implemented
The previous CRM or process being replaced
For example, if you are currently using a system of spreadsheets to track customer interactions, collecting and cleaning all the data may take more time than if the data was stored in a different CRM platform. However, reformatting and cleaning data exported from a different CRM can take time, too, depending on how data needs to be imported into the new system.
While time varies considerably overall for CRM implementation, for a mid-market manufacturer who needs to train between 50 and 100 people on the new system, the process takes about 11 months to a year.
Catch the segment from 14:41 - 16:41 below to hear how long it took for UFP Industry's CRM Implementation:

CRM Implementation Timeline
We've outlined an example of a basic CRM implementation timeline for a mid-market manufacturer. Depending on your business, some of these stages can be accomplished in short order, while other phases will take more time.

Understanding Goals: 3-4 Weeks
Setting a goal is, arguably, the most important part of your CRM planning process. Until you decide clearly what you want to achieve by adding or switching CRM systems, you're just wasting time and money.
Do you want your system to streamline your customer service functions, saving your employees time? Perhaps you want to make 24/7 customer service possible or increase your number of sales leads. Maybe you want to increase customer retention by upping your customer service "game".
Whatever you decide, keep in mind that you'll also want to choose a method of measuring your progress towards those goals.
You can use our template to create a one page goal sheet that can be leverage throughout your organization to stay on the exact same page.
Determining What Features You Need: 6-8 Weeks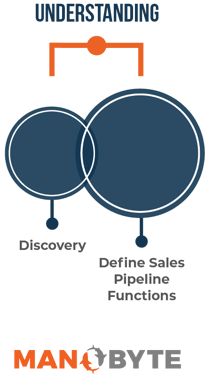 Another essential step in your timeline is to decide which CRM features you need. You certainly don't want to pay for features that you'll rarely, if ever use.
When you're looking at the possibilities, keep in mind your goal of the CRM. It's very easy to get lost in the many bells and whistles that might not apply to how you can most effectively operate with a CRM.
Some common features a CRM should have:
- Customer database with advanced filtering
- Integration with major email clients such as Outlook and Gmail
- Automation that logs activities like emails opened and links clicked
- Automation that allows sales reps to create email templates or sequences for common communications
Selecting a Vendor: 4-6 Weeks
Now, armed with your goals and a list of features you need, it's time to select the software vendor that has the product and pricing that will work best for your needs. Some major CRM vendors include Zoho, Salesforce, and HubSpot.
Many CRMs offer modular or a la carte pricing, meaning you only pay for the features you want. Others offer tiered pricing where each tier contains a specific set of features, often based on the size of the business. CRMs designed to help businesses scale often offered tiered pricing that builds on the previous tier with advanced or additional features.
Data Migration & CRM Set Up: 8-12 Weeks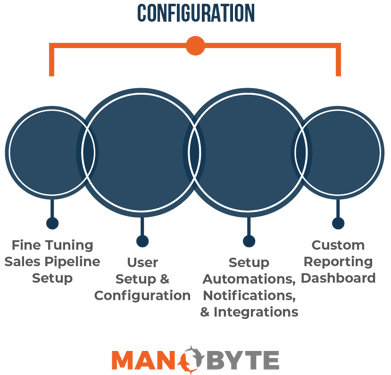 Setting up your system involves cleansing and migrating your data from the old system to the new system as well as integration of the new software with your existing software programs. This process can often be held up when hunting down missing data or list scrubbing processes.
Common hold ups for CRM set up include:
Reformatting data from one system to import into another
Collecting data from disparate systems
A lot of old data that requires cleaning
Hang ups connecting the new CRM to other systems
Beta Launch & Super User Training: 12-16 Weeks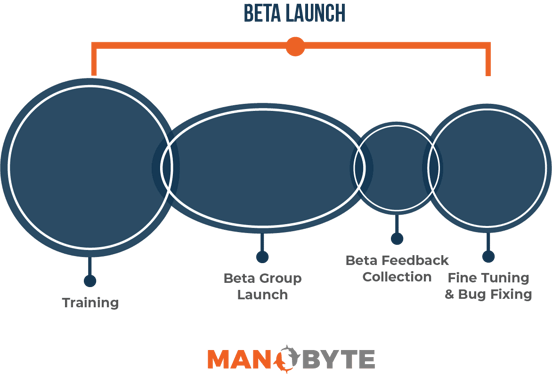 As with any new CRM system that teams both large and small are transitioning to, there's going to be a learning curve. Our top priority is your success, so we will come alongside your team in group training sessions and individual training sessions to bring everyone up to speed.
This step is crucial because without team-wide adoption of the CRM, the value decision makers will get out of the tool will be greatly diminished. You can choose to launch the new CRM with a group of Beta users, or Super Users who will manage the adoption of the CRM by other team members, to iron out any kinks before a full rollout across the entire organization. T
he ManoByte team will be alongside your leaders each step of the way to fine tune the CRM system, automations, integrations, and customizations to ensure your team can work well with the new system. Full rollout and User Training is a substantial portion of the CRM implementation project and is one of our highest priorities for the project because without user adoption, there is significantly less benefit to your organization. We are then available for continuous improvement via creation of new custom reports, keeping data clean, creating new automations, adding and training new users, etc on a retainer basis.
Full CRM ROllout & User Training: 12-16 Weeks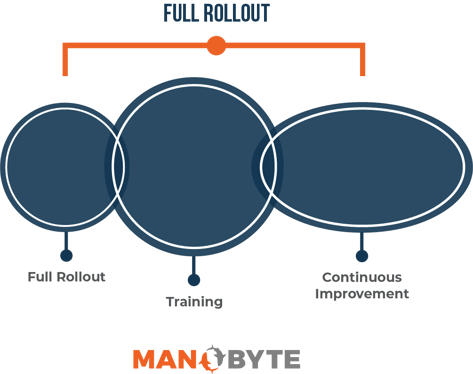 The last step in your CRM implementation strategy is to train your employees how to use the system. Your CRM vendor will have resources available to help you with training, and they may also offer training sessions virtually or in-person to answer any questions your team might have.
Before you start, decide how you want to hold your training sessions: during work hours or after hours, by team or department, or as a mixed group from various departments? Additionally, you'll need to make plans for ongoing training for new hires and when upgrades are done to the system.
How long it takes to train the team will depend on the size of your team as well as what they need to learn. While it might be tempting to hold a couple large training sessions to give all the information to your team quickly—this actually hinders software adoption. Offering more training sessions in smaller groups and making resources easily digestible will help the team retain more information. When they remember more, they can implement what they learned, allowing them to see quicker wins with the new platform and want to use it more.
Training should ideally be ongoing, too, with resources available to refresh and expand on what the team has already learned.
Streamline CRM Implementation & Data Migration

Your expertise is in the products you manufacture and the services you offer. While it's important to understand the trends in your industry and needs of your organization, a little help can make the CRM implementation process smoother. Partnering with an implementation expert can ensure proper CRM set up and connection with your other systems as well as assist in training efforts. An implementation partner knows their way around the platform you're implementing and can make sure it's set to reach your goals and help your business grow.
Ready to Dive In?
Work with our team of HubSpot experts and watch us take clunky systems, tech stacks, websites, and portals and turn them into tailored, intelligent workflows that deliver business outcomes.