Why Choose HubSpot CMS Over WordPress For Building Material Manufacturers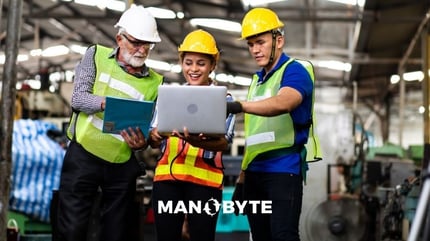 A CMS is a software suite that allows you to build, manage, and update your website. A valuable CMS software allows you to do so without needing a developers mindset. It takes the pain out of managing your site so you can focus on building campaigns and content that result in growth. Building Material Manufacturers are seeing a shift in the importance of their digital presence. They find the platform is important because it can have an impact on the future of the company's success.
HubSpot CMS hub empowers strategy
A lot of my clients in the Building Material Manufacturing Industry are focusing on website refreshes. We are seeing the need for an online presence more than ever for our clients, but it isn't just putting a pretty website together with a logo and contact information. It is the platform where your Inbound Marketing begins starting with brand awareness, marketing campaigns, and creative content delivery. Our clients are typically not web developers nor should they be trying to spend time being one.
In instances agency help is not possible, HubSpot CMS Hub empowers clients to take charge and create a cohesive ecosystem with other processes while needing little development knowledge to do so. You may wonder where to begin, which is why we decided to narrow down the top two performers, HubSpots CMS Hub and WordPress.
HubSpot CMS
CMS Hub is a cloud-based content management system (CMS). With CMS Hub, both marketers and developers alike have the tools they need to create amazing websites focused on the customer experience. Users can easily create content, optimize their site for conversions, and gain insight into performance all in one place.
Wordpress
WordPress is an open-source software package that must be installed, or configured on your servers, or using a third-party hosting provider. Its interface includes basics like content creation tools, but requires plugins for additional functionality like sitemaps, SEO, analytics, and more.
Your Website is the foundation
Your company's website is the driving force for your entire brand and businesses future growth. Your customer journey begins and ends on your website and technology like CMS Hub allows you to track that journey through analytic reports delivered directly to you based on SEO, Content Creation, Social Media Influencing, Targeted Marketing, and Landing Pages. All of which can be managed right in your CMS Hub.
HubSpot CMS Hub Benefits Vs Wordpress
WordPress started as a blogging platform transforming into an open source CMS platform, but it often requires various integrations and additional software programs to fully build out your website.
HubSpot CMS Hub, on the other hand, combines the features of WordPress with a complete customer relationship management (CRM) system. Full CRM integration is essential for business websites. When it's combined with a CMS, you can convert visitors into leads who are immediately stored in the HubSpot CRM. Essentially, HubSpot operates as a fully integrated digital marketing solution.
1. Blogging
WordPress: You can start blogging using themes from WordPress, but depending on the theme selected, it's advisable to use a developer to make layout changes. In addition, if you want to optimize your content for search engines then you'll need to install plugins, which can create a security risk.
CMS Hub: provides an easy to use interface that enables you to write, optimize, publish, and analyze blog content in one-place. With HubSpot, no plugins or extra software is required to serve great looking content on mobile and optimize content for search engines.
2. Landing Pages
WordPress: It may require a developer to edit an existing template, or create a new template from scratch. Depending on your goal for the landing page additional options, like a form or live chat, will also require additional software.
CMS Hub Select the template you want that already matches branding, or start from scratch from thousands of free or paid templates available in the marketplace. Every template is mobile optimized and natively supports drag-and-drop modules for easily changing the layout of pages without any developer required. If you want to add live chat, form, or a CTA to your page it's all integrated and available in one-click.
3. Website
WordPress: Using WordPress you can easily create text based content but additional layout changes will likely require additional resources or templates. Adding additional software to your site, like A/B testing or live chat, will require plugins or additional subscriptions. Many of these costs can essentially be "hidden costs" to ensure your WordPress website stays secure, fast, and has all the plugins required for basic functionality.
CMS Hub: Easily create, modify, and add-to pages with drag-and-drop layouts and get started with one of thousands of themes, or build your own from scratch. Because CMS Hub is built on-top of a single unified database, HubSpot CRM, which includes all the data you need to tailor the customer experience and align with sales.
4. SEO
WordPress: Does not come with native SEO functionality, but it does have a number of plugins - some paid, some free - which can help. Keep in mind, more plugins means more software management, cost, and headaches when it comes to maintenance and security concerns.
CMS Hub: Includes overall content strategy as well as on-page SEO tools built-in to blog, landing pages, and website page creation. Whether you're creating a page for the first-time or updating content on the fly, you can optimize content for search from the start and get your brand displayed prominently in search results.
5. Marketing Analytics
WordPress: some editions include limited reporting on content, but require another solution for a more in-depth analysis. This creates data silos that don't speak to one another and result in an incomplete picture with less actionable data.
CMS Hub: all of the analytics you need are included to measure the performance of your website and data to see the ROI of your website. Because it is integrated with HubSpot's free CRM it's easy to build lists of contacts who have visited specific pages on your site, downloaded content offers, or interact with you via live chat.
6. Advanced Website Testing
WordPress: Native testing functionality is not included. You can purchase a plugin, or additional service and integrate them into your website.
CMS Hub includes A/B testing out of the box, and with CMS Hub Enterprise you also get dynamic page testing which is an AI-powered form of testing that will optimize up to 5 pages against one another and automatically choose a winner.
7. Email Marketing
WordPress: No native email marketing or marketing automation capabilities to speak of. When you want to deliver true relationship-building to all of your inbound marketing leads, you'll have to rely on secondary tools like MailChimp.
CMS Hub: You can add personalization tokens to customize your messaging to recipients. Plus, your CMS integrates seamlessly with email tools, so you can automate newsletters as you publish your content. One of the best marketing automation features included in HubSpot is workflows. You can create targeted workflows using list segmentation to personalize your emails to each contact in your database.
8. Social Media
WordPress: you'll still need third-party tools to maximize sharing, and you won't be able to monitor your social reach from within WordPress. That's a lot of extra software to oversee.
CMS Hub: When it's time to schedule out your social messages, you never have to leave your hub to do so. You can also measure and assess how your social media strategy is faring by looking at social media analytics.
9. Custom Objects
WordPress: Does not offer this feature at this time.
CMS Hub offers custom objects so marketers have an opportunity to deploy new levels of targeting personalization into their web flows. In HubSpot, a custom object is an object that can store and structure almost any type of data within the platform. With custom objects, your landing page and emails will add levels of detail and personalization.
10. Template Builder
WordPress: WordPress offers themes and templates, but not with the builder's drag and drop features. Customization would require a developer.
CMS Hub: CMS Hub offers a template builder with drag and drop features for emails, blogs, page, and system templates. This feature allows everyday users to create aesthetically beautiful and on-brand pages without having a developer's background or knowledge.
11. Personalization Tokens
WordPress: To use personalization tokens you must use a WordPress user registration compatible plugin.
CMS Hub: Personalization Tokens are a built-in feature. With personalization tokens you can show personalized content in your HubSpot emails, website pages, and landing pages with any default contact property or custom contact property you choose.
12. Integrations vs. Plugins
WordPress: WordPress does not allow for integrations, but rather the use of plugins to use extended features. Plugins allow you to add new functions without altering the host program itself.
CMS Hub: HubSpot will allow you to launch your website and integrate current systems seamlessly without new or added plugins for desired results. At its core integrations are about making different apps and systems work together by sharing data for business processes and allowing employees to coordinate and work together.
Support
At ManoByte we are here to support our clients in the Building Material Manufacturing space with digital marketing strategies that transform and grow brands. This includes the software used to leverage that growth. As a HubSpot Diamond partner we are experts in implementing, onboarding and training your team to use the tools best for your growth goals. Empowering our clients to use proven inbound strategies empowers our team to do our best work for the Building Material Manufacturing industry. Reach out today to see how we can help.
Ready to Dive In?
Work with our team of HubSpot experts and watch us take clunky systems, tech stacks, websites, and portals and turn them into tailored, intelligent workflows that deliver business outcomes.