Kevin Dean Speaking to BPMs at The October 2022 Whizard Summit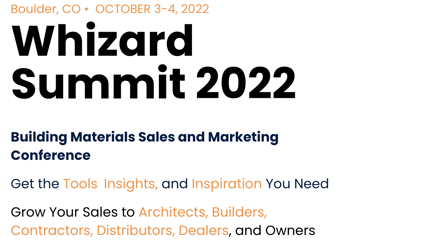 The Whizard Summit has been hosted by Building Materials Marketing & Sales Consultant Mark Mitchel bi-annually for as long as we can remember. This October, gain actionable insights and strategies at the Whizard Summit by hearing from top consultants in the building materials industry.
When: October 3-4, 2022
Where: Boulder, CO
Kevin will be discussing how to use digital tools to help your customer's customers be more successful. Leaders at building products manufacturing companies, and especially their channel marketing and channel sales teams, will gain insights on:
Selling Through Your Customers Instead of To Your Customers to Grow Faster
Multiplying Your Sales Team by Getting Distributors and Dealers to Sell For You
Increasing Customer Loyalty and Retention
Register to hear from Kevin and additional marketing and sales experts including:
Mark Allen Roberts, Founder & CEO of OTB Sales Solutions
Grant Farnsworth, President of The Farnsworth Group
Tim Seims, Director of Building Products Intelligence at John Burns Real Estate Consulting
Susan Fernandez, Principal of Epiphany Studios
Beth PopNikolov and Zach Williams of Venveo
Matt Lee, Founder of Lead Generation Experts
Brian Baker, Founder of Dodecahedron Digital
Gain insights and actionable strategies on:
How Building Materials Companies Are Becoming Less Relevant
The New Ways of Selling
Sales Talking Points for Targeting Architects, Builders, GCs, Subcontractors, Dealers, Distributors, Big Boxes, and Owners
How Your Brand Image Can Hurt Your Sales
How to Better Support Your Customers/Partners Who Sell Online
Insights from the Latest Building Product Buying Guide Research Report
Why Digital Marketing in 2022 is Very Different than in 2020
How to Multiply Your Sales Teams by Getting Distributors, and Dealers to Sell for You
How to Improve Your Content and SEO Ranking
How Social Media is Changing for Building Materials
CLICK HERE FOR MORE INFORMATION, OR TO REGISTER FOR THE 2022 WHIZARD SUMMIT.
Ready to Dive In?
Work with our team of HubSpot experts and watch us take clunky systems, tech stacks, websites, and portals and turn them into tailored, intelligent workflows that deliver business outcomes.