Can you believe 2018 is more than halfway over? Many of us are already thinking about what 2019 will bring, and how we can up our game even more going into next year. But with so many changes this year with our digital experiences, what can we expect to see in 2019?
Here are a few trends we expect to make a significant impact in the digital marketing landscape in 2019:
More and More Artificial Intelligence
AI will only grow in 2019, with more and more information being used to target online searchers based on what they are looking for. Things like predictive analytics will provide marketers with the ability to extract information from their data and use it to forecast purchasing trends and user patterns.
ChatBots
Automation is key to productivity enhancement for most every forward-thinking company, and chatbots are going to become an expected form of customer support, sales, and marketing processes from a digital perspective. Whether you are answering a product-related question or a common customer support inquiry, these tools can be a powerful way to enhance your digital footprint and streamline B2B operations.
Hyper-Personalized Digital Experiences
Putting the recipient's name in an email subject line isn't what we mean by personalization anymore. Soon, what we'll see is hyper-targeting based on user activity, so website pages are crafted specifically for the user who's viewing and more detailed product and service enhancements based on the unique viewing history. For B2B businesses, we've previously struggled adapting this Amazon-style approach to sites, but now, easy-to-use CMS systems are making this possible for B2B companies to easily deploy a similar approach on their websites. Datto recently did some pretty clever targeting on their homepage. This change yielded 500 new registrants just by hyper-targeting the content to their local website visitors.
The Rise of Customer-Centric Marketing
We all know the most powerful marketing tool remains the customer, but that is even more so the case when they are only a few clicks away from sharing their experiences with a massive audience. Leading organizations in 2019 will be launching new customer-centric processes aimed at encouraging satisfied customers to share positive experiences, and, in turn, finding ways to proactively prevent negative experiences from becoming the that unfortunate (and often permanent) 1-star review.
Want to know how to use your customers as your biggest marketing tool? Click here for a way you can automate this using a Net Promoter Score (NPS) process.
Voice Search
The days of taking a few keywords and sticking them in meta descriptions are going to become a thing of the past when it comes to SEO tactics. Voice search is taking over and is forcing search efforts to become more advanced than ever. Now, information must be optimized in ways that users will be searching for it through Siri or Alexa. For example, "Grand Rapids Restaurants" is a very different search term from "Hey Siri, what restaurant downtown should we go to tonight?"
Yes, More Video
We've been saying this for a long time, and we continue to see it ring true. You need video as part of your marketing efforts today. It is by far the most preferred form of content consumption today. Cisco predicts that 82% of all internet traffic will be video-based by 2021. There are a variety of videos that B2B companies can present to enhance their marketing, sales, customer support, and recruitment efforts. See some ideas here.
Marketing for Micro-Moments
We are all in a massive hurry these days, and that includes the way we move around online. Searching for something for more than 10 seconds is almost unacceptable these days with the amount of content available online on any given topic. Micro-moments is a consumer behavior that delivers messages clearly and concisely within a matter of seconds. This saves the viewer from being forced to navigate through a series of steps to get to the end result they are looking for. Micro-moments come in four types:
1. I want to know
2. I want to go
3. I want to do
4. I want to buy
For example, Starwood hotels is leading the way with a "I want to do" micro-moment for hotel check-in processes. After downloading the app, it will recognize when you've arrived at one of their properties, provides an easy-to-use fingerprint app check-in process, then allows you to scan the app at the door of your room to let yourself in. No waiting in line, no keycard to misplace, just an easy, micro-moment solution with a big payoff - customer satisfaction.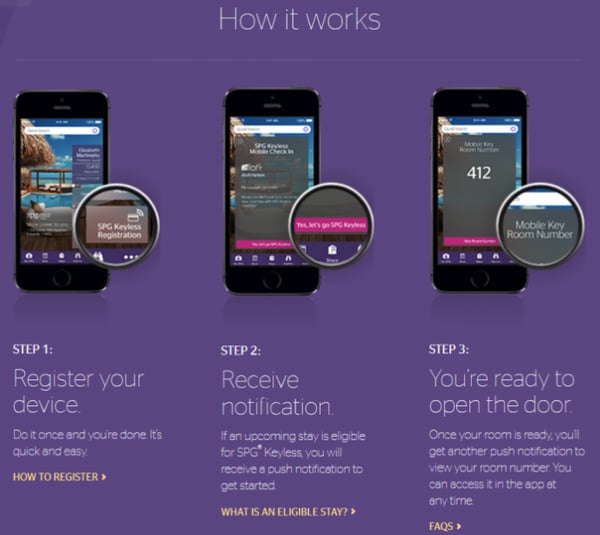 Image Courtesy: Starwood
And these are just a few of the digital marketing trends we'll likely be seeing take shape in 2019; there's a whole lot more on the horizon we are eager to learn more about. For ManoByte specifically, we are excited about some of the new features and functionalities the HubSpot platform is providing to us that help us supercharge the marketing efforts of the businesses we serve. Click below to contact us to see how a partnership with us can take your business into 2019 in the way your prospects and customers now expect.