Introduction
Now that you have a general overview of what HubSpot is, here's a bit more detail about the core elements of each part of the platform.
Marketing
As we've been telling you, the marketing platform pulls all of your marketing efforts together into one easy-to-use platform. You can build and change your website easily (No coding experience necessary for basic tweaks and adjustments.) New marketing campaigns, emails, workflows, social media posts, analytics and reporting, lead management, blogging and content strategy and keywords are all a part of this end of the tool.

CRM
The HubSpot CRM provides your sales team with information and tools needed for today's digitally-motivated sales processes. The tool has five primary areas: Contacts, Companies, Deals, Tasks, and Sales Tools. Sales reps stay more organized with areas for task management and easy access to new contact activities. You can also segment contact lists and set up customized filters for certain activities. Create custom deal stages catered to your business needs so you can support the prospect at the right time to move them closer to the purchase.

Sales
HubSpot Sales works with the CRM so that your Sales team can log emails automatically, create new contacts directly from their email client, as well as view opened and clicked activity right on the contact record. The HubSpot Sales tools are available as an optional Office 365 add-on and browser plug-in for Outlook and Chrome on Windows.

Service HUB
The Service Hub is the newest addition in the HubSpot stack of services. These tools (available now!) allow businesses to control the customer experience from start to finish. The platform will focus on delivering optimum customer support through the following features:
Customer happiness measurements and feedback
Processes to identify customer issues and responses including sentiment analysis through ticket management.
Automation of the customer testimonial process
Customer knowledge center for easy answers to common customer service issues.
Connect
HubSpot Connect is the HubSpot integration program. It features a group of tools you can integrate with HubSpot that make the user experience as valuable and productive as possible.
The purpose of the Connect program is to enhance performance so you can tie as many activities as possible to your inbound efforts. Think of the Connect feature like a group of external top-tier tech tools that you can pull in to enhance your HubSpot efforts.
Here are the primary integrations offered in connect:
Salesforce
Wistia
GoToWebinar
SurveyMonkey
Zapier
WordPress
HubSpot Sales
Google Calendar
HubSpot Sales Calling
Eventbrite
UberConference
And that just scratches the surface, this program expanded significantly in 2018 so far, here's a look at all the Connect Partners you can integrate into HubSpot to enhance capabilities: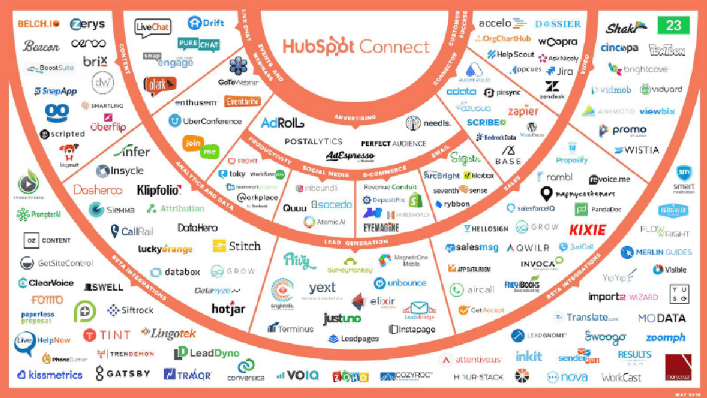 Project Management
The HubSpot Projects area creates a place for all marketing, sales, and customer support tasks, communications, and files. This feature integrates with all of the HubSpot marketing tools so all projects can be monitored and managed within the same software used to execute them. Again, this eliminates the need for a third party tool or login.
With every task, you can assign the owner(s), due dates, asset links, and any other files you might need like blog posts or site pages. Turn projects into templates, and create repeatable processes for all your future marketing, sales, and support work. The pre-made templates for to-do lists streamline your workload, and put productivity at the forefront. Planning, assigning tasks, creating timelines, and attaching all the necessary resources is possible right where you need it most - inside HubSpot.
Ready to Dive In?
Work with our team of HubSpot experts and watch us take clunky systems, tech stacks, websites, and portals and turn them into tailored, intelligent workflows that deliver business outcomes.