The Complete Guide to Building an SEO Strategy for Your Business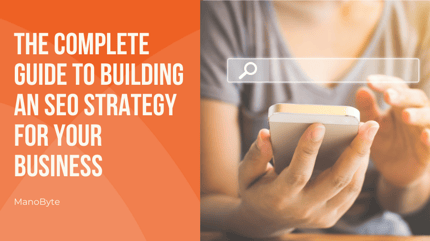 Developing a highly-effective SEO strategy is what defines whether your digital marketing efforts will be a success or failure. An SEO strategy is like a pie. If you leave any of the ingredients out your pie won't taste right and no one will want to eat it. SEO is no different. Several facets factor into a successful SEO campaign. If you leave any of the ingredients (so to speak) out, or don't use them properly, your SEO and inbound marketing campaigns won't perform as expected.
Seven Steps for Developing a Highly-Effective SEO Strategy
The steps for developing a successful marketing campaign include having an effective SEO strategy. Here is an outline you can use to guide you through the necessary steps for developing an online marketing strategy specific to your industry.
1. Identify and Characterize Your Target Demographic
Before you can develop a digital marketing strategy, you first have to identify and characterize your target demographic. You can do that by answering the following questions:
Who is your target audience?
What are your target audiences' likes, dislikes, wants, and needs?
What are the most commonly asked questions your target audience wants answered?
What problems and concerns does your target audience reflect?
What "how-to" information does your target audience most often request?
Where does your target audience hang out?
Where does your target audience spend their money and why?
Learn everything you can about your audience. Find as much in-depth information about your audience as you can. This will assist you in completing the rest of your SEO and digital marketing strategies.
More on how to find this information in a moment.
All things related to search engine optimization revolve around keywords and how those keywords are presented and used within any given piece of content.
There are several ways you can find suitable keywords and phrases for your campaign.
Take the discovery information you found when studying your target audience and come up with about 10 audience-based topics. You will then analyze those topics to identify usable keywords by doing any of the following:
Type each topic into the Google search field. Once typing, Google will present you with a list of suggestions which can be used to identify good long- and short-tail keywords and content ideas.
Use keyword tools such as Ubersuggest, SEMrush, Ahrefs Keyword Generator, or another keyword tool to find search volume and discover keyword variations and phrases.
Google Trends. Enter a topic and Google Trends will present you with a variety of trending topics and queries. You can use the related information to identify possible content ideas, keywords, and keyword phrases.
Thoroughly analyze your keywords then choose those with the most potential.
Once you have your keywords, go to Google search, enter each keyword, then analyze them individually to see how they are being used. Make note of any patterns you see, any topics that aren't being addressed, and think about new, unique ways you could present that information. How could you make your content stand out?
After you have thoroughly analyzed and chosen 10-15 keywords and phrases, you can move on to your content strategy.
3. Create a Unique Content Strategy
High-quality, high-value content is the backbone of any content strategy and it all begins with finding topics to write about. Topics your audience will be eager to read and share; otherwise, you will be wasting your time. Use the following techniques to find and write valuable content:
Visit industry forums, social media pages, blogs, and anywhere else your target audience hangs out. Look at the questions, comments, problems, issues, etc. being discussed. Then look for trends and anything that isn't being thoroughly addressed and base your content around that missing information. This will provide you with hyper-focused content ideas for your target audience.
Write content that answers the most frequently asked questions among your audience.
Use common industry-related problems and issues to write useful content for your market.
Write educational how-to content based on the most frequently asked how-to questions among your audience.
Your content must be different from your competitors' content. Find ways to make your content stand out. Provide more in-depth content, content that presents the information from a different angle, and make sure you publish content that's much better than what's already out there.
Step by Step Overview for Developing an Effective Content Strategy
Develop a list of topics.
Make a list of long- and short-tail keywords.
Write one page of content for each topic from your list of long-tail keywords. Do this by taking each short tail keyword and digging deeper into the original topic to build out your content.
Use subtopic clusters for each keyword. For example, you have 10 pillar topics. Then you write 5-10 subtopics for each of your 10 pillar topics. Search engines look for topic clusters. This is how they provide their users with the most relevant information available. The more related pieces of content you have linking back to your pillar topic, the more relevant it will appear to the search engines.
Set up a blog and publish your topic content to your blog once a week. This will help build your website's authority.
Develop a link-building plan.
Include lots of images and graphics in your content and optimize them.
4. Establish Linkable Assets
The number of backlinks you have pointing to your site is what tells the search engines your web page and content are relevant to their search. If you want people to link to your content, you have to develop content they want to link back to.
You can do this by creating linkable assets such as writing statistical heavy content, offering free industry-related tools and apps, writing educational guides, how-to content, and by including infographics, tables, graphs, charts, and any other graphics within your content. These are called hooks and are used to "hook" people into linking to your content.
5. Execute a Backlinking Strategy
Having a variety of quality backlinks is essential to any SEO strategy. Your backlinking strategy should strive for as many high-quality backlinks from websites that have a high domain authority as possible. This is one of the factors that relays to the search engines that your information is relevant to the search user's query and that you are an authority.
Here are the steps for developing an effective backlinking strategy:
Learn what search engines require for proper backlinking.
Develop a list of backlinking opportunities (outreach, guest blogging, broken link building, unlinked mentions, content repurposing, and syndication, etc).
Include your target keyword in the anchor text.
Make sure the backlinked site and web page are topically related to yours.
Ensure the link is a dofollow link.
Optimizing Your On-Page, Off-Page, and Technical SEO
SEO has three parts, and all must be implemented for best results.
On-Page SEO: This focuses on the content that is on any given page and optimizes it in a way that will help boost that website's ranking for a specific keyword.
Off-Page SEO: This focuses on the inbound links that are directed to your website from other internet sources.
Technical SEO: This focuses on a website's architecture. This is how a website is technically set up on the backend such as the coding and other important factors
Use Accurate Title Tags and Meta Descriptions
Title tags are the HTML element of the web page title. Meta descriptions are the 155-160 character summaries written to describe the content for any given web page.
Helpful SEO Strategy Tips
Always link your new content to other related posts or pages on your website. This is called internal linking. Just remember to link to pages that already have some authority.
Always be on the lookout for new opportunities to answer trending industry questions and concerns.
Don't dismiss the power of a featured snippet, also called the Google Answers Box.
Only link to high domain authority web pages. Linking to low authority web pages could negatively affect your page's ranking.
Always use keyword-rich anchor text in your internal links.
Use short keyword-rich URLs.
The Bottom Line
Developing a proper SEO strategy along with an effective inbound marketing campaign is the foundation of all digital marketing efforts. And those efforts should include writing high-quality, valuable content and establishing as many quality backlinks as possible. You will experience significant benefits by taking some time to learn all you can about how these SEO strategies work together to drive traffic, increase ROI, and build brand authority in your industry. If you want the help of qualified inbound professionals in creating an SEO strategy, contact ManoByte today.
Ready to Dive In?
Work with our team of HubSpot experts and watch us take clunky systems, tech stacks, websites, and portals and turn them into tailored, intelligent workflows that deliver business outcomes.