How to Sell Building Products to the DIY Market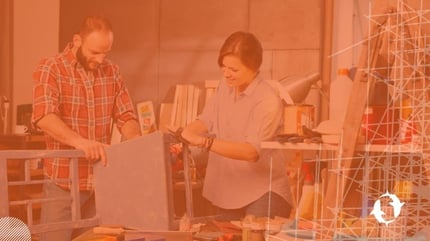 "Do-it-yourself" home improvement has become easier and easier in correlation to the rise of the internet because, while the general property owner's handiness and construction skill level may have declined, the availability of instructional materials online has exponentially increased. This has opened the door to homeowners and recreational DIYers to build, create, repair, replace, and do more themselves, with guides they find online.
This means you need to know how to sell to their needs to increase channel sales.
Top Product Considerations for DIYers
As a construction products manufacturer, DIYers are an interesting segment - you either love 'em or you don't. This is because they are not brand loyal. DIYers are are loyal only to their ideals for their project and care about three things when researching products for their projects
The price
Customer reviews that tout product quality and ease of install/use
Knowing how to get it done
They prefer to spend their time instead of their money. At the same time, they don't buy the cheapest products. Instead, they come from a mindset of achieving budget effectiveness. If they can do the labor themselves, they can spend on higher quality products and materials with the same total budget as opposed to hiring a contractor to source materials and do the work. This enables them to implement unique features and finishes that they may have been unable to talk a contractor into implementing.
Gaps in Building Materials Marketing to DIYers
One major pitfall of building materials channel strategies is that they typically focus on the product rather than the project. To increase DIY market penetration, you and your channel partners need to sell the project instead. This can be done in several engaging ways by implementing inbound marketing tactics and supporting your indirect sales channel via through channel marketing automation.
This approach is necessary because 3 out of 4 DIYers start their project research online via "How to" videos, instructional articles, and inspirational imagery. They overwhelmingly will find a product online and verify it meets their needs before going to a store to look at it. Then they will often watch a "how to" video while they are in the midst of their project. This means that your website and all content needs to be highly mobile-friendly and load quickly.
Your content strategy should include creating and promoting educational content regarding different kinds of projects that your products tend to be used in, mistakes to avoid during those projects, tips for project success, costs of the project and techniques from pros that make DIYers lives a lot smoother.
Building a network of building materials social influencers that cater to the "do-it-yourself" audience is a way to expand upon your inbound marketing strategy once the content foundation is established.
Increasing Indirect and Direct Sales
You may be thinking that DIYers are not, and should not be, considered your target buyer; leave them to dealers and distributors to market to. Unfortunately, this is a prevalent, and extraordinarily harmful industry-wide fallacy.
Instead of wishing more orders were being placed from your dealers and distributors, manufacturers need to generate demand for your products by generating interest in projects that use your products. If you want to increase indirect sales revenue, you have to lead the charge for content creation, because your one-step and two-step distributors don't know how to and have other priorities.
Big-box stores will often run co-branded campaigns with manufacturers, but they have limited slots for these and you may need a more affordable marketing option. If so, create your own educational content about projects that happen to use your products. Answer consumers questions via blog articles. Show end users how to install or use your product in videos.
Your efforts for content creation to generate product demand will compliment your direct sales efforts as well. Researchers who find your educational, project based, content on your website can be converted into customers through a clearly defined B2C buyers journey on your website. Do not be shy to offer direct to consumer eCommerce functionality on your website just because you are afraid of creating channel conflict. Alternatively, set up an eCommerce platform that routes through your distribution partners directly. If you do not have online product ordering abilities yet, consider partnering with third party marketplaces while you develop those eCommerce capabilities on your own platform.
One tripping stone for DIYers who find your quality product via your inbound marketing content is wholesale order quantity minimums, so if this segment is a target audience for your products, ensure your quantity minimums are DIYer friendly.
If you really don't want to sell directly to consumers, you should still set up a lead routing system that hands these inbound generated leads to your distributors and dealers. Otherwise, your competitor who is selling direct to consumers or implemented lead routing will get the sale. Whoever makes it easiest for the end consumer wins, period.
Increase Market Share With DIYers
The DIY market is only growing, and your products need to be easily attained by individual customers. You need to implement inbound marketing tactics and through channel marketing automation to be successful at reaching this target audience. If you're not sure where to start, take a look at this goal setting template.
Ready to Dive In?
Work with our team of HubSpot experts and watch us take clunky systems, tech stacks, websites, and portals and turn them into tailored, intelligent workflows that deliver business outcomes.