How Does Inbound Marketing Actually Work?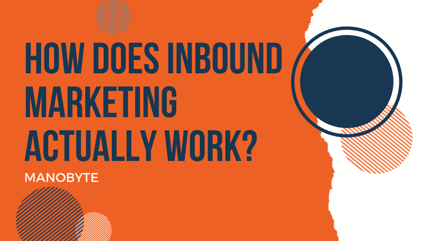 Inbound marketing is a methodology that has been around since the early 2000s. Despite its identity as a common practice, it is still a mystery to many marketers who attempt to execute it. By nature, marketers use traditional outbound tactics, such as the tried-and-true billboard buys, radio spots, TV commercials, direct mailing, and any practice that blasts their message to as many people as possible.
What Is Inbound Marketing?
Inbound marketing is a digital marketing methodology that uses SEO, high-quality content, and lead generation and nurturing tactics to establish your organization as credible and authoritative in your field. Consumers are accustomed to traditional outbound marketing tactics that ask for a buy without providing value or solving a problem before purchase. Inbound marketing challenges traditional practices by speaking to customers on platforms they are already on, sending different messages on different platforms, and guiding customers into a purchase when they are ready, rather than pushing them without reason.\
Inbound marketing uses tactics like offering large amounts of knowledge and value without asking target customers for anything in return. The purpose of an inbound strategy is to organically attract leads and buyers to your company when they're looking for solutions, rather than when you have to compete for their attention.
What is Outbound Marketing?
Outbound marketing tactics are what most people think of when they hear the word "marketing".
Traditional Outbound Marketing Tactics Include:
Catalogs

Billboards

Radio and print advertisements

Cold calls
Prior to the internet, outbound marketing was common and effective. Marketers did not have the same access to customer data that we now have. Today, using CRM software and the use of cookies, marketers are able to track consumer behavior and understand how consumers react on social platforms and websites. We no longer have to depend on the expensive practice of sending out messages across various platforms to reach the masses. Thanks to new data analytics, we're able to have conversations with consumers who want to talk to us.
Drawbacks of Outbound Marketing
Expensive

Impersonal

Difficult to segment/target

Difficult to analyze

Not aligned with modern buyer behavior
How is Inbound Marketing Different?
While inbound marketing focuses on delivering custom messages backed by behavioral data, trends, and customer preference, outbound marketing focuses on having as many people as possible to see a single message.
Rather than putting your audience on blast and demanding they pay attention to your message, you create high-quality content and experiences that customers want to seek out and recommend to their friends.
Nowadays customers can find you on:
Search engines

Word of mouth

Networking websites and directories

Recommended pages
Before the internet, there were very few channels to reach customers and businesses had to compete for their attention. Today, customers seek out brands that build trust through quality content. The goal of inbound marketing is to reach customers before they need your product or service, so you are ready when they are interested in more. To these customers, you already are a qualified industry leader they trust, even if their only exposure to you was from free content, friends they trust, or webinars and events.
Statistics to Keep in Mind
The modern-day truth is that most consumers do not want to be spoken to using traditional advertising measures. In fact, 7 out of every 10 people find traditional outbound tactics annoying and wouldn't make a conscious purchase from a company that communicated with them through outbound means.
Inbound Marketing vs. Content Marketing
Although many companies treat inbound marketing and content marketing as synonymous, they're not quite the same thing. Instead, they work together to create a strong relationship with potential and existing customers.
Content marketing is the practice of producing valuable content that improves your relationship with your target audience. This content can take the form of:
Blog articles

Long-form content

Social media posts

Infographics

eBooks

Podcasts

Videos
In inbound practices, content is designed to move customers along the sales flywheel, rather than just draw them in. Traditionally, marketers use a sales funnel, which has an input and an output. In comparison, a flywheel builds on itself and grows as it continues to move round and round. Rather than looking to get customers in and out, which is a strictly transactional relationship. Marketers who utilize a flywheel look for ways to build brand momentum with their customers. Instead of viewing a transaction, they view their customers as their greatest asset.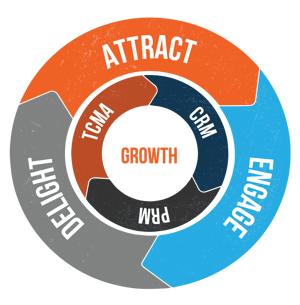 Inbound marketing focus on the following stages:
Attract
Drawing in the right people with valuable content and conversations that establish you as a trusted industry leader.
Engage
Present insights and solutions that align with customer pain points and goals, so customers are drawn to purchase from you when they have the need.
Delight
Providing help and support to empower your customers to find success with their purchase. This is also the stage where customers recommend your business to others.
Reasons Why Inbound Marketing Works
It generates site traffic
Two of the most basic components of any inbound marketing strategy is SEO and content marketing. When both are used, the result is more qualified traffic that you can turn into prospective leads.
By creating in-depth information and optimizing keywords, you are able to rank on search engines and gain pre-qualified leads. Pre-qualified leads are potential customers who are looking to make a purchase or do research on a product or service they are interested in. These are customers who want to hear from you.
The more content you create, the more opportunities you have to rank for specific keywords and phrases. Because pages rank individually, you can leverage content to rank for various topics related to your business.
It produces qualified leads
Traditional outbound marketing tactics spoke to the masses, and there were very few ways to segment your audience. In the past, marketers were only able to segment ad placement based on the audience of print publications. Today, CRMs, ERPs, and tracking cookies collect behavioral internet data. Using this information, marketers are able to reach audiences who want to hear from them on platforms customers are on.
With inbound marketing, you are able to use data and strategies to reach customers who are already interested in your products or services. By creating content with your target market in mind, such as how-to articles and blog posts about industry trends, you organically draw in visitors who have an interest in your company.
It strengthens your company's reputation
With outbound marketing, you have to tell your audience why they should buy your products or services. Traditionally this was done with descriptive data, facts, statistics, or endorsements. Using inbound marketing tactics, you are able to show customers why your business will solve their problems. Because inbound focuses around retaining customers and bringing in new customers, shared experiences only strengthen the movement of your flywheel. Customers recommend other customers and become the biggest advocates for your brand.
It lets customers reach you on their terms
When using inbound marketing, you never interrupt or bombard your potential customers. Instead, these customers reach you on their own terms, when they are ready to make a purchase. Inbound focuses on customers naturally finding your website in their research phase, being able to access information easily, and then choosing to contact your company.
It helps build relationships
Instead of pressuring customers into making a purchase or a decision before they are ready, inbound focuses on giving information without pressure to buy. Inbound marketing's greatest asset is the relationships it builds and continues to facilitate, even after the first initial purchase.
Instead of speaking to your audience only through sales pitches, you are able to provide them with useful information that relates to the products or services you offer. This practice helps site visitors see you as not just a company, but also a trusted resource. Many potential customers may start to ask questions on social media or the comment page of your blog.
Additionally, through using techniques like AI chatbots, you are able to connect with customers, even when you are currently not online and are able to do so in real-time. Chatbots are able to be programmed to answer default questions and notify you of potentials who want to hear from you.
Using HubSpot, you are also able to create resources tied to forms. These resources can be videos, blogs, webinars, ebooks, and whitepages, that are only available if visitors fill out a form. The information goes into a database within HubSpot, allowing your sales team to follow up and build connections.
It can be personalized
One of the most recent developments in inbound marketing is the ability to personalize your marketing messages for specific visitors and leads.
When you advertise with traditional channels, you likely alter your ad content based on each channel's demographics, through traditional channels, you would only be able to access a broad audience. Using inbound marketing you are able to segment potential customers by demographics, stages in the buyer's journey, and knowledge of your business.
After you have segmented your audience, you are able to use automation software to offer custom CTAs, forms, resources, emails, and advertising campaigns.
As visitors return to your site, you can use cookies to better understand their activity, such as content they have read and pages visited. For example, if a visitor returns to your website multiple times in the course of a week, your marketing automation software could encourage them to subscribe to your blog and receive email updates whenever you publish a new post. Additionally, using HubSpot's Prospects tool, you are able to view public information tied to the viewers IP and gain valuable insight into who your team can follow up with.
Inbound marketing can set up your business for success. Using HubSpot, your business is able to automate personalized forms of communication and facilitate relationships with potential customers. Contact ManoByte to see how our inbound marketing tactics can help you reach your end of year goals.
Ready to Dive In?
Work with our team of HubSpot experts and watch us take clunky systems, tech stacks, websites, and portals and turn them into tailored, intelligent workflows that deliver business outcomes.