My recent blog posts here at ManoByte have given you a wealth of information regarding Why Your Business Needs Inbound Marketing as well as the importance of taking the time to Develop Effective Inbound Marketing Strategies. Today, we are going to dig a little deeper by giving you some basics fundamentals for how you can take those inbound strategies you are developing and turn them into successful inbound processes. We're focusing on becoming a successful inbound marketer because that is the whole point of investing your time, money and energy into inbounding marketing. As we say at ManoByte, "if it doesn't make dollars, it doesn't make sense!"
So, let's get started with those inbound fundamentals. The items I will be highlighting will help you take everything you are doing with your inbound strategies so you can transform that data and information into measureable growth for your business.
Fundamental #1 Knowing the Inbound Process
As we have discussed, the fundamentals of inbound marketing begins with having a comprehensive understanding of the inbound methodology. This 4-step process is Attract, Convert, Close and Delight. It works by attracting the right type of customers to your website, converting those visitors into leads, closing the sale and delighting those customers so they continue to do business with you again and again. This is the basic process you are implementing that takes someone who may be a stranger of your business into becoming one of your delighted customers.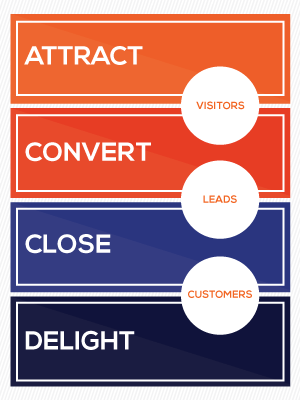 Fundamental #2 Creating Captivating Content
Right now you may be thinking, "This blog is written by the Content Director, that's why she goes on and on about the importance of content so much." But I assure you, that isn't it. It's important because it is the cornerstone of every successful inbound marketing process. To put it bluntly, if you don't have great content, your strategies are doomed before they even get started. This might sound a bit harsh, but it's true.
I understand that the reason you want to implement and inbound strategy for your business is because of the end result, whether that be leads or site visits or whatever it is for your business. However, in order to get those leads or site visits, the content has to be engaging and rich with information of interest to your audience, so they want more and more from you. Focusing on the beginning of the process helps you to get more people to the end. Think of your content as the beginning.
So what makes great content? It's information designed to cater to your audience and your buyer personas. (Check out that last blog I wrote for more information about buyer personas) This content might come in the form of a social media post, an infographic, a video tutorial, a blog write-up, an ebook, whitepaper or whatever you have identified is the best way to deliver information to your audience. But regardless of how you deliver the information, it should be intriguing and informative enough that it will ultimately get those visitors to your landing pages so they become leads for your business.
Keep in mind that you want to avoid the old school sales language within the 'meat' of your content. Give your content readers QUALITY information that helps them solve a need or problem they are having. People don't want to read more sales information; they get enough of that already. Be a refreshing change for them.
Content Development Tip: Add your SEO keywords wisely within your content, not aggressively. Keyword "stuffing" just doesn't work with an inbound marketing process because it compromises the quality of your content.
Fundamental #3 Utilizing Social Media
Social media helps you to engage with those who are going to be your valued customers time and time again through your inbound marketing process. The social presence of a company is what draws in potential customers and gives them unique insight into your business.
The best way to effectively use your social media profiles with an inbound marketing process is to use them, a lot! Promote your company blogs, ebooks and content through these social media sites to draw traffic back to your "virtual storefront" which is your company website. If you utilize an inbound marketing software like Hubspot, you can then use that website and the data it gives you to turn those visitors into leads and those leads into customers. (More on data and analytics later though!)
Social Tip: Although you may be tempted to post only your own content and company information, resist that urge! Share a healthy mix of your content as well as content pieces from others' that relates to your industry or business. This will help to spark conversation about topics that your audience cares about. Social isn't just about pushing your own information; it's about interacting and engaging with your audience so they want more from you.
Fundamental #4 Marketing via Email
Can you believe that almost 150 billion emails are still being sent each day? Seems kinda crazy to me, but nonetheless, email marketing is remaining as a force to be reckoned with. Because of this, it must be utilized within an effective inbound marketing process.
But with so many emails being sent each and every day, how do you rise above the rest? The answer to that is integration. This means integrating your email campaigns with the data you are gaining from your inbound processes. For example, lets say you own a home remodeling company, if a potential customer enters their contact information on a landing page so they can download one of your ebooks titled; How To Remodel A Kitchen, you can then integrate that data in a way so you can follow up by sending them an email that highlights the basic differences between the countertop surfaces you sell.
Email marketing helps your organization build trust with your audience because you are delivering targeted messages based on their unique needs or problems.
Fundamental #5 Using Landing Pages
Landing pages are the web pages that allows your business to obtain contact information from your website visitors. Landing pages usually work to target a certain audience, like one from an email marketing campaign or traffic from a company ebook or social media advertisement. They serve as the pivotal point where a visitor transitions over to a lead.
Instead of driving traffic just to your website's homepage, landing pages help you to take your site traffic and create something out of it. They serve as a very "give and take" space, because they help you to obtain contact information while giving the visitors something of value to them like an ebook or other content piece.
Landing pages also provide you with unprecedented information about your customers. Not only are you getting contact information for marketing purposes, but this information also helps you with data collection so you can plan and target future marketing campaigns.
Fundamental #6: Tying it Together With Data and Analytics
This process sounds far scarier than it sounds at first, trust me, as I have never been someone who loves analyzing data and numbers. It's really quite simple though, let the data guide your inbound processes. With some very basic marketing analytics, your business can gain new insight into the effectiveness of your marketing campaigns, not just the old technique of analyzing how your website is performing traffic-wise.
Finding a tool that develops clear marketing analytics allows you to see the relationships you have between the various marketing channels you are using. You can see how social media; email marketing and your SEO efforts are producing both on their own and with the help of your other marketing initiatives. It helps you to track exactly how your prospects and leads interact with the marketing initiatives you are promoting both in real time and over the course of their lifetime as your customer.
These analytics also give you the ability to tie your marketing tools together with your CRM software platforms to have an even deeper insight of how these leads are turning into customers and how they are making your company money. You can use this combined insight to determine which initiatives are actually contributing to your bottom line.
Hubspot software gives you the ability to generate a wealth of inbound marketing analytics information, but the software can only help if you take the information and actually do something with it. Use the data you have at your fingertips to improve your marketing performance in the future.
Fundamental #7: Experience Success
So how do you know if you are experiencing inbound success? Well, it's different for every business, but ultimately, the results of the inbound process are showcasing a positive result for your business so much so that you can literally see it through your ROI and increasing customer base. Getting there takes work using the basic inbound marketing fundamentals, but when you learn how to stop selling, create amazing content and draw people to your business, that is when you can truly experience inbound marketing success.