Understanding Customer Service & Channels for Customer Success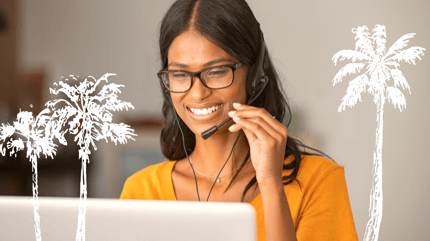 When asked about customer service, 88% of today's service leaders agree that customer expectations have reached an all-time high.
Providing your customers with consistent, friendly, and reliable service has never been more important. And the ability to deliver best-in-class support through any channel at any given time is equally crucial to maintaining a positive customer experience.

This blog post defines what customer service is, why keeping your customer happy is so important, and covers a variety of channels that today's consumers are expecting you to offer for a seamless customer experience. We'll also look at how HubSpot's Service Hub addresses these expectations and enables teams to provide the quick and efficient support that the modern customer expects from companies.
What is Customer Service?
At its core, Customer Service entails helping customers solve problems, offering instruction on your product or service, and answering customer questions or inquiries in a timely and friendly way.
As one of those concepts that clearly lends itself well to its name, the basic premise of customer service quite literally revolves around serving your customer and helping them in ways that prioritizes their needs. Serving a customer takes a lot of forms, from addressing and resolving customer complaints, to processing orders or returns, and providing information about company products and services.
In many cases, a customer will reach out to a company with their request, question, or complaint, prompting a service agent or other team member to address the issue or concern.

Customer service can (and does) play a massive role in brand and overall company success - especially considering 80% of customers say the experience a company provides is as important as its products or services. 95% of customers also say customer service is important to their choice of loyalty to a brand.
These statistics highlight the importance of offering consistently quick, relevant, and authentic service experiences, as any customer interaction - good or bad - can (and does) play an extensive role in customer acquisition and retention. When your customers experience friendly, helpful and efficient service, they're more likely to refer your business to friends and family, which is also a key factor in fueling sustained business growth.
When a business can dedicate and invest in resources, including its people and technology - to bettering its customer service efforts, it builds trust with the customer and ensures they remain happy and loyal to your brand.

When the customer ain't happy, ain't nobody happy.
So if a good customer experience can spur and sustain customer loyalty, what happens when a customer service interaction goes awry?
The individual customer is more likely to shop elsewhere

- 64% of consumers

switch providers due to poor customer experiences



- 55% of international customers

are unlikely or very unlikely to give a brand a second chance following a negative experience.

The likelihood of the customer sharing their negative experience with their network is also increasing


Customers sharing their negative experience with their network is also very likely

- 85% of customer service leaders

agree that customers are more likely to share their experiences (for better or worse) than in the past
With so many customers accessing customer support through their ever-present digital devices, access to social media, review sites, and yes, even competitor's businesses, are also readily accessible and available to them.

If a customer decides to air their grievances online following a negative customer service experience, it can have a domino effect for better or for worse, meaning each customer service experience your business provides has the potential to make a lasting impact and can cost you customers and put your reputation at risk.
For example, look at how many of this Yelp user's friends are able to see this negative review. *Yikes!*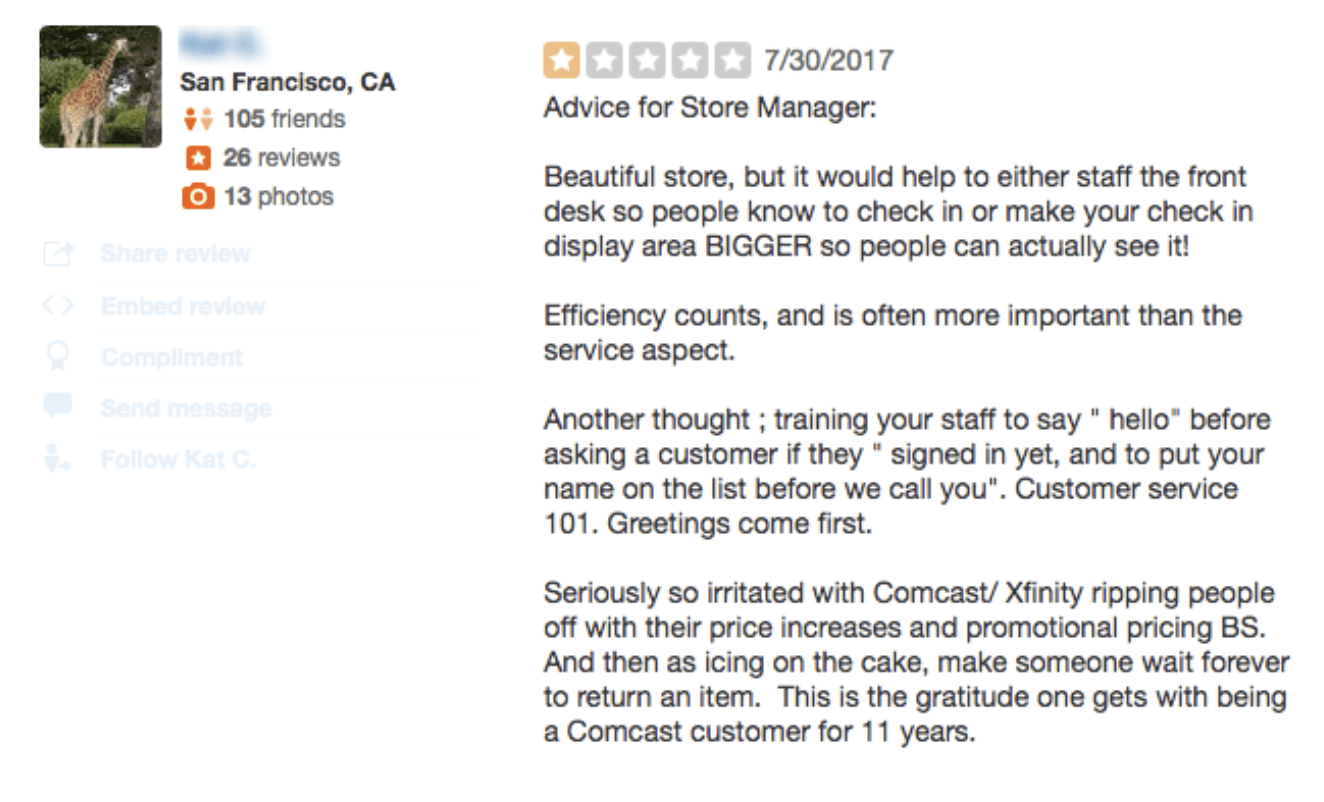 If you think customer service or support are at odds with customer success - think again. Building an authentic, consistent and trusted relationship with customers by providing top-notch customer service is a key building block in ensuring customer success.


Customer Service vs. Customer Success: What's the difference?

While customer service is usually more reactive in nature, customer success is more proactive.
Those working in customer service will receive individual, incoming customer inquiries and provide troubleshooting and support, while many customer success managers offer continued support and communicate with their customers frequently to ensure ongoing - well, success. (Once again, it's in the name!)


Customer Service Channels:
Phone:
Many businesses provide their primary customer support through telephone interactions. Customers can dial into a hotline and enter a call queue while they wait for the next available, live service agent.
Though many of today's customer service interactions are done through self-service offerings like online knowledge bases and FAQ pages, there are still many situations that a customer runs into that warrants a call to a live agent.


Check out our recent post - How to Deliver a Consistent Call Center Experience [+ Why It Matters] - for more on this topic!

Text:
A recent study by Twilio that sought to reveal consumer messaging habits found that 90% of consumers wanted to use messaging by way of texting on their phone or other messaging apps to interact with companies, but only 48% of businesses were equipped with the necessary infrastructure to meet this need.

Today's modern customers has 24/7 access to their smartphone, and is getting more and more used to immediate accessibility. Customers expect to be able to connect with businesses for things like order confirmations, reminders, status updates, surveys, and promotions, because they're already texting and using these messaging apps every day, and enabling notifications for such messages.

GrubHub offers a great example of using SMS messaging to offer a simple and accessible way to attain valuable - and oftentimes immediate - customer feedback to ensure consistent customer satisfaction. This approach also helps to address any concerns immediately, which helps the customer feel appreciated and that their feedback (and business) is valued.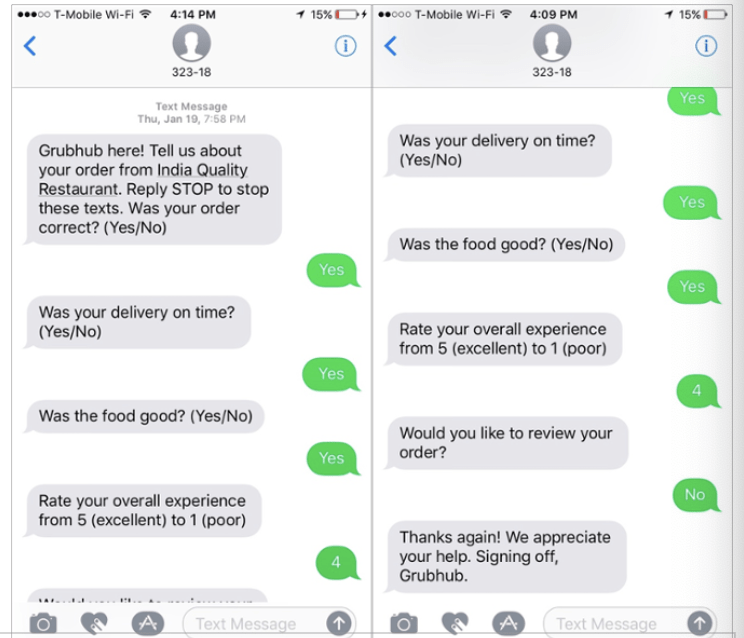 Email:
Many customer service interactions - especially those that are less time-sensitive - are still delivered through email interactions. Customer service through email remains effective because it allows companies and agents to maintain a humanized touch, even through a digital interaction.

Twilio also found that email is the second most-preferred method of customer service communication across all age groups, which, could be a reflection of its time-saving capabilities of submitting requests on your own time, rather than waiting in phone queue on hold.

We love this example from Zappos because this agent is clearly committed to above-and-beyond customer service - and experience. And though an awesome customer service interaction like this may not be necessarily applicable or possible in every service interaction, the dedication and support the agent provides to this customer is pretty spectacular. How can the customer walk away from this interaction without a smile on their face? Not only is it helpful, but it's personable, and therefore memorable in the best way.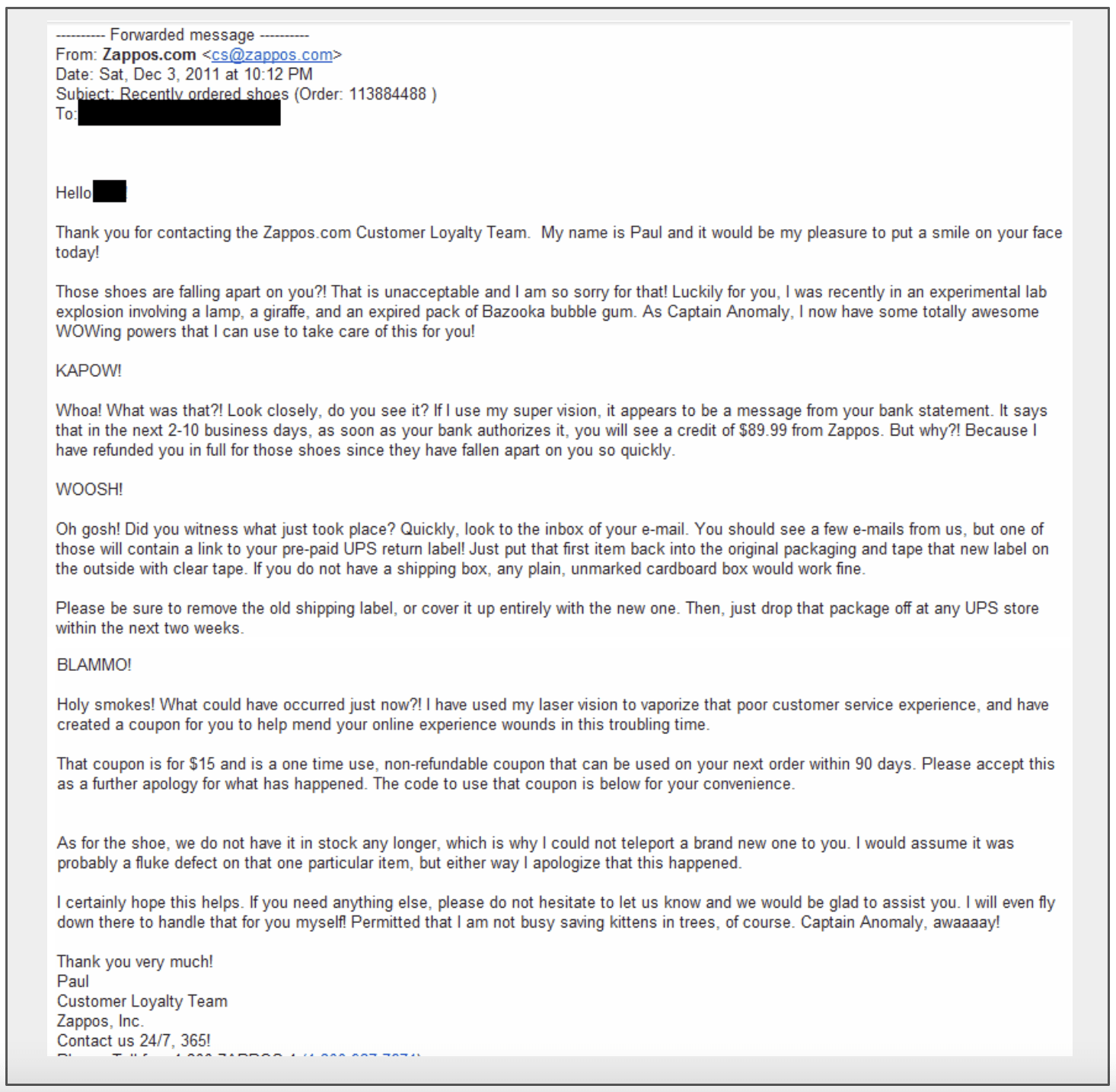 Self Service:
In the digital age of the hyper informed (and educated) customer, self-service is becoming a more and more relevant - and important - means of offering well-rounded customer service. Rather than picking up the phone to speak with a live agent or filling out a form that later prompts a service reply through email, businesses have developed knowledge bases that offer customers an immediate, DIY answer to many of their questions, wherever, or whenever they need it most.

HubSpot offers a great example of an incredibly supportive knowledge base that includes myriad articles and videos that provide in-depth training so users can learn the software in their own time, and as they see fit. It even offers a range of free certifications and training about best business practices and strategy, as well as in-depth education for its range of CRM-based software offerings for service, marketing, operations, and sales.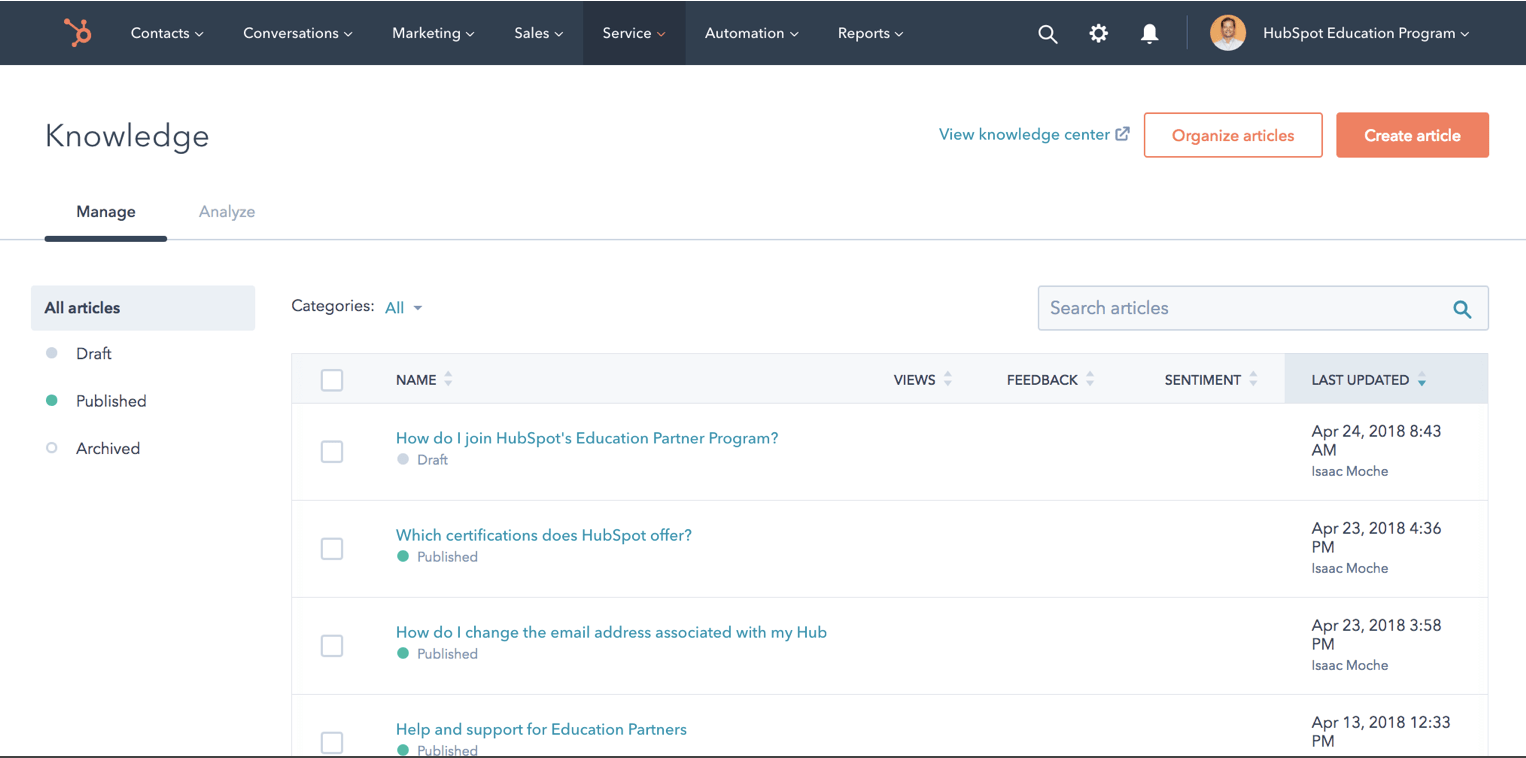 Messaging:
Messaging continues to become an increasingly popular avenue to receive customer service and can look like SMS texting and messaging apps (as we covered above), as well as direct messaging on social media.

On a global scale, messaging apps boast 5 billion users worldwide, and brands have started to rely on a variety of messaging channels to enable a quick and easy connection with their customer, no matter where the request is coming from.

Customers can easily transition from conversations with friends and family to chats with customer service agents, making this an increasingly popular and effective means of providing convenient customer service.
Hyatt hospitality offers a great example of utilizing this approach via Facebook messenger to simplify and improve customer accessibility to the support they need. This kind of help can also be found within popular chat apps like WhatsApp.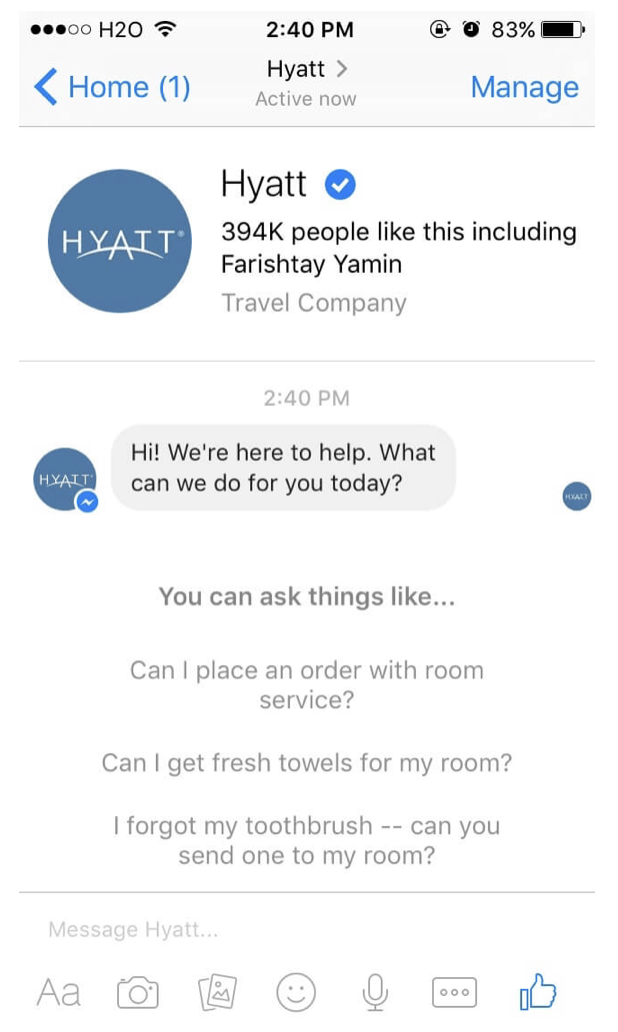 Social Media:
This brings us to customer service by way of social media. Similar to messaging, offering customer service through social media channels has also become increasingly popular due to its ease of accessibility. As another channel that enables users to switch from catching up with their friends and family to easily jumping over to communicating with (and rating) your brand, offering service through any and all social channels has also become pivotal to meeting the expectations of today's consumer.

In fact, in a recent consumer survey by HubSpot, 80% shared their positive experiences with companies, and 24% of those happy customers also went on to recommend those companies via social media.

Think of how many times you've based a buying decision on company reviews - do you recall any that related to service experiences?


Check out our post: Target Your Ideal Buyer with Inbound Service and Marketing for more on the importance of connecting your service and marketing teams!
A strong social media presence also enables companies to provide convenient support and have a little bit more fun in the process. Yelp, via its twitter account Yelp Eat24, for example, offers support through this account made specifically for customer support, and offers some personality and a bit more fun in the process.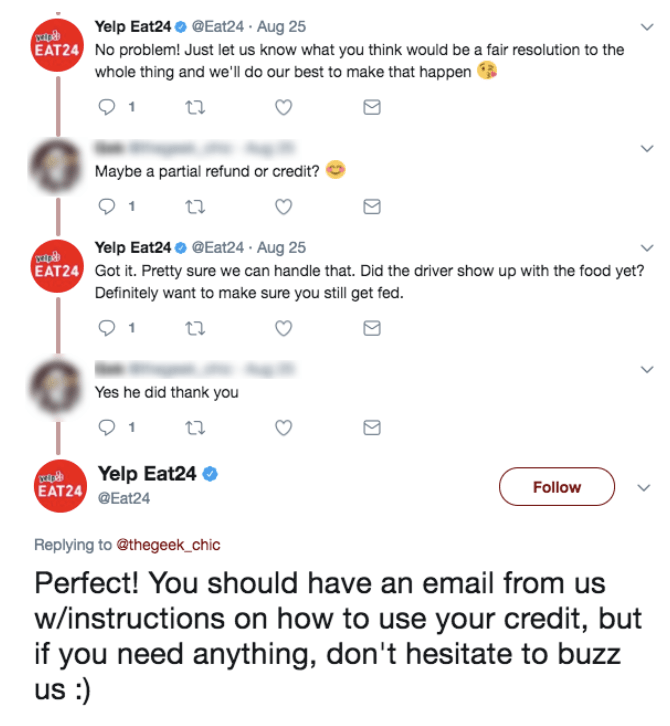 Live Chat:
Live Chat also offers an accessible and user-friendly option to providing efficient customer service. Live chats engage customers either through a live agent interacting with the customer in real time, or through the use of chatbots that are programmed to handle frequent, and oftentimes more simple or standardized customer questions.

When you land on any given business website today, you'll often be greeted with a pop-up or a notification in the bottom corner of the page that offers help with common questions, or navigation to a service representative.
Since live chat also lends itself well to customer service accessibility, businesses with team constraints that have difficulty monitoring customer care 24/7, for example, can use chatbots to interact with customers in the meantime. If a chatbot isn't programmed to answer the question at-hand, chatbots are also a great way to generate support tickets and let the customer know that help is on the way, and that they'll receive additional assistance soon.

HubSpot's Service Hub offers an easy and connected platform for businesses to provide efficient service across multiple channels, and enables companies to set up and customize their own bots to handle incoming service inquiries. (As a bonus, no coding experience is necessary to set up these multi-channel customer service bots in Service Hub!)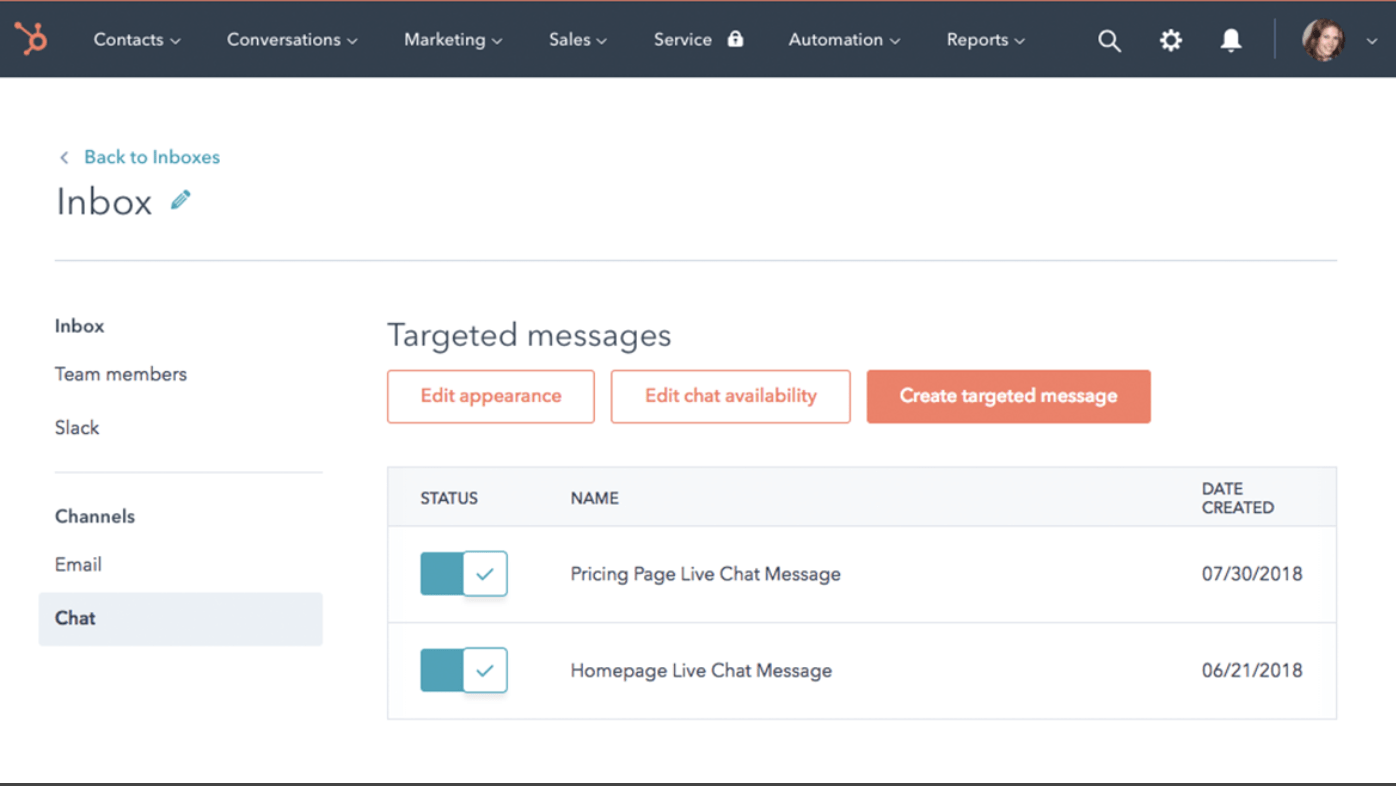 HubSpot Service Hub for Authentic and Efficient Customer Service Enablement:
When it comes to choosing a customer service platform that enables your team to effortlessly serve customers on any given channel at any given time, the good news is that there are a lot of great options at your disposal.

Popular platforms like HubSpot's Service Hub, Salesforce's Service Cloud and Zendesk all offer extensive tools that enable teams to provide the type of authentic, helpful and efficient service that today's customer is expecting.
For additional information specific to HubSpot's Service Hub, and how it can enable your team to provide an unforgettable customer experience time and time again, head to our article, Optimizing Customer Service: A Look at HubSpot's Latest and Greatest for a list of new service enablement features released on the platform earlier this year.
In Conclusion...
Keeping your customer delighted with excellent customer service has never been more important because it's never been easier for your customer to pick up their loyalty and take it to your competitors who are staying on their "A" game.
Happy customers have the ability to make or break your businesses reputation and overall success, but in order to get there, customer service teams should be enabled to provide relevant support through any channel at any given time. When you set your customer service team up with relevant tools to provide consistent service on an easy-to-use and connected platform, you ensure customer loyalty and set your brand up for long-term success.
We're here to help.
ManoByte is one of HubSpot's leading Service Hub consultants and implementation experts.
Interested in learning more about how we can help your service and support teams deliver consistent and reliable customer service, or just have a general question? That's what we're here for.


Ready to Dive In?
Work with our team of HubSpot experts and watch us take clunky systems, tech stacks, websites, and portals and turn them into tailored, intelligent workflows that deliver business outcomes.