Does your business need inbound? Inbound marketing essentially boils down to one thing: lead generation. That's because lead generation is widely known as the key element to sales success. Reason being, if you don't have leads, you can't close sales and drive your profitability, right? Right. However, the difference between generating leads in today's marketing landscape is the way businesses today should be going about getting those leads.
According to a study by Interconnected World, an astonishing 61% of global Internet users do their research for buying products online, with that number consistently growing each year. That statistic alone tells us that the possibilities of lead generation online are massive when an effective lead generating process is implemented.
This information will break down exactly how the marketing landscape is shifting and how the most marketing-savvy businesses are figuring out how to leverage inbound strategies to grow their businesses.
Traditional Marketing: It's Just Annoying
Right now, a major transition is taking place in the marketing stratosphere. Marketing processes that are annoying, disruptive and full of cold callers are no longer the most effective way to generate leads thanks to the process of inbound.
With the rise of the millennial generation, there has been a shift in buyer personas. For example, take these examples of more traditional forms of marketing:
Direct Mail: Since most people now pay bills electronically through online resources, customers are no longer seeing the advertising that comes in the mail. They either opt-out of receiving mail statements, or if they do still receive them, they go in the recycling container without being opened.
Purchasing Email Lists: Today's buyer has grown up with technology in their face nearly 24/7. They are aware of when they are being solicited through a massive email list you purchased and have a clear understanding of how to block spamming senders. Today, massive email blasts that have no targeted content based on the buyer's interests are losing their relevance rapidly and most often end up in the junk folder.
Print and TV Advertising: Reading magazines and watching traditional live television just isn't as popular as it once was. In the world of TiVo and online streaming, commercials have lost their hold as the most successful way to promote a product or service. Additionally, when today's buyer is forced to watch commercials, a smartphone or a tablet absorbs their attention during that time, making the commercials less effective.
Cold Calling: Buyers today simply don't want to be bothered. They ignore phone calls and drop-in visits like the plaque. When they are in a position to purchase, they want someone who can become a resource to them, rather than an interruption.
---
Shift The Focus: Be A Part Of The Conversation
Although most businesses today would say they agree that a shift is taking place in marketing, they don't always know how to respond to it. The first piece of advice we have to offer if you find yourself in this position is to start taking part in the conversations that your customers care about.
Most of the time, these conversations are happening on social media. So, a social media presence is a critically important part of an inbound strategy. If you are unsure about how to get involved on social media, start by observing your competition. Are they participating on social channels? If so, which ones? If they aren't, conduct some searches on your products and services through Facebook and Twitter and evaluate the results. Identifying where your customer is on social media will help you to identify whom you should target and which social networks are going to provide the best return of your time and investment.
The best way to effectively use your social media profiles with inbound is to use them, a lot! Promote your company blogs, eBooks, and content through these social media sites to draw traffic back to your "virtual storefront" which is your company website. The content you are promoting should be rooted in the topics your customers care about. Help them solve a problem and offer insight and solutions rather than just a sales pitch.
Keep in mind that you need to do more than just push your content out to your audience, it's important to stay engaged with them as well. Be a part of their conversations. Today, customers desire to have a relationship with the companies they do business with, and your interaction with them through social media helps to accomplish this.
---

Get the Right People To Your Site
You should now understand that the inbound marketing process focuses on getting potential buyers to your website. But how do you make sure the right visitors are getting there? By implementing these 4 items to your marketing strategies:
Blog: This is the single best way to attract visitors to your site. This includes creating content that is both educational and answers the questions your buyer has about your products and services.
Social Media: As previously mentioned, in order to be a part of the conversations your customers are having, you need to have a social presence. Social media puts a human face on your brand.
Keywords: Buying processes start online and usually, this begins with a simple keyword search in Google or another search engine. It is important to know what your customers are searching for so you can optimize your pages with content so your business is at the top of those search results. For example, if you are a home remodeling company, some keywords people are searching may be, "Tips for a successful remodel."
Pages: In order to take your site visitors into leads, you need to know who they are. This includes optimizing your pages with opportunities for your visitors to give you their contact information. (Here's a tip: Software like HubSpot can help you optimize your pages quickly and easily.)
After you've implemented these items, you should start to see more of your ideal customers coming to your site.
---
Breaking Down Inbound: Attract, Convert, Close, Delight
With the process of the inbound methodology, generating leads process happens during the second phase of the 4-stage inbound process. This 4-stage process happens in this order: Attract, Convert, Close and Delight.
To put it simply, it all starts with Attracting the right type of customers to your website, Converting those visitors into leads, Closing the sale and Delighting those customers so they continue to do business with you.
Attract: This means bringing the right traffic to your site. To gain ideal customers that are eager to learn more about your business, products and services. This process focuses on creating content and promoting it to draw in potential customers. This comes through blogging, social media, keyword promotion and optimized pages.
Convert: After you have the visitors to your site, you must convert them into leads by gaining their contact information. Your potential customers are usually willing to give you their contact information if they receive something in return. They can receive an eBook, a whitepaper, a video or some other form of information that will help them answer a question or solve a problem. It's a mutually beneficial transfer of information.
Close: After you've gained contact information from your site visitors, you must then market your products and services targeted directly at the customers' particular need or issue. Then, you close the sale. Conducting targeted marketing in this fashion will entice the customer to do business with you because you helped guide them through the process.
Delight: After you've closed business, the journey isn't over! Repeat business is an important part of the process, so you must create happy customers who will not only do business with you time and time again, but will promote you within their social circles so their friends will do business with you as well!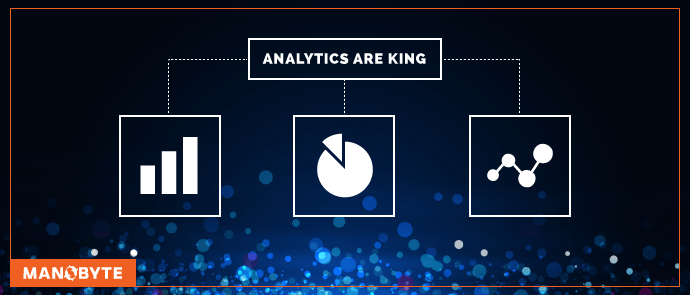 Analytics Are King: Measure Your Inbound Success
One of the most common marketing challenges today is how to measure marketing effectiveness. In 2011, Unica's State of Marketing report cited that, "57% of marketers saw measurement analysis and learning as the biggest bottleneck."
There are helpful solutions that are available though, such as shifting a focus from web analytics to marketing analytics. The more common process of web analytics measures things like page views, load times and other site information. Marketing analytics measures things like your generating leads, sales, traffic and events that influence your inbound lead generation processes. This type of data includes information not just from your website, but also from areas like your email, promotional events and social media activities. Marketing analytics, much like inbound, is focused on people, rather than just the page views.
With this process of marketing analytics, businesses can get new insight into the effectiveness of their inbound marketing campaigns, not just how their website is performing.
In conclusion, inbound marketing takes each step of the buying process and monitors it, tracks it and helps you as the business; gain insight on how to respond to it. As you can see, inbound marketing doesn't just happen, it takes a great deal of work and collaboration, but when implemented correctly, it can be a powerful tool to help the businesses of today grow and thrive within a rapidly evolving marketing landscape.