3 Important Questions You Need to Ask Your ERP Implementation Partner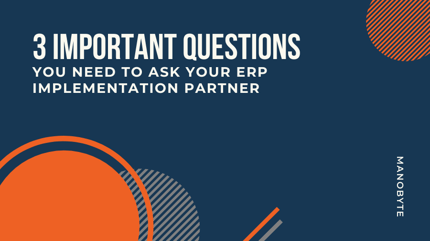 By all accounts, deploying a new ERP system is one of the best decisions you can ever make for your organization. But at the same time, any ERP implementation can quickly turn into an overwhelming ordeal without the right partner by your side.
Of course, this demands the question - which partner is the best not only for your ERP implementation, but for your long-term needs as a company? No two organizations are created in quite the same way and because of that, it's absolutely in your own best interest to find someone who closely aligns with who you are, and what you're trying to do. They need to do more than just "lend a helping hand" - they need to be every bit as invested in your own success as you yourself are.
Therefore, if you really want to guarantee that your ERP implementation will be a success, there are a few key questions that you should be asking any potential partner agencies before you decide which one to go with.
Finding the Best ERP Implementation Partner: Breaking Things Down
By far, the most important question to ask your ERP implementation partner involves some variation of: "how, exactly, does your company plan on contributing to the success of this project?"
The key word there, of course, is "contributing" - meaning that you can't sit back and expect your partner to do all the work. You'll still need to contribute in any and all ways that you can, and your employees will need to be a big part of implementing the change that is about to occur across your enterprise.
But really, what you're trying to figure out is how your partner is prepared to support your business' own long-term goals. If you don't like the answer to this question, it could lead to communication and collaboration issues down the road - meaning that your ERP implementation project may be over before it's truly had a chance to start.
1. "How Do We Define and Measure Success?"
This is a key question, as it allows you to dive deeper than just "the project is finished" as a metric for accomplishing your goals. Getting NetSuite ERP or some other solution up and running is only one small part of a much larger story, after all.
Your ERP implementation partner should have a series of well-defined, realistic metrics that act as mile markers as your project moves further down the line towards completion. This will help make sure you're always moving in the right direction to avoid any costly (and frustrating) setbacks later on.
Your partner should always provide you with not only key performance indicators to make sure that everything is proceeding along as it should be, but they should also be more than willing to engage in feedback sessions along the way.
2. "Do You Have Any Past Testimonials or Customer Statements That I Can Take a Look at?"
It's very, very easy for an ERP implementation partner to tell you that they're the organization you've been spending so much time looking for. It's another thing entirely for them to prove it before the project begins, and customer testimonials and past statements from satisfied partners are a big part of how they'll be able to do precisely that.
Or at least, that's how it SHOULD work. If an ERP implementation partner is only willing to talk about projects completed in a general sense, or if they rest behind their list of certifications, you're ultimately not getting access to the bigger picture.
Any firm that can actually do what they say they can should be more than willing to provide you with any independent peer reviews or testimonials that you ask for. Not only will this help confirm in your mind that you're making the right selection, but it will also give you the peace-of-mind that only comes with knowing you've finally found a partner that can deliver on all the promises they're making during these early stages of your relationship.
3. "Can You Give Me a More Specific Idea of What Your Implementation Process Actually Looks Like?"
Finally, you'll want to ask a series of questions that give you a better indication of exactly what the ERP implementation will look like BEFORE the process actually begins. Not only will this once again allow you to confirm that you're choosing the right partner to meet your needs, but it'll also give you a great opportunity to start preparing your own people in a way that will allow the process to go as smoothly as possible.
More Key Questions You Should Be Asking Your Implementation Partner
Along the same lines, you'll also want to make sure you're diving deep into the answers for questions like:
What resources are going to be committed to your implementation project?
Will there be any custom development needed, especially as it relates to achieving the objectives you've set out for yourself?
Exactly how long is this process going to take, and will the productivity of your employees be impacted during this time?
Who is going to conduct employee training on the new system, and how do we collectively determine if it's adequate or if additional help is needed?
Again, it's important to understand that it's one thing for a partner to make promises. It's another thing entirely to know with confidence that they'll be able to back them up. By asking these questions of your ERP implementation partner as early on in the process as you can, you'll be able to avoid a lot of the common traps that a lot of organizations fall into when embracing a new ERP and you'll be able to enjoy as many of the benefits as possible in a totally unrestricted fashion.
At ManoByte, our number one goal is to help you accomplish yours - and we use NetSuite ERP and similar solutions on a daily basis to help guarantee precisely that. Whether you're interested in sales enablement, inbound marketing, channel marketing, or all of these at the same time, we'll proudly stand by your side every step of the way.
If you have any additional questions about the types of important questions you should be asking your ERP implementation partner, or if you have any additional questions you'd like to discuss with someone in a bit more detail, please don't delay - contact ManoByte today.
Ready to Dive In?
Work with our team of HubSpot experts and watch us take clunky systems, tech stacks, websites, and portals and turn them into tailored, intelligent workflows that deliver business outcomes.