Customer service seems like a straightforward enough practice to understand because it's the provision of service to customers with little room for confusion or controversy. However, notions about what customer service is, or what it entails can vary, even between professionals. For example, more expansive textbook definitions suggest customer service also extends to include activities before, and during the initial sale—before prospects even become customers.
Here, we'll look at various adaptations of the essential concept of customer service. We'll also discuss the ways various companies, as well as customers, define this business function and how customer service translates into varying perceptions of quality in the services customers receive.
Requisites for Delivering high Quality Customer Service
Customer service quality measures the degree at which a company prioritizes customer service in contrast to its other business responsibilities, such as product development, production, marketing & sales, delivery and so on. Prioritization is undoubtedly part of the customer service quality equation, which more comprehensively includes:
Hiring for Customer Service Skills and Abilities
A customer's perception of the success of a customer service interaction is dependent on the ability of the customer service representative (CSR) to make a seamless adjustment to align his/her thinking with the customer. The CSR's understanding of, and ability and willingness to relate to the customer's situation, needs to be genuine. The capacity to empathize enables the CSR to communicate as effectively as possible with each customer.
Clear Role Descriptions for Customer Service Reps
What is NOT the CSR's mission —The goal is not to mirror the justified outrage, slow or fast pace, joviality, unjustified lousy attitude, or other characteristics of the caller.
What is the CSR's mission — The CSR's job is first to empathize genuinely, and to gain a clear understanding of the problem(s) affecting the customer's satisfaction with the product or service. Then, the CSR must get on the customer's side, to help that customer clearly understand what is possible to do to help them succeed in having the problem fully resolved, and as quickly and painlessly as possible.
Treating Customer Service as a branch of Marketing
Customer Service Works as Marketing — The Customer Service department is vital to a company's ability to generate new revenues from current as well as from new customers. Customer service must be included as a part of the company's overall marketing strategy. That's why smart business leaders apply this principle to actions beyond directly helping customers solve problems, including:
Product/Pricing Updates: Directly involving customer service employees in product innovation initiatives, in various sales and operations discussions, and even in pricing deliberations.
Data Management: Providing data entry fields that allow CSRs to include customers' comments as they may pertain to such areas of operations as those noted above.
Regular Training: Investing in quality training for CSRs, and in more specialized advanced training to help service employees more fully understand the broader impacts of their roles and their input.
Read More: How Building Materials Manufacturers Get Value out The HubSpot Service Hub

How a Customer Defines Customer Service
For the customer with a problem, customer service means solving the problem. Good customer service, from the customer's perspective, means solving it quickly and by whatever means that makes the process as effortless for them as possible.
According to at least one study, 80% of businesses responding to a survey expressed the belief that they provide a "superior" level of customer service. However, only 8% of customers surveyed said that they believe the companies they do business with are committed to superior customer service. Customers attribute bad customer service experiences from situations like:
Incidents in which they were kept waiting on hold for extended periods.
Times they are transferred from to one department after another, then another, forced to keep repeating the same information to each new representative they are connected with.
Attempts they make to get help from a company, but after multiple efforts are still unable to get the situation resolved.
Struggling to navigate complicated, non-intuitive automated phone systems, instead of being allowed to use the preferred communication channels, such as talking to a representative, email, texting or chat.
The cumbersome systems that produce the kinds of poor customer experiences as above do not empower customers to succeed in getting their problem resolved. These types of issues diminish the customer's opportunity to make the most of the product or service as it was intended. Instead, customers receive incomplete answers and inadequate tools to help them move forward.
Excellent customer service is a time-tested and reliable contributor to the customer experience. And, proper management of customer experience consistently proves to be a highly productive passive marketing strategy as well. Happy customers can bring more new business than some of your other active marketing campaigns. Yes, old-fashioned positive word-of-mouth (although happening more via online conversations these days) remains the most robust generator of new business.
How to help Customers Succeed
When a customer reaches out to your company with a question, request or a complaint, ideally your customer service representative promptly provides knowledge and expert assistance that helps the customer succeed in what he or she needed. Your happy customer then goes on to make repeat purchases with your company and refers coworkers, acquaintances, friends and family members to your business.
Happy Customers — It's a good sign for the U.S. American business sector that 77% of consumers surveyed by HubSpot said that they had shared a positive customer service experience with a company during the past year.
Unhappy Customer — On the other hand, many customers tell stories of bad customer experiences as well. Business leaders have long been aware that dissatisfied customers tend to tell about their experience with an even greater number of other people than happy customers do. Spreading a negative message about a company throughout their professional and personal network can severely impact a company's reputation—both off and online. This obviously results in serious losses of new sales and new customer referrals.
The Difference — Customer service reps are very often reactive in their approach to resolving customer problems. Others are proactive, taking an approach of partnering with customers in goal-setting and in strategies for success in reaching set goals.
This "difference-maker" approach by the CSR can accomplish much more than merely responding to reported problems and troubleshooting to achieve particular solutions. This caliber of company representative approaches the CSR role as one of helping customers succeed. This goal-oriented thinking serves to build a stronger customer relationship, one that is rich in goodwill and can cultivate a great supporter of your business.
Forms of Customer Service
Customer service/support refers to a range of services offered to help customers make the best use of a company's products or services. Modern customers typically want to avoid driving to a retail store or other places of business for product or service information, assistance to resolve a problem, or other customer services.
Today's companies have multiple options for delivery of customer service. But, it is the customers who are now driving the choices of methods businesses use to provide them with the services they need.
Phone
Many companies still provide most or all of their customer service by phone. Customers call the company, and either an automated system or a live customer service representative answers. This long-time method has declined in popularity over recent years, replaced by preferences for email, messaging, live chat, and other web-based systems of communication. T

oday's customer is increasingly opting to connect with companies through online services for uncomplicated services like order confirmations, status updates, coupon redemptions, and even product returns.
Email
Email allows the kind of easy communication that retains the human touch while using a computer. Email is among the most preferred methods across all age groups for customer service communication. Reflecting the premium people place on convenience and time savings of being free to submit requests without being stuck waiting on hold. Many companies these days use a well-developed set of customer service email templates, snippets, and sequences, to address a variety of customer issues. Email customer service projects a company's commitment to personalized customer service and accessibility, and to producing optimally efficient digitally documented customer communications records for customer and company.
Text & App Messaging
Messaging is becoming a more and more popular method for requesting customer service assistance. Text-based messaging, apps and social media messaging are all now widely used in customer service applications. Businesses are increasingly using messaging used to distribute vast varieties of simple customer service content to broad audiences. The messaging app "Slack" is becoming increasingly in corporate environments. Some companies use Facebook Messenger to make it convenient for customers to purchase items and get information and other help they need—all by using the apps they use daily to communicate with acquaintances, friends, and family.
Real Time Chat & Chat Bots
Often one of the quickest forms of customer service is chat, allowing customers to bypass long wait times on phone calls to overloaded customer service call centers. Chat can be accessed via many company web pages, to provide rapid alternative access to various customer services. Live chat support services require full-time access to operate most successfully. So, some companies have chatbots programmed to provide the service more affordable. State-of-the-art helper bots can guide customers through many customer services processes, from credit applications for larger purchases to returns processing to resolving customer information discrepancies—all with no waiting, and at the customer's preferred pace.
Social Media
An increasing number of businesses are communicating with customers more frequently across social media platforms. Using social platforms as venues for customer engagement contributes well to a company's efforts to provide an overall positive customer experience. Customers find that they can obtain responses to their questions quickly and easily via Facebook, Twitter, and Instagram accounts. Social media also allows a business to be a little more relaxed and present a more fun image for its customers too. More and more brands are creating dedicated social accounts just for customer support. And, they're making the most of their opportunities in those spaces to inform or engage their customers, as very refreshing packaging for their customer services program.
Website Knowledge Bases
Today's busy customers often prefer a more independent version of customer service. They opt to get the information they need or to execute various customer service functions, such as processing returns, or filing complaints while avoiding the inconvenience of holding in a phone queue for a live agent or waiting for an email response. Online self-service through a company's website or social page presents customers with rapid access, 24/7 to the many kinds of information and commands they need, with just a few clicks. Customer service here takes a new form when businesses develop knowledge-bases for their customers—publishing articles and videos on their sites that explain how to use their products and services. Many modern companies, from medical device manufacturers to banks now pack their websites with informative text and video content offering a vast array of in-depth product and industry information.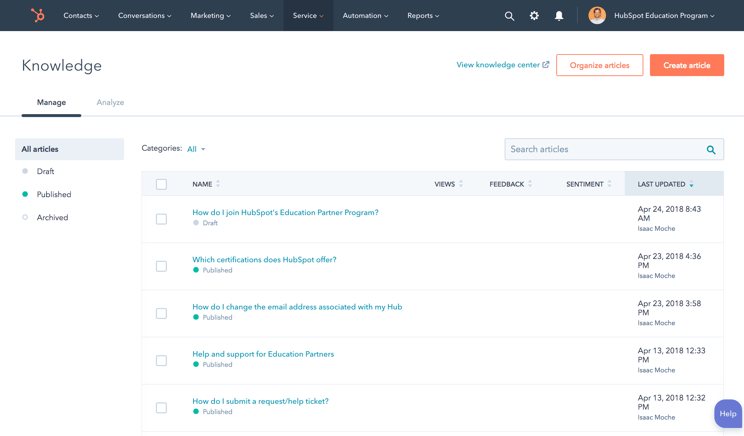 Tech Support and In-Home Service
More involved customer service requires CSRs who perform functions well beyond processing requests for repairs, replacements, refunds, etc., can provide training, planning assistance, and "at-home support" for troubleshooting, and even installations or maintenance at the customer's site. Technical support representatives may perform analysis and repair services to correct problems their customers are having with technology products such as televisions, appliances, computers, software products, mobile phones, or other mechanical or electronic products.
How to improve your company's customer service culture
Creating a customer service culture of complete dedication to exceptional helpfulness is historically known to pay off for businesses. Innovative companies take progressive approaches to their customer service programs like:
Empowered CSR Policies
Some companies give customer service employees complete flexibility to make autonomous judgment calls to resolve customers' issues. Such a policy goes far with developing the confidence the CSRs need to help customers feel like their problem is in the responsible hands of someone who is actually empowered to solve the issue, because they're an actual customer service decision-maker. Providing CSRs greater levels of autonomy also bodes well for the employee engagement objectives and goals—a fundamental part of cultivating a customer service team of employees who are focused on enhancing customer experience. This is an area of formative business philosophy in which all business leaders should seek a more in-depth understanding.
Extreme Customer Service
Among the most famous of U.S. American business success stories are those of companies known for their unique intensity of customer service devotion. These companies demonstrate the most in-depth understanding that attracting new customers with a great product or service is just half of the formula for commercial sustainability. They know that the other half is keeping customers.
It is fair to say that the simplest, yet most powerful component of any overall long-term business strategy is to prioritize. It's paramount that you take steps to ensure your team of customer service professionals is equipped with the training, tools, and management support to help your customers succeed and to inspire them to want to continue purchasing from you and even to enthusiastically recommend your company to other people.
Meeting/Exceeding Customer Expectations
The sophisticated and modern consumer is in full control of their potential vendor options. Customer expectations are now higher than ever because of access to quality customer service. People know how easy it is to switch to a competitor. Old standards of customer service are outmoded and no longer adequate. Customers are not happy with service that merely meets their expectations these days. Expectations must now be exceeded for customers to feel empowered enough to share your business with others. You've heard people say it time and time again, "I was so surprised! I messaged them and they had me a new product the very next day!"
This doesn't mean that customers have unreasonable expectations or that CSRs must perform superhuman feats. It means, on the contrary, that customers now demand that businesses recognize the need for a new, genuine, and human-centered support.
Customers want to get the help they want, through the communications channels they prefer to use. And, they don't want to be required to wait on hold for long periods. It's the age of the empowered customer, and the best companies succeed by doing what it takes to help their customers succeed.
Implementing a customer service enablement tool
There are a slate of customer service tools available based on industry. HubSpot's Service Hub offers the features and customer service tools necessary to enable a higher caliber of service for manufacturing companies. If you're looking for ways to improve your bottom line through increased customer satisfaction, new customer referrals, and higher customer lifetime values, consider implementing HubSpot's Service Hub on top of their CRM, CMS, and Sales & Marketing tools to fully integrate a customer's journey with your business.
Ready to Dive In?
Work with our team of HubSpot experts and watch us take clunky systems, tech stacks, websites, and portals and turn them into tailored, intelligent workflows that deliver business outcomes.