Social media is an excellent, free tool for companies to use as a method of promoting their brand and targeting their message. Given the audience it can reach, many networks have provided additional marketing tools brands can use to further expand their social media influence. Companies can purchase sponsored posts and work similarly to a television commercial, where the posts show through the feed of a social network. Each social network has its own method to sponsored posts and requires a different strategy for individual networks.
Facebook
As one of the largest social networks used by consumers, Facebook can be very beneficial to invest your marketing budget. It is no secret that Facebook has seen a decline in organic reach. This has been a result of consumer demands, as consumers were feeling overwhelmed by the number of promotional posts in their news feed. Unfortunately for your advertising budget, that means paid Facebook posts will now yield a greater benefit than organic posting.
Facebook provides two advertising options: boost posts or promoted posts. Each option provides its own benefits, so choose whichever one will work best for your strategy. With a boost post, you can choose to either push the post to users who like your page and their friends, or to people you choose through targeting. This means that you can set demographical criteria for which users you want your post push to. In comparison, promoted posts allow you to choose from a wider range of targeting options. Take a look at the targeting options between each: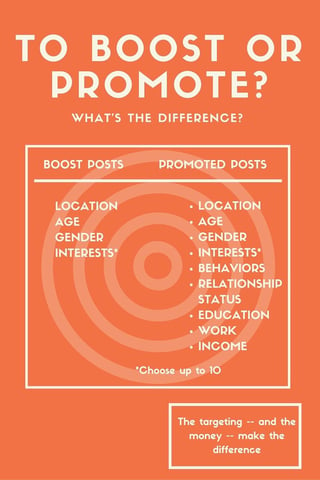 Promoted posts are an excellent resource as your brand has an infinite number of possibilities to target Facebook users.
In terms of cost, boost post is a great resource if you have a small budget, as you can set your budget and choose how long to boost the post. Given that information, Facebook will boost the post and will allow you to track reach through the ads manager.
Promoted posts work a little differently. There is a cost per click or impression associated with promoted posts. In addition, Facebook allows you to bid for ad space, which is very competitive. Your brand can set a maximum bid amount which will increase your likelihood of reach to your chosen targets.
If you are unsure of whether investing in Facebook sponsored posts is the way to go, test the waters by boosting a post. You can spend as much or as little as you want and can get an idea of how well the strategy can work.
Twitter
Like Facebook, Twitter sponsored posts works on an auction system where you compete for space in news and search feeds. Promoted tweets are priced on a cost-per-engagement basis, which means you only pay if your tweet generates engagement such as retweets, favorites, replies, etc.
Twitter allows you to choose a primary method of targeting: keywords, interests & followers, television, or tailored audiences. Unlike Facebook, Twitter does not allow you to choose specific demographics. However, while your brand can elect a primary method, the other options can still be utilized. Twitter uses algorithms to track how its users engage with content, such as topics or trends, and uses that information to promote your brand's tweets.
The network also makes it easy to pick and choose which tweets to promote. See the example image below, all it takes is a click: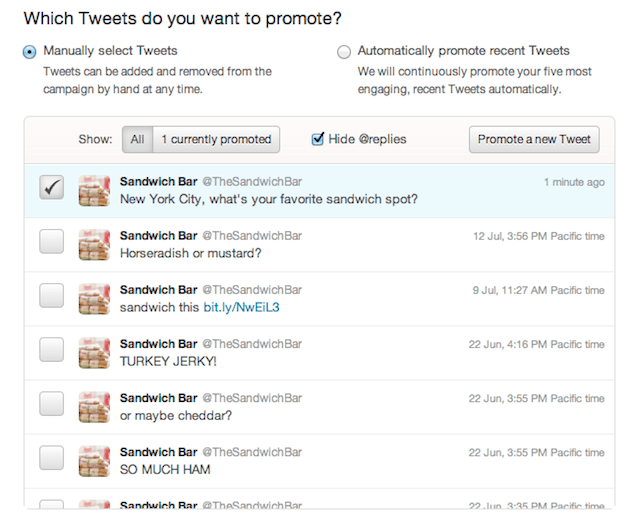 source: sproutsocial
Twitter also allows you to create promoted-only tweets. These are posts that are strictly shown to users targeted in your campaign, which means your current followers will not see this. This is a great way to promote solely to new users which can increase your following and engagement on Twitter.
Instagram
Instagram is brand new to the sponsored posts feature. In September, the brand reached 400 million users and recognized that with its popularity, brands wanted to take advantage of the large audience for marketing purposes.
Given its popularity, Instragram is notably 50% more expensive than Facebook. While the cost for the network is high, it is well worth the price as Instagram posts generate much more engagement from users than Facebook. Similar advertisements could generate 15-20 likes on Facebook but on Instagram 300-500 likes are earned. This is a huge opportunity for brands because it is still very new. And, if done well, sponsored posts can be extremely successful.
Which Posts to Choose
So, you've decided that sponsored posts will be beneficial to your brand. Now what? How do you choose which posts to sponsor? The posts you choose will be different for each network, as each has its own style.
On Facebook, choose content that will benefit your audience, especially content that will get fans to your website or onto your e-mailing list.
For Twitter, content that is under 100 characters tends to have a higher engagement rate. Also try to include photos and videos when possible, as these are much more engaging to the audience.
Instagram content needs to match the style of the network. This is very important, as you will want to blend in with users' feeds. Instagram is solely visual, which means content should be eye-catching. Product that is feature in a candid moment conveys a real-life moment, which speaks to the style of Instagram. Take the image below as an example of a brand promoting on Instagram right.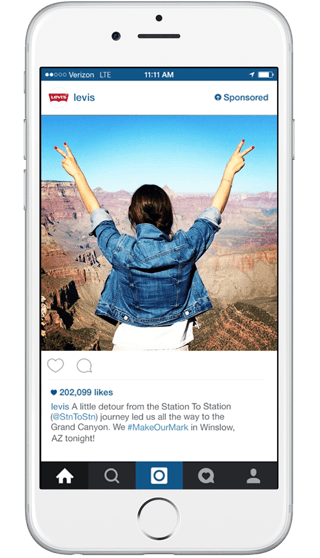 Source: Instagram
Remember that your promoted content needs to speak volumes for your brand. The posts you opt to choose should be your best ones. These are how you showcase your brand to new users and capture their attention. Unfortunately, with the amount of content being posted on social networks, information can get lost in the shuffle. By investing in sponsored posts, your brand can ensure that its message can still reach an audience, even if they aren't already following you.