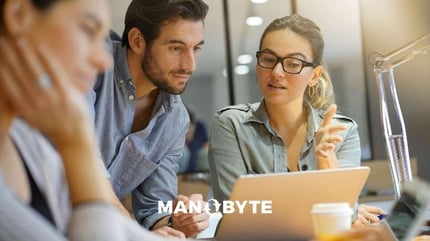 Discovery & Strategy Process
Content Analysis: Providing helpful, relevant content is a driving force behind the success of an inbound marketing strategy. In order to make the most of your inbound marketing efforts, ManoByte will start by running a thorough analysis of your existing content and use this to identify future content needs. This analysis is important to ensuring the success of your inbound efforts by highlighting content gaps and opportunities to create timely, relevant content for candidates and job seekers.
Brand Guide: The ManoByte team knows brand development is an important piece in a cohesive marketing campaign; that's why we'll develop a brand guide to ensure your company has clear guidelines for how your brand is represented online and in print. The guide will detail how your logo, colors, website, and photos are to be used to ensure your brand's representation is as strong as possible across channels.
Creative Brief: The creative brief we present will outline the objectives of the inbound strategy we will implement for your organization and provide a detailed plan of how we will create content that aligns with your organization's goals. The creative brief is a document designed to show you exactly what to expect from the creative elements in your marketing strategy, and when to expect them.
Website Architecture: The first impression your brand makes online should be a great one. The ManoByte team will analyze your existing website and offer suggestions on how you can use it to your advantage with your inbound strategy. We'll work with you to build a website that looks great from desktop to mobile and focuses on bringing in those strong leads for your business.
Digital Marketing Blueprint: Our digital marketing blueprint will outline and detail all the different pieces of your inbound strategy, including content creation, search engine optimization (SEO), and website architecture. This blueprint is designed so you know and understand exactly how your inbound strategy will grow your business.


Foundation Development Process

Website Setup and Optimization: Your organization's website is the most important aspect of your inbound marketing strategy; your website is the central hub of your online presence. The ManoByte team will work with you to develop an easy-to-use website that looks great on any device and works to generate qualified leads. Our designers will showcase your business with beautiful site pages, custom calls-to-action, and effective landing pages that will drive results.
Social Media Setup and Optimization: Your social media channels play an important role in bringing potential candidates to your organization. ManoByte will help you identify which social channels have the best potential to drive ideal candidates to your business. Once we've identified those channels, you can get up and running to promote content that'll bring new leads to your website.
HubSpot Setup and Optimization: HubSpot is an all-in-one marketing, sales, and customer service platform that enables you to implement inbound strategies at every stage of the customer journey. As a Platinum HubSpot partner, ManoByte will assist you with setting up your HubSpot account so it's ready to go in the way your organization can get the most from it.
Blog Setup and Optimization: Your blog is a powerful tool for publishing helpful, relevant content for your audience. A blog that's well maintained and regularly updated can also attract new visitors who may not have known about your organization before. ManoByte will help you create a blog that informative and share-worthy to keep readers engaged and build up industry thought leadership for your organization.
SEO Configuration: Search engine optimization (SEO) is an ever-evolving set of techniques that can feel overwhelming for many organizations—that's where ManoByte comes in. Our strategists are skilled in SEO, and we know how to leverage the keywords your ideal customers are using to find you online. Our research may also uncover new relevant keywords for your organization to use and drive more organic search traffic.
Email Template Creation: Email marketing is still one of the most effective ways to reach out to current and potential clients. ManoByte will help you build flexible and effective calls-to-action that'll motivate readers to click. We'll help you ensure your emails have relevant content and are formatted to have a positive and measurable impact on your organization.
CRM Setup: Effective customer relationship management is vital to the success of an inbound strategy. The ManoByte team will help you set up and utilize your CRM platform so your whole team knows exactly where a customer stands in their relationship with your organization. Your customers won't have to repeat themselves, and your team won't be spending valuable time digging for and inputting customer information.
Knowledge Base Setup: With the integration of online search into many parts of our daily lives, customers are looking to find answers themselves. Help solve common customer issues with a knowledge base attached to your website that's designed to educate your customers about your products, your industry, and your organization. ManoByte can help you with setup and content population to create a well-rounded online encyclopedia specific to your organization and its role in your industry.
Chatbot Automation: Livechat is a great way to speak directly with your customers on your website, but always having a livechat agent available can be costly or require outsourcing. With continued improvements to artificial intelligence (AI), chatbots have become a cost-effective solution to having a knowledgeable assistant on your website at all times. ManoByte can help you set up chatbots for your website that automatically schedule meetings, suggest knowledge base content, or answer common questions. Excellent service can be provided around the clock instead of just 9-5.

Campaign Management Process

Strategic Planning: Ongoing campaign management requires strategic planning to keep the leads coming. Our strategists will work to create campaigns that target different personas to provide personalized attention to your ideal client's unique problems while still bringing in your entire audience.
Digital Campaigns: In the age of social media, digital campaigns have the ability to be fun, creative, and interactive. From using simple, in-feed advertisements to fully immersive experiences and microsites, digital campaigns are powerful lead generation machines with the ability to educate users on a relevant topic and establish trust as a thought leader. ManoByte will help you design and implement the right digital campaign for your audience and industry to reign in those social leads.
Lead Generation: The goal of inbound marketing is to drive up lead generation, and ManoByte will help you build lead generating workflows to keep them rolling in. Our team will create click-worthy calls-to-action and landing pages optimized for success to lead your prospects through their buying journey with your organization.
Content Development: Successful inbound strategies have helpful, relevant content distributed at the right time to have the biggest impact on your leads. ManoByte will help you develop that content for your ongoing inbound initiatives to continue to grow your business as a thought leader in your industry and build trust with your leads and customers.
Graphic Design: ManoByte's graphic design team will provide the visual creative that accompanies all your inbound efforts. Our designers are skilled artists and strategists, so your graphic needs will look good and align well with your brand.
Video Creation: Video is a vital piece of the inbound strategy, and with our video development team, to power to create cinematic-quality videos to promote your brand is at your fingertips. We can help develop promotional videos, educational podcasts, and recruiting videos to grow your business right from our in-house video recording and editing studio.
Software Development & Integration: ManoByte understands organizations have a stack of technology they use instead of just a single platform. We can help you integrate HubSpot with your existing technology stack with one of over 200 certified integrations, or if something in your stack isn't on the list, we can develop a custom integration for you with HubSpot's Open API.
Management & Administration: Your assigned business growth consultant will manage all your projects and ensure we have what we need from you and vice versa to keep projects moving forward. We use an online project managing platform Teamwork to stay organized with all our tasks and communicate with you on their progress. Before we get started, we'll set you up with Teamwork and give you instructions on how we use it.
Ready to Dive In?
Work with our team of HubSpot experts and watch us take clunky systems, tech stacks, websites, and portals and turn them into tailored, intelligent workflows that deliver business outcomes.