Implementing a Supportive Knowledge Base for Your Team and Customers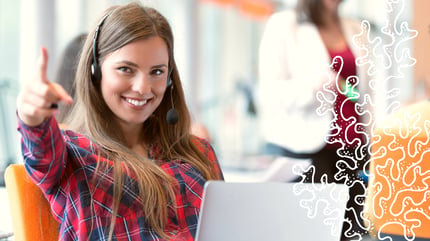 Delivering 24/7, best-in-class customer service can feel like a constant uphill battle.
Even if your service team doesn't experience a consistent, high-volume stream of incoming support tickets, any average support role can still be draining when the help desk phone rings repeatedly with the same customer question or issue over and over again, or you finally close out a ticket with a difficult customer, only to be greeted by another without even a chance to step away for a quick mental break.

Customer service teams: we want you to know that we see you and appreciate you! Your unmatched help and friendliness when we're feeling stuck does not go unseen. This blog takes a look at an incredibly supportive Customer Service Tool for service teams and customers, known commonly as the Knowledge Base.
We'll cover what a Knowledge Base is, offer up best practices and strategies for implementation (with some visual examples) as well as offer tips on how to know if your Knowledge Base is working.

Let's dive in!


A Self-Help Center that Supports Everyone: By the Numbers
Can you recall the last time you encountered a product or service issue? What was the first thing you did?

Did pick up the phone and dial in to speak directly with a customer service representative?
If you're like 67% of customers, according to Nuance Enterprise, you prefer to use self-service options like online Knowledge Base articles over talking with a representative on the phone. In the same study, 91% of survey respondents also said they'd use a knowledge base if it was available and tailored to their needs.

A similar study by Forrester also backs up this claim, stating that mobile and self-service interactions rank the highest in usage by customers seeking to resolve a service issue.

The presence of a Knowledge Base is not only a key support tool for your team as it directs service volume away from your representatives while allowing your customers to find the answers to their questions quickly and efficiently, but it's also incredibly beneficial for bottom line staffing costs.

In fact, the 2022 US Contact Center Decision Maker's Guide (US CCDMG) tells us that "for businesses, by far the major advantage to having customers using web self-service is the fact that the cost per automated support session is estimated to be between 40 and 100 times cheaper than a call to a live agent."
When it comes to the customers who are dialing in, the US CCDMG study also states that around 50-60% of calls to the contact center resulted from bad website service or failure in another channel.

What we're getting at: your customers want to be able to help themselves, and it's incredibly helpful for your team, and your bottom line. With that, here's some helpful information and tips to help you, help them!
What is a Knowledge Base?
A Knowledge Base is a self-service customer service library that allows customers to find the information they need via a number of company resources - like articles or FAQs - that often directly answer customer questions at scale and helps them find solutions to their problems in an instant.

Not only is this convenient, timely and user-friendly service option a win for the customer, it also ultimately helps service providers keep ticket volume and wait times at bay (which acts as a spectacular support tool for your team,) and enables your agents to answer incoming questions more efficiently.
Generally speaking, a Knowledge Base looks something like this: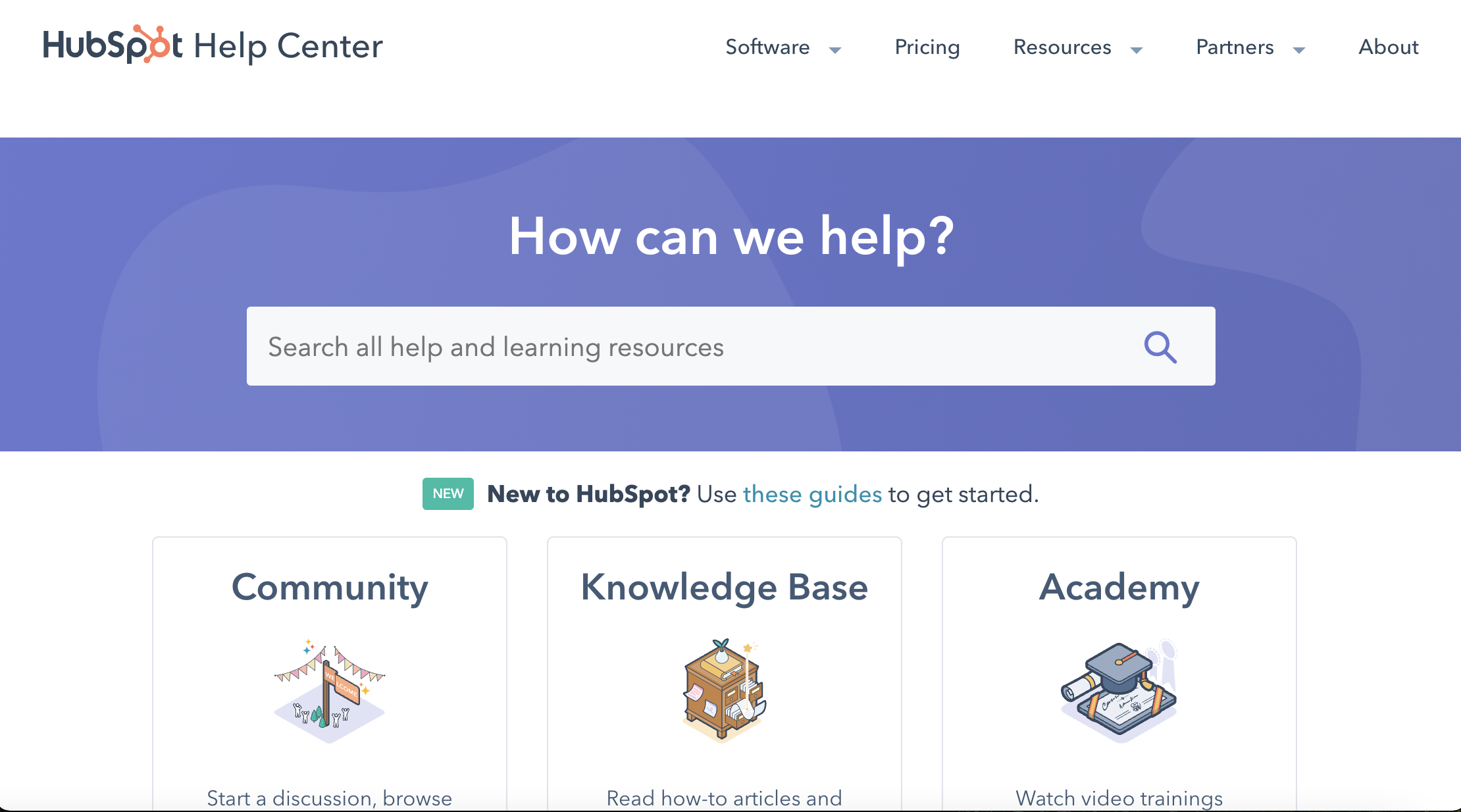 Link here to view HubSpot's full Knowledge Base.
Or like this: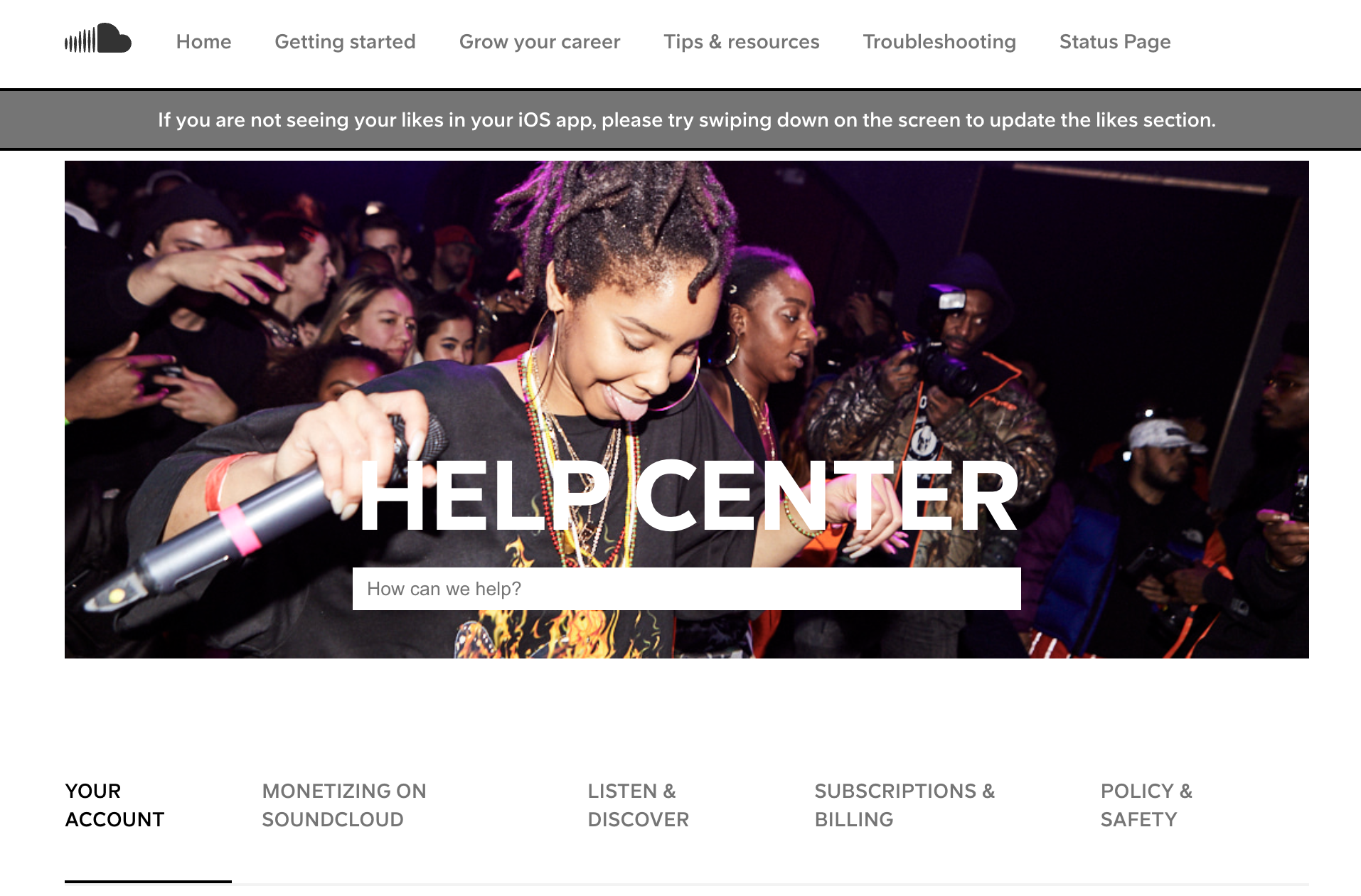 Link here to SoundCloud's full Knowledge Base.
In most cases, Knowledge Bases provide a search box for customers to enter their question or issue, while also enabling easy navigation with prominently displayed FAQs, and other discoverable resources that address common issues.


Customer Paths to Service & Addressing Gaps in Helpful Content
When a customer first encounters a product or service issue, they're going to head straight to your website.

Upon landing on your website, one of two things will happen: they'll either find the answer to the question they're looking for, or they'll realize that they need further assistance - in which case they can reach out to your team for one-on-one support.

When this happens, enlist this best practice with your team members: Once agents have provided timely, friendly and delightful service to your customer and closed the ticket, make note of the issue in question. Could this problem have been resolved by a self-service offering?
Perhaps there's an article that addresses a general issue to a customer question - like a basic 90-day return policy - but doesn't outline what to do if the product malfunctions after a certain period of time. This offers a perfect opportunity to beef up the information on your return policy and may also trigger other team members to identify other common questions relating to the issue that may have otherwise been missed in your Help Center.

Considering a Knowledge Base Strategy
If you're a service team leader just getting your feet wet with the idea of implementing a self-service strategy but are feeling overwhelmed, we can assure you that there's no perfect Knowledge Base out there and there's always room for improvement. No matter the breadth of information available to your customers on your website, the good news is that there's always room to improve your Knowledge Base strategy and build as you go.
On the flip side, customer service leads that leave a Knowledge Base out of their service strategy may often find rapid team turnover from agent burn-out, more frustrated customers, and a dreaded and drawn-out experience for both parties. (Think of how much of a drain it would feel as an agent to receive the same question over and over again?)
By implementing (even a basic - and yes, imperfect) Knowledge Base strategy, you're setting your team and your customer up for success.
Sure, establishing a Knowledge Base may seem like a tall order, but we can assure you that you already have some great resources and that the reward far outweighs the set-up.

If you're looking for a place to start, begin by looking at past customer service reports or talking to your senior support agents. (I'd even be willing to bet that they've joked about the amount of times they've received the same question at post-shift happy hour.)
Foundations of Creating a Successful Knowledge Base
Step 1: Take a Look at Service History
to Identify Potential

Knowledge Base Articles
Closed ticket reports and team feedback are your two best friends when it comes to understanding what common needs repetitively to come through your service funnel. Take some time to evaluate ticket reports over the course of the last year. What issues kept coming up that could be addressed through simple documentation?

Similarly, if you have an implementation team (or something similar) ask them what they'd like their customers to know before their first meeting. What does that information look like? Would a Knowledge Base article have the ability to equip the customer with what they need, without having to request one-on-one support?
Step 2:
Get to Writing
The good news is that when your customer is looking for a solution, they're not looking for flashy, salesy, or even compelling content. They're looking for answers laid out in the simplest terms. What's going to get them from their problem to the solution the fastest?

By sticking to the hard facts, you're more likely to enable your customer to find the answer they need and find it quickly. Think of the article as information and instruction. How can they get from Point "A" (not understanding) to Point "B" (issue is directly addressed) most effectively? Clear, concise instructions that aren't diluted with marketing or sales jargon, slang or idioms are your best friend here.
Since your ultimate goal is to help customers efficiently find answers to their questions, you want to make it as accessible and understandable to as many users as possible. In short, only provide content that enables your customer to solve their problems independently.
Step 3:
Ensure Effective Article Presentation
Now that you've done the work establishing your problems and clearly and concisely addressing them through self-help articles, make sure you're presenting them in a way that makes them easy to find and understand.
We recommend:
Using a single, cohesive template for all Knowledge Base articles
Answering one question per article
Using a consistent, basic font and color for easy readability
Using bullet points as much as possible
Using helpful images and gifs (that support the answer and improve understanding)
Step 4:
Make Your Knowledge Base Easy to Find
Now that you've done all the legwork to establish a successful Knowledge Base, you want to make sure it's easily discoverable so your customers know that this wealth of helpful, valuable information is available to them.

A best practice here is to put a link to your Knowledge Base on the homepage of your website. You could also add it to any of your navigation bars. The more accessible, the better.

Clear, concise copy is once again your best friend here for efficiency and accessibility purposes. Whether it's plunking your Knowledge Base into a "Resources" drop-down, having a bot greet them and asking them what they came to the site for and providing a direct link, or just putting a "Help Center" link in whatever prime real estate makes sense on your home page, these are all great ways to ensure your customer easily finds what they're looking for.
Pro Tip:
If you connect with your customers after a transaction (whether it's an order confirmation email or a text receipt) make sure that your Knowledge Base is mentioned - or better yet, include a link to it - so customers know they have access to helpful resources from the get-go.

Similarly, if your customer reaches out for help with an issue, include a link to your Knowledge Base in your follow-up email.
Step 5:
Keep it Fresh
It's natural for any growing business to introduce new product and service offerings over time, and with that evolution brings new and updated policies, instruction manuals, branding, and naturally, customer questions and claims.

Making sure your Knowledge Base is maintained with current and relevant information is a vital way of establishing trust with your customer.
Say you've just purchased a new grill and you have questions about buying add-ons that are compatible with your make and model. But once you land on the product website, the only part information available promises compatibility with last year's model, and even the FAQ's only refer to the past model years. -- This leaves much up to question and assumption (and you know what they say about assuming.) As a customer, I can only wonder, does this mean last year's add-ons will also suit the new grill I just bought? Or, will I have to send the product back post-purchase because the seller's product page, features, add-ons, etc. haven't been updated yet?
When your Knowledge Base information is up-to-date and directly addresses your customer's common issues for even your latest of launched products and services, they're going to feel like they're being taken care of, that you understand them, and that they've made the right decision in choosing your brand because you've been proactive in helping them to easily solve their problem.
We recommend these best practices to ensure maintenance of a healthy Knowledge Base:
Make note of products and services outlined in each of your help articles so you have a clearer picture of what needs to be updated, and when
Refresh articles that receive negative feedback
Delete out-of-date articles
Make note of common Knowledge Base searches. Update them as-needed and keep them in a prominent, easily-discoverable location
Noticing a trend of new and common questions? Create new articles to address evolving and current support issues
How to Craft an Effective Knowledge Base Article
We mentioned before that clarity and relevance are your best friends when it comes to an effective Help Center strategy, and this couldn't remain more true with each of your articles.

When your customer lands on any given article, they should know exactly what they're in for and what the article is going to teach them.
We like this example Survey Monkey's website: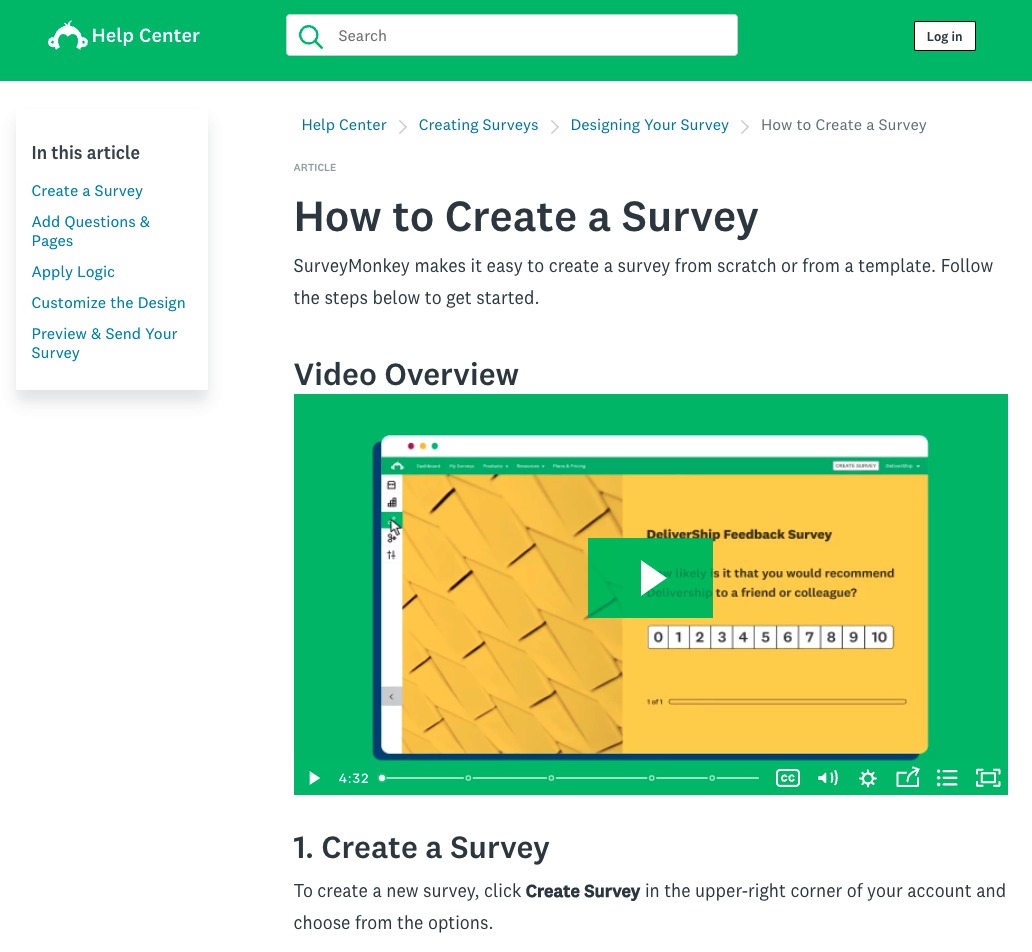 From the title alone you know that you're going to leave this page knowing how to create a survey. The first sentence then tells you it's going to be easy (bonus) and offers you steps to creating a survey both in written form, and, double bonus! They've even provided a step-by-step video tutorial.

Side note: You could also title your article in the form of a question, like, "How do I create a survey?", which can be helpful to the many users who type their exact question into your Help Center search bar, as opposed to a keyword or two.
Here's a few best practices in the spirit of maintaining article length and clarity for easy readability:


Use bullet points to break up your information into more digestible pieces, especially when you're providing steps on how to do something
Add in links within your text to other related, helpful articles or common questions
Break up your post with a variety of content like videos and images when it feels like it's getting lengthy. It makes your article less intimidating and more readable and digestible
Add in "Call Outs", or stand out text boxes that draw attention to important information
Survey Monkey again offers some great examples in their "How to Create a Survey" article. (Take note of the blue links that guide users to other helpful articles, bolded actionable steps, and the blue, call-out tip box below:) You can also view their full article page here.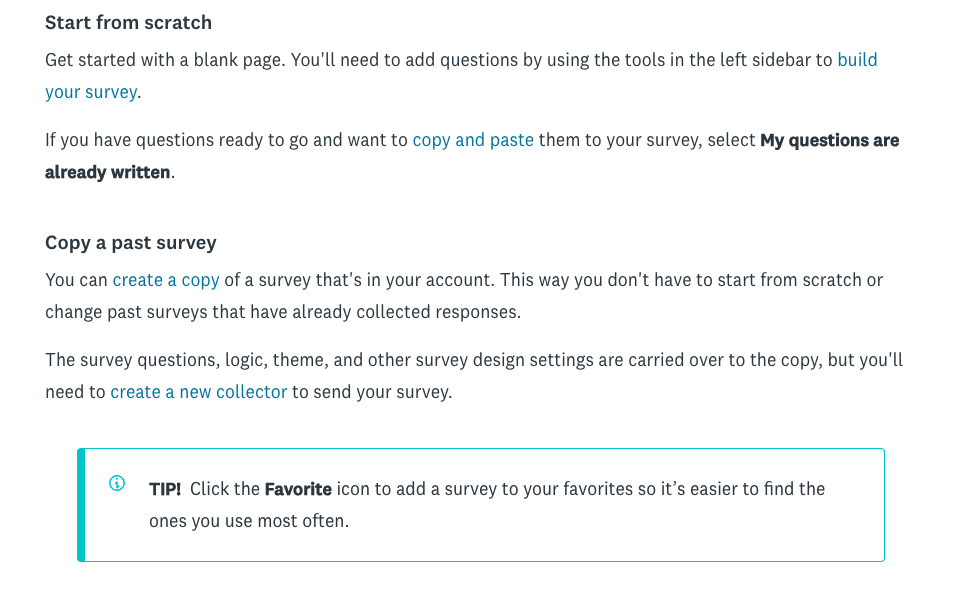 As you wrap up your article, we recommend adding in a brief synopsis of what the user should have learned in their time spent there, as well outlining and linking to next steps when applicable. (Again, less is more! Just a sentence or two will usually do here.)


Pro Tip:
Adding in a quick "Was this article helpful?" with a Yes/No option and a place to leave feedback will help to ensure that customers are successful and leave your site feeling satisfied.
(This is especially important for those who are just getting their Knowledge Base up and running.)

How Will I Know if My Knowledge Base is Working?
In addition to collecting customer feedback, see if you can get your hands on some statistics to attain a high-level understanding of the value, usage and effectiveness of your Knowledge Base.

With access to information like most viewed articles, hot search topics and how your team's ticket volume has changed since your Knowledge Base implementation, you'll be able to make appropriate changes and identify if your Help Center is actually, well, helping.
Now It's Your Turn
Implementing a Knowledge Base strategy isn't just a key factor in ensuring a great customer experience that leaves your customer feeling seen, satisfied and self-sufficient, but it will also take a massive weight off of your service team and allow them to focus on higher-priority issues. With the help of a few best practices like the ones outlined in this post, we can ensure you'll see massive service improvements that your valued customer - and your valued team - will thank you for.

Have additional questions regarding a successful Knowledge Base implementation strategy or thinking of implementing one for your team?
ManoByte is one of HubSpot's leading Service Hub consultants and implementation experts.
We help teams find the right solution, provide in-depth training and support, and ensure you're extracting the most value and usability from the platform.
Ready to Dive In?
Work with our team of HubSpot experts and watch us take clunky systems, tech stacks, websites, and portals and turn them into tailored, intelligent workflows that deliver business outcomes.