How to Sell Luxury Plumbing Fixtures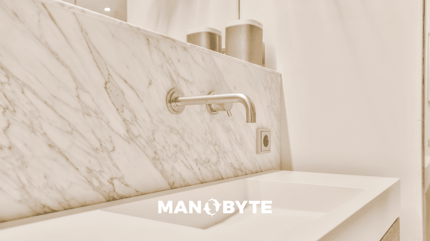 Luxury plumbing fixtures have beauty and sophistication that can elevate the appearance of a kitchen or bathroom. They feature unique designs, unusual features and are made from exotic metals that just aren't found in many households. High-end plumbing fixtures can elevate a kitchen or bathroom space, turning the ordinary into extraordinary. There's a market for luxury plumbing features, but if you're a manufacturer of such products, how do you sell them?
Plumbing is a skilled trade, so many homeowners are less likely to DIY major plumbing projects and are more likely to hire a Pro to do it for them. In these instances, the homeowner may identify the style of plumbing fixture they want to use, but the plumber has a large amount of sway in the final purchase decision.
If you're a manufacturer of luxury plumbing fixtures, you must master the art of selling to plumbers who then sell to homeowners.
How Do I Sell To a Plumber?
Typically plumbers buy and stock plumbing fixtures they already know and that they can easily purchase online or in-store. They don't want to experiment with unknown products that could break or stop functioning properly within a few short months of being installed. They want to reduce risk of callbacks from their clients and reduce financial liability risks.
Plumbers are willing to purchase a new brand, especially if it is more convenient or readily available, but the scales must first be tipped such that they achieve their desired end goal (a quality finish + a happy customer + profit) in higher proportion to the switching costs and risks incurred. Often, it is demand from the clients that generally drives plumbers to change their inventory and start purchasing new faucets and other plumbing products.
How To Increase Demand for Luxury Plumbing Fixtures
What makes customers decide to purchase high-end plumbing products over lesser products? It solves the majority of their problems in the simplest way. You can help drive demand for these plumbing fixtures through inbound marketing techniques, high purchase accessibility, and strong customer service.
Deploy Inbound Marketing Tactics
When a photo is worth a thousand words, you can sell more when you focus on imagery. Take professional photographs of your plumbing fixtures that show your products in luxury environments. Showcase your products with other luxury lifestyle amenities. This ties your plumbing fixtures to a way of life that homeowners want to emulate - one of beauty and sophistication.
Even better, organize a user-generated content campaign on social media whereby plumbing contractors, builders, and even DIYers are rewarded for sharing a photo of your product in their latest project. Since your luxury plumbing fixtures are most demanded by luxury builders, contractors, and developers, they are often looking for the same way to showcase their grasp of transforming a space into a luxury oasis. Help them help you and give the social clout and support in return.
Invest in a series of YouTube videos on "How To Install X Fixture" for each of your categories of plumbing fixture. Building Products specific surveys have shown repeatedly that about half of contractors rely on these kinds of "How to" videos before making a new product purchase and then again after the purchase during install.
Because most luxury contractors and builders design custom projects for each individual client rather than working off spec plans, they need to know about thousands of product options to have in hand for drafting construction drawings and working with their client to define each and every detail of the finished construction. You can help streamline their workflow and decrease their workload by providing static or interactive mood boards that feature your fixture alongside complimentary building products.
Write content on your website that answers the most common questions plumbing professionals have about operating their business and solving for their customers. Help them be better businessmen by helping them to solve for their customers more efficiently and more profitably.
Drive demand from the bottom up by writing search engine optimized content that inspires homeowners to take the next steps toward a dream project that could be best completed by using your specific product. Highlight emerging remodeling trends for spaces that your fixtures are most often used in and talk about luxury lifestyle activities that are most popular in certain geographic regions where your fixtures are available for purchase to drive the right kinds of buyers to your website content.
Make Purchasing Your Products Easy
Make it easy for homeowners to get started on their remodeling projected with a vetted, trustworthy contractor by housing a contractor directory on your manufacturer website.
Make is easy also for plumbing professionals to find a distributor, dealer, or big box store near them to pick up the fixtures they need for their customer's projects. Start enhancing your website and order processing capabilities to allow for price transparency and eCommerce options, coupled with swift order fulfillment from marketplace orders.
The more places you can be visible and quickly purchase-able without anyone needing to call a sales rep to get information like pricing and availability, the more orders you will begin to process.
Prioritize Strong Customer Service
In general, dealers and home improvement big box stores are doing an abismal job of improving customer service in the face of the industry wide challenges due to digital transformation, labor shortages, rising costs of goods sold, and rising customer expectations. This lack of concern for prioritizing customer service will be to your channel sales model is unevenly diversified and leans on physical product sales via dealers and big box stores.
The good news is, there are plenty of avenues for you, the manufacturer, to take initiative and win at customer service even if your partners are not.
Solve for your customer's customer. Your customers have their own unique problems, but at the root of their problems is solving for their customer's problems.
What can you do to solve for the end user?
What really grinds the gears of plumbing professionals about what they can and can't get in a plumbing fixture?
Does your product line seamlessly pair with trendy sink, counter, and cabinet styles?
Does your product line communicate a lifestyle statement?
Is it easy for a end user customer to contact you and bypass the dealer or big box store if there are any issues?
Listen to your customer needs. It's absolutely critical for you to develop inter-departmental feedback loops from each level of your channel to stay tuned-in to customer needs. Know the purchase motivations, path to purchase, and desired outcome for your customer's customers. As trends change, update your product line. As your product line changes, educate clients about the ways that your company has flexed to meet their needs. As customer's needs change, respond to the nuances of their changing purchase motivations.
Next Steps
In order to change the purchase habits of the plumbers that you're marketing to, partner with a company that specializes in inbound marketing strategies for building materials manufacturers.
Ready to Dive In?
Work with our team of HubSpot experts and watch us take clunky systems, tech stacks, websites, and portals and turn them into tailored, intelligent workflows that deliver business outcomes.