With any social media strategy, the use of an analytics tool is required to be able to track the effectiveness of your strategy. These tools not only help track how well your strategy is working but also provide insight into the demographics of your reach and allow you to discover where your strategy lacks, which gives you a basis for planning improvements. Two of the most popular analytical tools available are Google and HubSpot.
The difference between the two? Well, there's a lot. But, the most prominent criteria differentiating each tool are their cost. Google Analytics is completely free (although it does offer a Premium option). HubSpot Analytics costs a minimum of $200 per month, with 3 pricing options depending on the size of your company. Their CRM is free forever. However, choosing which program to use based on cost alone is not the best way to make your decision. You'll want to evaluate the features of each and decide which tool will work best based on your unique marketing strategy.

The Reporting Tool
Google's main functionality is reporting. Your dashboard provides information as to how your customer reached your page and what they did once they got there. The tool will show you which pages were visited by customers, which tells you where on your website customers are most engaged. Google also allows you to view your website traffic based on demographic data such as geography, age, and gender. You are also able to segment traffic based on the format customers visited your page, such as through a mobile device, tablet, or on a desktop computer. By understanding how users are interacting with your website, you can begin tailoring your strategy to the criteria to optimize your website.
The Marketing Tool
HubSpot functions as more than just a dashboard that tracks reports. Reporting through HubSpot is a very straight-forward process that shows performance based solely on traffic and leads. In addition, the reporting tool shows where this criterion originates, from outlets such as social media, referrals, or paid search.
HubSpot takes your brand through the entire buyer's journey so that you know what level of interest each visitor has in your products or services. This information is vital to learning about your customer, how they interact, and when they convert.
Key HubSpot Features
At its core, Google's primary function is reporting. While the tool has great information that can aid your brand in learning more about your customers, Google does not offer anything further. HubSpot, on the other hand, has many more features available that make sharing information online and connect with customers beneficial.
HubSpot gives you a one-stop service for all your social strategy needs. Let's focus on a few of the major services that will greatly impact the success of your strategy.
Social Media Marketing
HubSpot provides a social inbox that functions as a hub for all of your social network pages. The hub allows you to connect with users across all platforms, see conversations about your brand, and pinpoint what your customers are saying about you on social networks. Instead of checking each network multiple times a day, the hub keeps track of it all in one place.
In addition, there is a calendar tool that allows you to organize, schedule, and publish content.
This scheduling tool allows you to maintain consistency in your publishing patterns and keeps you one step ahead so you are sure to keep your social pages updated.
Search Engine Optimization
HubSpot uses technology that recommends how to improve your content for maximum SEO benefits. The feature ensures you use the right keywords and provides a tool for you to track the success of the keywords chosen.
In addition to providing information on keywords as they related directly to your brand, HubSpot allows you to review your competition. The information allows you to see how competing brands rank with the same keywords. This shows you where your brand stands in comparison and determine if you are standing out or need to make improvements.
Lead Tracking/Nurturing
HubSpot Contacts allows you to keep track of and market to leads all in one place. This is a great way for your sales team to review and keep behavioral data and prospect tracking from leads.
HubSpot provides tools for scoring leads and will automatically prioritize the sales team. It even provides predictive lead scoring, which eliminates that work for your brand, as HubSpot will utilize historical data to create a model that works for your brand. By having this feature to prioritize, your sales team is able to hone in on those leads that have the highest potential of converting.
So, Why Pay?
Take a look at this quick reference chart that compares features that most brands look for in an analytical tool: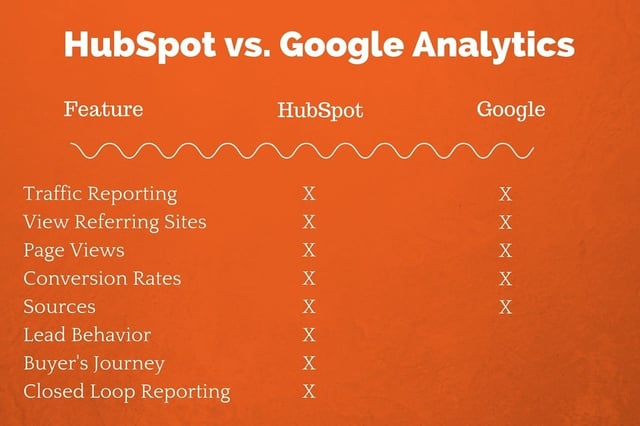 An important aspect of analysis is tracking the customer's journey. Unfortunately, Google does not provide this feature. After reviewing some of the features of HubSpot, Google does not come close to offering as much information about the customer, leads, and marketing strategy that HubSpot does.
As a brand, you will need to consider what kind of information you require to be able to best evaluate your social strategy. Consider your budgetary options as well, as this is certainly an important aspect of decision making. Don't simply opt to skimp on information due to an unwillingness to pay. Do what is best for your brand and make the decision based on what information you need to become successful in your marketing strategy.