Why Host Your Website Using HubSpot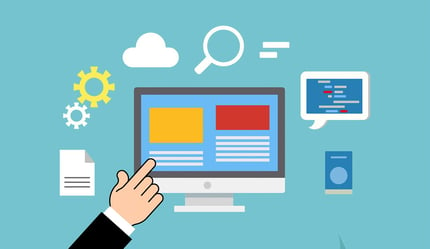 There are thousands of website hosting options for potential website owners. This extensive selection of hosting alternatives can be daunting for newcomers, especially considering the expertise some require to get started.
And let's not talk about the complexities of managing and maintaining such websites as they grow.
So why go with HubSpot for website hosting? Dealing with those complexities makes the HubSpot Content Management System (CMS) Hub a great solution for anyone interested in an effortless web hosting solution.
In this article, we'll cover what web hosting is and why you should look no further than HubSpot for your website hosting needs.
What Is Web Hosting?
Web hosting is a service people can use to reserve a space on the internet for their websites. A web host stores your website data and manages requests for that data when people visit your website domain address.
Organizations that provide website hosting services are called web hosting providers or web hosts. HubSpot is one such organization.
Although it's better known for its suite of sales and marketing software, HubSpot's CMS Hub provides an excellent add-on feature for existing customers of its other services.
HubSpot customers can fully integrate the HubSpot Customer Relationship Management (CRM) software with a website built using the CMS Hub.
Common Website Hosting Myths
There are a lot of misconceptions about web hosting and websites that affect how people think about them. Let's debunk the most common misconceptions about web hosting.
Hosting a Website Requires Technical Expertise
In the early days of the internet, building and hosting a website required proficiency with programming languages and engineering knowledge of how the internet works.
While these skills are still relevant today, they are not required for website hosting. Anyone familiar with computers and the internet can set up their website in minutes. Fully managed web hosting services like HubSpot will gladly do all the heavy lifting for you.
Most times, all you have to do is answer a few questions about what type of website you want to host or pick a hosting option that matches your business needs, and the web hosting service will handle the rest of the complicated stuff. There are also agencies (like us) who can help with the details.
Good Websites Are Expensive
Good websites used to be expensive and required a website designer. Companies had to hire expert designers to create beautiful landing pages, recruit experienced developers to create the architecture, and write code to integrate salesforce and service teams tools like lead generation, messaging, email marketing, and chatbots.
But things are different now. Many web hosts offer free design templates and pre-built web layouts as part of their hosting packages. Easy-to-use website builders and content management systems like WordPress further simplify the website creation process.
All these tools and resources are a fraction of what they would have cost in the past, and because of that, making good websites is less expensive and more accessible. In some cases, you can build a website without any cost.
Cheap Hosting is Bad Hosting
The word cheap has a bad reputation. With web hosting, many believe that cheap equals low quality. But that's just not true.
Prices are usually set based on the type of hosting or the number of features included with the hosting plan. So cheaper plans have fewer features than more expensive ones. The availability of options lets customers pick packages that fit their needs and not pay for a functionality their website doesn't need.
For example, a customer who needs web hosting for a personal blog will not have the exact feature requirements as a software company that needs to host a web application for thousands of clients.
Or it could be like HubSpot's CMS Hub, where the hosting may be part of other services and not cost extra.
HubSpot Features and Benefits
HubSpot's CMS offers powerful hosting that debunks the misconceptions about web hosting. There are many HubSpot benefits that make it stand out, including:
Easy To Use
Building and hosting a website with the HubSpot CMS Hub doesn't require much experience with design and writing code. Once you've created an account and completed onboarding, you can move straight to creating your website using any of its themes and templates as a starting point.
HubSpot also includes a drag-and-drop website builder, which you can use to customize your designs visually. Other design tools provided include a brand kit generator to create custom logos and branding for your website; and a color palette generator to set the right visual tone for your website.
These HubSpot tools allow users to focus on creating content rather than the more technical aspects of building a website. You can also use the free blog maker for publishing search engine optimized (SEO) content if you prefer having a blog to a full-fledged website.
Secure
HubSpot built its infrastructure on Amazon Web Services (AWS), a leading provider of cloud services, which guarantees a minimum of 99.95% service availability and ensures reliability.
That also means that it can leverage AWS's compliance with global standards for data security, including PCI-DSS, HIPAA/HITECH, FedRAMP, GDPR, FIPS 140-2, and NIST 800-171.
As part of its internal security controls, HubSpot supports several customer-facing security features such as SSL Certificates, single sign-on (SSO), two-factor authentication, and password-protected pages.
Cost Effective
We've established that good web hosting doesn't have to be expensive, and HubSpot exemplifies that by offering managed hosting plans for free with its CMS plans.
The best part? Those CMS plans start at a free tier.
Managed web hosting means HubSpot handles all the server configuration, backend maintenance, and security threat monitoring. As a customer, you only have to focus on your website's looks and content. You also don't need to worry about extra storage, bandwidth, or resource usage costs.
The free plan offers robust features beyond what most other hosting providers offer with their web-hosting-only paid plans.
These features include:
Website pages
Blog
Drag-and-drop webpage editor
Basic SEO recommendations
Managed cloud hosting
CRM database
Customer domain pointing
Website traffic analytics and metrics
Opting for a paid plan starting at $23/month unlocks even more features for you. These include access to live customer support and personalization tokens. Higher plans include even more features like dynamic content, partitioning, SSO, and custom web applications.
All-in-One Solution
Another benefit of HubSpot is its apps. If you use the HubSpot CMS Hub for your web hosting, you also gain access to a tightly integrated ecosystem of other HubSpot apps.
These include the HubSpot Marketing Hub — an inbound marketing software you can use for your marketing efforts. It'll help attract website visitors and turn them into paying customers.
The Marketing Hub is also handy for e-commerce website owners who need marketing automation tools and social media management software.
Also, a part of this suite is the HubSpot Sales Hub — HubSpot's CRM platform for managing your sales pipeline and closing more deals with customers. And let's not forget about the Service Hub, a customer service solution for managing your existing customers and deepening relationships.
There's also the HubSpot Academy which offers free training and certifications. It provides hundreds of courses on everything from digital marketing and customer service to web design. The courses are to teach learners how to use all of HubSpot's software tools effectively.
With HubSpot, you don't have to look for third-party integrations to access these functions. They all come from the same place and are tightly integrated with your website, just waiting to become part of your team's workflow.
Trusted by Many Customers
HubSpot currently provides services to over 167,000 customers in 120 countries worldwide. Among its customers are some of the world's most respected brands and companies, leading to many customer service awards for HubSpot.
However, you don't have to take HubSpot's word for it. A glance through customer opinions on popular review sites like G2 and Trust Radius shows glowing reviews from HubSpot customers. Few software service companies can boast the same positive user experience.
Final Thoughts
Web hosting is no longer about only offering customers the space to host their websites. Hosting providers distinguish themselves by providing customers with unique solutions that help their personal or business websites grow and flourish.
The more you learn about HubSpot, the more you find out how they benefit companies. HubSpot excels by offering a unique combination of web hosting and a sales and marketing platform while also ensuring a great customer experience when using its services.
If you're looking for a web hosting service that offers you a secure all-in-one solution, look no further than HubSpot's Content Managing System Hub. Get in touch with us here to get a conversation started.
Ready to Dive In?
Work with our team of HubSpot experts and watch us take clunky systems, tech stacks, websites, and portals and turn them into tailored, intelligent workflows that deliver business outcomes.