Digital marketing leverages electronic devices such as personal computers, smartphones, tablets, game consoles, and other platforms to engage an audience. A significant difference between traditional advertising and marketing techniques and digital marketing approaches is the interactivity between the audience and digital media. Many digital marketing techniques provide opportunities for "real time" communication. Additionally, digital marketing initiatives are 100% trackable, giving insight to the marketer regarding campaign effectiveness and providing the ability to clearly measure the ROI of the digital marketing spend.
A successful digital media strategy requires careful consideration and planning for five critical areas:
The business goal that will determine the success of the digital marketing initiatives
The persona(s) that will be targeted
The content that will be created for the target persona(s)
The distribution channels of the content
The people, processes, and tools that will be required to support your digital marketing initiatives
Business Goal
A successful strategy must have clear, measurable business goals associated with the digital marketing initiative. There are some goals that are quite difficult to measure, such as brand perception or consumer sentiment. While these
digital marketing measurements
are not impossible, they do require the use of more sophisticated and costly tools to determine and track. Other goals are subjective and may not correlate to any other higher business objective. For instance, measuring the number of likes on a Facebook page or the number of fans or followers on a given social media platform while measurable may not necessarily translate to any higher business objective, such as increased revenue. Here are some clear goals that can be tied to higher business objectives, which a company may want to track and measure in order to determine the success rate of their initiatives.
Digital marketing reach
Website visits
Leads
Customer acquisition from digital marketing
Customer support request
Digital Marketing Reach
Digital marketing reach measures the spread of your digital content. Most often reach refers to the dissemination of your content across social media channels. Reach takes into consideration your followers and the followers of your followers and potentially their followers. Reach is a measure of potential audience size.
Website Visits
It is important to measure the number of visits that you get to your website on a monthly basis. Website visits can be categorized in different ways. A visit is one individual visitor who arrives at your website and proceeds to browse. A visit counts all visitors, no matter how many times the same visitor may have been to your site. A unique visit tells you how many people have visited your website for the first time. Page views, also known as impressions, tell you how many different pages on your website a visitor has visited.
Website visits also should be tracked by traffic sources. The primary traffic sources that you should measure include:
Organic search: traffic that comes from non-paid search results
Paid search: traffic that comes from paid search engine marketing
Referrals: traffic that comes from a third-party website that links to your site
Direct traffic: traffic that does not come from any referring URL or source
Social media: traffic that comes from a link on a social media site
Email marketing: traffic that comes from a link within an email
Other campaign sources: traffic that comes from any other source, typically generated from a targeted campaign
Leads
A lead is an individual that submits their contact information to you through a digital platform. Most commonly you will collect leads on your website.
A website lead goes further than the anonymous tracking of traffic that comes to your website. A lead is also considered a website conversion. However, many
social media
platforms give you the ability to collect lead information through their platform. You can convert website visitors into leads by inviting them to subscribe to a newsletter, download an eBook, register for an event, sign up for an application, invite them to personalize their website experience, or a number of other methods where in exchange for information could occur.
Customer Acquisition
In order to track the return on investment of your digital initiatives, you will need to track customer acquisition. Customer acquisition can be tracked either manually or automatically. Many digital platforms allow integration to an organization's customer database in order to track customer acquisition. Integration to company databases can be complex and potentially cost prohibitive. Therefore, some organizations choose to monitor customer acquisition through digital media channels manually.
Customer Support Requests
Consumers are more readily turning to social media channels as a means of getting support, voicing an issue, or complaining about service from an organization. Therefore, it is important to understand how to leverage digital media as a support platform while recording the number of requests that are resolved or addressed on a social media platform as well as the time required to address and resolve the issue.
Targeting Digital Personas
Personas are "Fictional characters created to represent the different buyer types within a targeted demographic, attitude and/or behavior set that might engage with a site, brand or product in a similar way. Personas are groups that you define to represent the different buyers you commonly come across in your marketing and sales process."
-The Beginner's Guide to Segmentation and Buyer Personas
Personas might be defined by things like industry, company size, location, or other details. Each persona has unique content needs, and they consume and engage with content in different ways. It is important to consider each of these personas when creating a website experience, digital content, and digital campaigns.
Content Creation
When creating new content, the content needs to focus on solving a consumer's problems before making a sales pitch.
The Buyer's Journey
The buyer's journey is a process leading to purchase that consists of an Awareness Stage, Consideration Stage, and Decision Stage.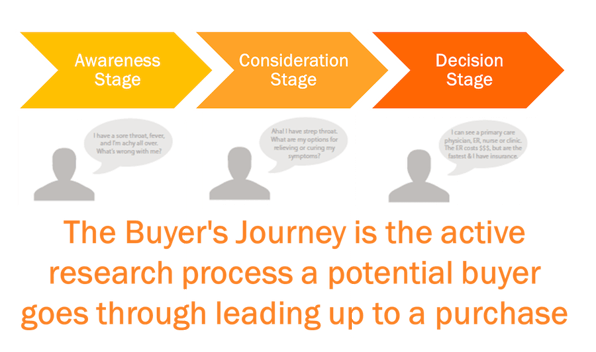 This process also makes up the overall marketing funnel for your content. Content needs to be geared towards not just your audience, but also the specific stage of the buyer's journey the persona may be in and how the content can help them move forward in the buyer's journal. There are different types of content suitable for different phases within the buyer's journal. When the content is mapped correctly, the buyer will easily be taken from the Awareness Stage to the Decision Stage.
Awareness Stage – This is the stage where buyers know they have the symptoms that may be caused by a potential problem but are not sure how to solve their problem yet. They may be enticed by analyst reports, eGuides, White Papers, educational content and eBooks
Consideration Stage – This is the stage where buyers clearly know what their precise problem is and are looking for the opportunity to solve this problem. Throughout this stage, the buyer is committed to researching and understanding how to solve their problem through a variety of solutions. Webcasts, videos, expert guides, live interactions and comparison white papers will help them move on to the Decision Stage.
Decision Stage – Throughout this stage, the buyers have not only realized their problem, but they have also drilled down on a specific strategy for the solution. They have researched supporting documentation and are on their way to a full decision. Throughout this stage, they are interested in the pros and cons of the solution, vendor comparisons, trial downloads, product literature and live demos.
Successful content mapping will help bring your website visitors through the entire sales funnel and buyer's journey. Content should be mapped according to where the visitors are at in this journey for optimal conversions.
Distribution Channels
Creating a successful digital media strategy requires thoughtful integration of all digital media platforms that an organization chooses to leverage. There are hundreds of different digital media platforms available for marketers to utilize. However, selecting the appropriate platform requires an in-depth understanding of the audience that you are trying to reach and the actions that you want the target audience to take.
The ten key digital media platforms include:
1. Corporate website
3. Landing pages
4. Marketing microsites
5. Search engines
6. Social media
7. Email
8. Video
9. Text and instant messaging
10. Online content networks
Your Company's Website
Your company website is not just an online brochure, but a sales tool and lead magnet. It needs to be customized with quality content that will help attract new targeted visitors that will eventually convert into leads. Without a website that converts well, your business will not grow. Your website can be used as your businesses' best spokesperson. It should be able to easily convey important information and lead each website visitor down a path with a conversion in mind.
Your Company's Blog
Your company's blog is a vital part of your online marketing campaign. Your blog will not only educate visitors but can also lead them through your sales funnel. A blog should be written to educate and provide answers, not just to sell your product or service. Your blog has many elements that can also help optimize your writing for the search engines. Use thoughtful titles, tags and meta descriptions that will help your blog articles rank in the search results.
Landing Pages
Landing pages will help your website visitors travel down the sales funnel. These landing pages should have one purpose in mind: to convert the visitor into a lead. First, decide what your landing page's goal should be. Then, create useful copy on the landing page that will describe your offer and its benefits. Be sure to add a contact form and a method for website visitors to contact you. Landing pages will be the key to conversion throughout your website.
Marketing Microsites
Landing pages are just one part of an effective tool within HubSpot to market new products or services and maximize conversions. The other part is microsites. You can easily create a microsite within HubSpot by creating pages within the landing page itself. This is a great way to expand your landing pages into different areas for specific buyer personas or job functions. It is also beneficial for launching new products, services or maximize conversions on paid search campaigns.
Search Engines
Search engines should not be treated like a search engine. You heard that right. And your marketing should not talk like it would to a search engine. Search engines will crawl and index your site for quality content. By creating share-worthy and unique content, you will be building up rank within the search engines.
Social Media
Social media is an excellent tool for branding your business and attracting new potential customers. Being active on the big four social media sites is a must. These top four sites include Linkedin, Twitter, Facebook, and Google+. Although different social platforms may show more results for specific business types, it is best to be seen at minimum on these four sites. This will help users find you and broadcast your content to the corners of the web.
Email Marketing
Email marketing is very useful for businesses. Not only can you promote new offers, but you can keep your business in front of your customers throughout the year. Use email marketing to connect with leads and convert. Having a subscribe button within your website will help build your email marketing list. You can also segregate different email lists within HubSpot so you can target your campaigns to specific personas or audiences.
Video
Web users are becoming increasingly visual. Video elements throughout your website help users to learn about your business, who you are, and take action throughout your website. Video is also great for online marketing purposes, as your video can be shared throughout many popular video sharing websites.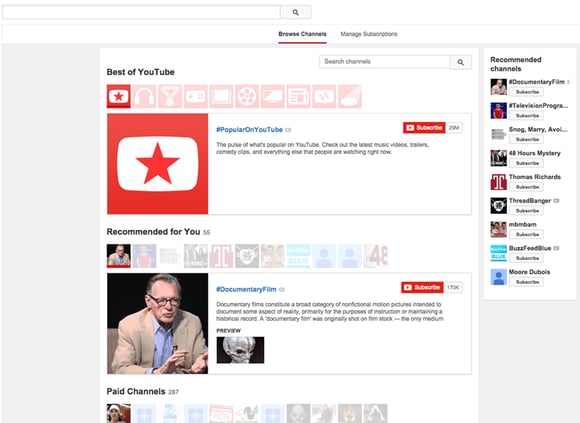 Text and Instant Messaging
SMS Marketing, such as text marketing or even instant messaging marketing, can also be useful to your target audience. After users have subscribed to your text or instant messaging services, your business can broadcast to your audience instantly for promotions, offers, specials or more.
Online Content Networks
Online content networks can help you expand your online reach. By finding the right online content networks, your content can be put in front of the eyes of additional audiences or personas. Content does not refer only to text content, but visual content networks as well. Infographics, for example, are very share worthy items that can be shared throughout image content networks online. Curate content continuously and keep it useful to your target audience.
To ensure the maximum benefit from your digital media initiatives is important that you leverage these ten key digital media platforms in an integrated way. These ten key digital media platforms are not meant to be disconnected from the others; rather they each play a role in providing a consumer with an experience that creates value for your company. Additionally, each of these ten digital media platforms are device agnostic, meaning that it does not matter if the consumer is accessing any of these ten platforms from a specific device such as a computer versus a smart phone.
---
When it comes to learning any new skill, it is essential to start with the fundamentals. Without a solid foundation of knowledge, creating a digital marketing strategy can seem like an insurmountable task. By the same token, when you understand how the different aspects of a digital marketing plan - from social media channels to digital platforms - work together with the buyer's journey and your marketing personas, you can start implementing a strategy that actually works.