Social Media Influencer Profiling and Measurement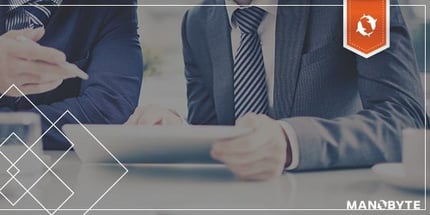 Now that we have discussed the different types of influencers that exist, you may be wondering how you go about finding those influencers who are relevant to your messages and who can help you build the kind of trust and rapport you need throughout the different social media channels.
There are a few steps that should be followed to get an accurate assessment of an influencer. First, you will need to develop a profile of the influencer to determine if their audience and material are relevant to your message and topics. Once you have determined their relevance, you can then use social scoring tools to determine their actual reach as well as how often and how strongly they influence their followers.
How to Profile
Developing a profile of an influencer before including them in any communication strategy is an integral step of the process. It is only with thorough research into that person (or entity) that you can be sure it is appropriate to associate with them and to leverage their audience. This is not only to prevent miscommunication or negative publicity but also to make the most of our resources by targeting the most relevant people.
Relevance
Relevance is key to reaching out to influencers. You could forge a relationship with someone who has millions of Twitter followers or Facebook fans, but if your message is not relevant to their audience, the relationship is not going to bear fruit, no matter how hard you work. This is why it is important to investigate those topics that are most commonly discussed by the influencer. Their audience knows what these topics are and expects to get information on them from this influencer. Because of that, the influencer is trusted when it comes to those topics.
Alignment
Because any influencer that becomes a part of our communications strategy will be linked to our company, we also need to be sure that their views are in alignment with our company's goals and perspectives. Just because an influencer discusses those topics that are most relevant to us does not mean that they do so in the same way or to the same end. You should spend time investigating and evaluating past opinions posted by the influencer before you decide to include him or her in your strategy.
Credibility
Finally, an influencer must be credible to be of any value. For influencers to exercise actual influence, they must be trusted in the topics that they cover. This means you should look for evidence that they are a go-to source for information and opinion. Evidence may come in the form of public questions being posed to them about a certain topic, blog comments, or citations by highly credible sites, including other blogs or news sources.
Remember that it is only when an influencer is relevant to our needs, aligned with our goals, and acts as a credible source that he or she will be an asset to our social media strategy.
How to Measure
Of course, things like relevance, alignment, and credibility are a bit more subjective in nature than other elements. In order to assess an influencer profile, professional insight and experience is certainly necessary. However, there are other, more quantifiable factors that should also be addressed when identifying social media influencers. These measurements include reach, engagement, and frequency, all of which can be measured efficiently using social scoring tools.
What to Measure
Reach
While we have already noticed that not every influential person may have an enormous number of followers, it is still important to consider the reach of any influencer before deciding to engage. Reach is not simply a measure of how many followers one individual has, but also of whom those followers are. For instance, someone could have a couple hundred Twitter followers, but one of those may be his best friend who has 100,000 or her husband who has over a million. It just takes one influential follower to make that person's reach increase exponentially. This is why it is important to be mindful of an influencer's entire reach, not just his or her follower count.
Engagement
Social media influence is not a one-way street. Those accounts that are simply blasting out information to the masses without context or listening are not the ones that are influential. This is why it is also important to measure engagement. Take a look at how often someone is replying to their followers' posts or questions and at how often their followers are asking questions. If their audience is not engaged with them frequently, then they are much less likely to be influenced by that person.
Frequency
No social media influencer can have an extensive amount of influence if he or she does not update consistently, and this is true for some reasons. First, someone who is not updating and communicating frequently is not demonstrating that they are passionate about the topics they cover, which is a key to being an effective influencer. But another factor is that there are millions of tweets and social media posts that go up each and every minute. Someone who is not constantly engaged and consistently posting is bound to get lost in the stream of information that is constantly updating. The best influencers will post consistently so that their audience is sure to catch the information they want to share.
Tools for Measuring Influence
Leveraging Online Influencer Tools
One way in which to find those influential personalities in your field is by using social scoring tools. These tools assign different scores to active social media users that can be evaluated against one another to determine who has an impact on the decision-making processes of their followers.
When using these social scoring tools, it is important to keep in mind that none of them are without flaws. However, using a combination of these tools as well as your insight and instinct, you should be able to uncover the most important influencers for your purposes.
Klout
Klout is one of the most commonly used sources of social scores. Some hiring managers even use Klout scores to evaluate potential members of their online marketing teams. These scores, which range from 0 to 100, measure the overall influence of a user based on their social network posts and follower engagement. Users that post more about certain topics will be deemed experts in that subject.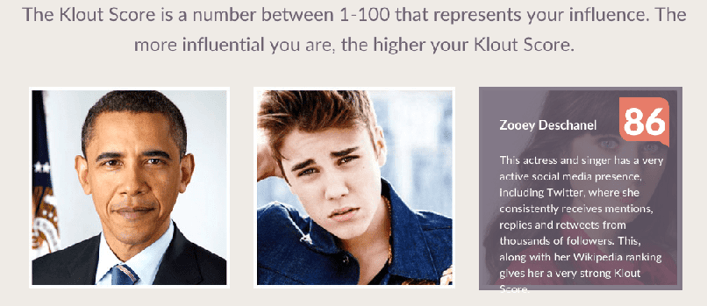 The Klout score is not a perfect measurement of influence, but it can be useful to paint a picture of any influencer. It is also important to note that a Klout score may be skewed by the fact that a user does not need to opt-in to the Klout service, but doing so can improve his or her score. When someone logs into Klout themselves, rather than being measured based on their public information, they can choose to connect their other social media accounts, like Facebook and Google+, in order to receive a higher score. While this encourages people to use the service and is good for Klout, it can skew the results for companies who are trying to use it to score to make their communications decisions.
Appinions
Appinions is a tool that is designed with an entirely marketing-focused perspective. That is, a regular user cannot simply log in and view his or her score and statistics like they can with the other sites. Appinions monitors behavior across social media platforms, but it also takes into consideration mentions in thousands of other sources, including traditional media. Marketers or other communications professionals can login to Appinions and immediately find those influencers who are most relevant to their particular needs as well as examine the data that has deemed them influential. As a marketing and research tool, Appinions can be quite valuable.
Buzzsumo
A newer addition to the influencer engagement game is Buzzsumo. This targeted search engine lets you search through content topics and types and find out which topics are most popular, most shared, and therefore most effective. On another tab, you can use the same functionality to find the top influencers on a certain topic. For instance, if you search "inbound marketing" you'll see who has the most authority on the topic, who shares the most content and who is really engaging their followers on that topic.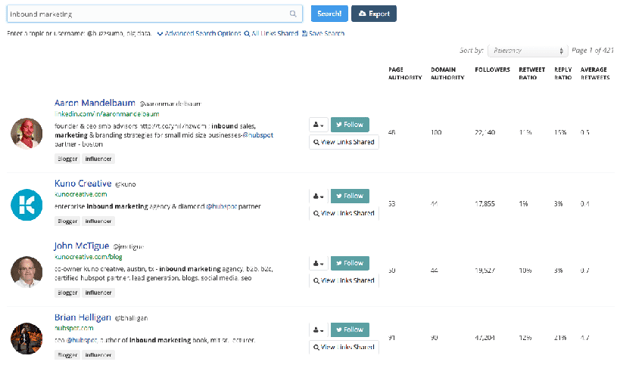 The free version of Buzzsumo gives you a useful taste of what you can find there, but a Pro subscription is also available for content marketers who are willing to invest a little extra.
Social media influence is a fluid concept. There is not one person who embodies social media influence or even one right way to define a social media influencer. Rather there are different types of influencers working together to spread information, news, and opinions throughout the social web. As a company, we need to keep these influencers in the front of our minds when constructing our communications strategies. Developing relationships with the right social media influencers can be a shortcut to reaching their vast audiences and shaping opinions around the world. In the next course, we will learn how to go about developing these relationships.
Ready to Dive In?
Work with our team of HubSpot experts and watch us take clunky systems, tech stacks, websites, and portals and turn them into tailored, intelligent workflows that deliver business outcomes.