How Manufacturers Can Get More Sales with a Channel Marketing Strategy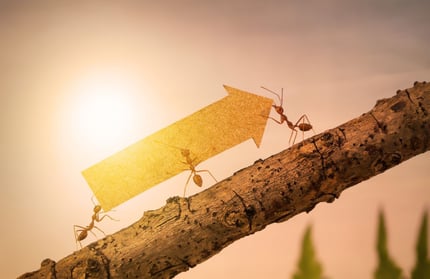 As a manufacturer that sells exclusively or primarily through a channel network, it can often be challenging trying to drive new sales when you aren't managing the sales people who are actually face-to-face with your customers on a daily basis.
Because of this common disconnect between the manufacturer and the end user, it might seem challenging to implement strategies you can track, measure, and test for sales growth. In order to combat this issue, manufacturers must be equipping their channel with the right tools and processes to drive more sales. But what does the channel need, exactly?
Here are some suggestions:
Diversified Marketing Efforts
In a study of over 1200 B2B businesses, its reported that manufacturing companies that deployed over 15 different marketing tactics experience 'best-in-class' results. Those deploying 13 tactics report average results, and the least effective implemented 10 or less. Reason being, buyers are inundated with information and platforms in today's technology ecosystem. In order to cast a wider net and get the right eyes interested your company, you need to ensure you are meeting your potential customers where they might end up. While some customers may find a ton of value in talking with a company representative at a trade show, another may find you after participating in a LinkedIn Group.
Your next question is likely, "Well, what exactly do those tactics look like?" Here are some examples of the diversified efforts these best-in-class businesses are implementing:
Virtual Events
Lunch & Learn Programs
Webinars
Social Media Group Participation (LinkedIn Groups)
Trade Shows
eBook Creation and Distribution
Content Strategy Implementation (SEO)
Lead Nurturing Workflows
Case Study Creation and Distribution
A Strong Focus on the Existing Customer Base
Did you know it costs 600-700% more to acquire a new customer than it does to retain an existing one? The same goes for your channel companies. Equipping them with marketing campaigns that engage current customers is vital in growth initiatives with channel networks. And like most of these efforts and campaigns, you need to make these strategies as easy as possible for the business to use. They need to have all the resources they need to quickly set these programs up and automated so customers are continuously staying informed about new product updates and information. This could be something like a series of informational emails with product updates and new tips and tricks for how to use your product or service in new ways. The key here is to create the content for your channel so it is easy for them to plug it into their marketing automation software and distribute it. Or, take things a step further and set up the automation for them if they are unable to do so themselves.
Implement Tracking and Reporting Processes
Since you are dealing with a number of other businesses, many manufacturers find the tracking and monitoring of efforts a challenge. But without information about what efforts are generating results, how will you know how to equip your channel with more of what's working so they need to sell your product or service? Additionally, it's likely that efforts you deploy in one region may work far better than efforts in another area, but if you fail to monitor those results, you won't know how to best serve that area's prospects and customers. Data measurement of marketing efforts is a vital part of the marketing process for distributors.
Here are some practical ways you can monitor marketing results within your channel:
Conduct surveys with channel sales representatives to find out what challenges they are facing, how you are selling in comparison to your competition, and how the customers are responding to marketing efforts you are deploying.
Send customer satisfaction surveys directly to customers to find out how the reseller could better service them with your product or service.
Request access to marketing and CRM reports from your resellers for your specific product or service. If that's not possible, work to establish a regular cadence of reporting back to you what marketing efforts are working for that reseller. If needed, provide a small bonus or gift incentive to keep up with the established reporting processes.
It's also key to provide any training and information on marketing automation tools you are providing so the impacted users know how to deploy efforts and track results. Provide information about why these processes are an important process for their bottom line as well.
Reward Your High Performers
After you've implemented strategies to equip and monitor your channel marketing efforts, be sure to reward those who are using what you provide to them to close more business. Whether that be a bonus or reward program, your vendors need to know you notice and value the impact they are having on your growth goals. Many manufacturers even develop tier-based programs with different incentives for each new sales goal they achieve, this encourages the businesses to sell more of your product or service in order to move up to the next level and gain a higher set of incentives.
Ultimately, remember that your resellers are also your customers, and they need to be supported and rewarded for helping your organization succeed. When they witness an investment into marketing, measurement, and reward programs designed specifically for them, they are more likely to continue to sell your product over competitors who are disengaged and not providing value beyond the product itself.
Generate Demand & Route Prospects
Your distribution partners have other partners and other business objectives to worry about developing marketing campaigns for. Materials manufacturers need to own demand generation efforts and then route prospects to partners.
Consider this: it's easier to sell a prospect in house if you don't have enough partners to route prospects to than it is to get results from partners when there are not leads to be found. Are your efforts overly focused on recruiting partners that the customer demand generation side of the equation isn't adding up?
Ready to Dive In?
Work with our team of HubSpot experts and watch us take clunky systems, tech stacks, websites, and portals and turn them into tailored, intelligent workflows that deliver business outcomes.