Choosing the Right CRM Once and For All [+Key Items to Consider]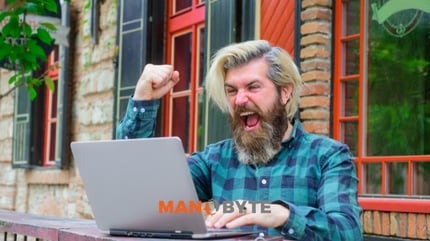 If you've found yourself tasked with finding a new and effective CRM (customer relationship management) solution for your organization, you may be scratching your head as to where to begin.
Though the new system needs to be effective and functional for your team, you must also consider how it will directly impact the way your customers experience your brand.
So, how do you ensure this change is a positive experience for all parties involved while also accounting for long-term business growth and profitability?
Lucky you! You've come to the right place.
Whether this is the first time you're adopting a CRM technology or doing away with dysfunctional processes and clunky systems is long overdue, we've put together a guide to help you find the ultimate solution and ensure you make the right decision.

When you think about your customer's relationship to your brand, have you taken into account that their experience at every interaction and touchpoint directly impacts your growth and bottom line?
Hear us out.
Today's digital-age buyer is more informed than ever before, taking a nuanced journey of self-guided research like digging into customer reviews and noting the relevancy of how, where and when your brand does (or doesn't) interact with them online. Each individual touchpoint with the consumer has never been more critical, as these interactions – A.K.A. customer relationship management – directly impacts the health of your brand and business.
In this post, we're going to cover why choosing the right CRM is of paramount importance to sustained business growth for mid-market b2b companies and give you six items to ensure your decision effectively balances your business goals and customer needs while also accounting for long-term growth and profitability.
Choosing the best CRM tool is so much more than just selecting the most popular CRM platforms or picking up the familiar system you used at your previous organization. It needs to propel the highest level of customer-centricity while simultaneously making daily operations easier for your team.
First and foremost, we must understand that business success - no matter your size or industry - is intrinsically tied to the relationships you build with your customers. One negative customer experience or interaction has the ability to tank even your shiniest of value propositions, while positive relationships increase your bottom line and boost your reputation.
Your relationship with your customer can – and will – make or break your growth strategy.
Big statement, right? Let's dig in.
Customer relationship management should lie at the core of your growth strategy.

And we're not just talking top-notch customer support, or cutting edge products and life-altering services.
We mean conducting ongoing research into the ebbs and flows of your customer needs, goals and challenges and taking those insights to respond swiftly and effectively, especially if they're experiencing friction with your product or service.

So, how do you possibly manage these relationships without busting your budget or hiring a slew of customer relation professionals?

Your answer lies within a single, high-powered CRM that manages all of your customer relationships from the very first marketing interaction to the day they've become your brand advocate.
Though no two businesses operate the same, there are universal steps you can take to ensure that the CRM tool you choose mirrors your business's processes, effectively supports your employees, and ensures you're optimally-equipped to navigate customer interactions for the long-term.
These steps include:
Step 1: Consult with stakeholders and key users


Step 2: Identify your goals

Step 3: Assess your tech stack

Step 4: Compare critical features and capabilities


Step 5: Consider costs and ROI

Step 6:

Outline your implementation plan
Let's dig in.
Step 1: Consult with stakeholders and key users

The people and processes behind the CRM engine are the first two items to consider when making your decision. Regardless of how robust and powerful the platform is that you choose, it won't generate results if it doesn't align with current business processes and the needs of your team.

Talk to the daily users of your current CRM or similar systems. This includes revenue, IT and business operations teams for backend management, as well as frontend users like sales, marketing and service teams. Creating a focus group discussion with leaders from each team may also help you to identify common goals and collective needs.
Ask what their workflows look like. How are they interacting with contacts, data and other information? What sort of functionality or features do they need from a CRM, and what challenges are they facing that this tool could help them solve?

Once you've consulted with each party, gather your findings and present them to leadership while highlighting any overarching trends. These group insights will help you create a checklist of common desires, goals and outcomes that will reap long-term, cross-department benefits in a new CRM platform.
Step 2: Identify your goals

Survey your team's goals and outcomes and define qualitative and quantitative KPI's - which just-so-happen to also measure team performance and therefore high-level business outcomes.
Guiding questions might sound like:
What are our current goals and how are we measuring progress?
What is our team missing in terms of performance management or reporting processes?
Are there problems we can't currently solve due to our current software or business processes?
Which reports, functionalities and insights are most helpful that should be carried over into the new system?
What are our must-haves? Nice-to-haves?
Exploring business objectives, functionality requirements and other needs from your user base will help you identify and prioritize items on your checklist.
Step 3: Assess your tech stack
Taking stock of your existing technologies and platforms will help to ensure functionality, and software compatibility – and let's not forget, a happy IT team – giving you a better chance at long-term use and success.

Think about what tools you're already using to identify potential integrations and compatibility with the new system. Can the CRM in question actually help you eliminate clunky or excess programs in your tech stack?
The new CRM may offer you features that are currently done through a separate tool all-together, helping you simplify workflows and likely saving yourself a buck or two in the process. Identifying integration and compatibility concerns ahead of time will help you to avoid any surprises or unforeseen expenses after adopting the new system.
If you're a company that manages two CRM's, for example – HubSpot for inbound marketing and SalesForce for leads and customers – make sure to explore data-flow compatibility between the two. Though the use of one single platform for company-wide operations will be most effective for promoting cross-department synergies and process optimization, brands like HubSpot offer integrations for a host of common applications to enable seamless data flow between platforms.
Step 4: Compare critical features and capabilities

What other features and capabilities should a powerful and growth-driven CRM platform offer? Though team priorities should remain at the top of your checklist, keep other features in mind that may be essential for your ideal platform. This could include things like…
Reports & Dashboards
Your CRM is home to critical KPI data that needs to be both accessible, and easily organized and analyzed by your team. Your new CRM should bolster reporting capabilities and provide your team with intuitive tools to access and analyze data. If you've found CRM that allows you to create custom fields and dashboards for cross-department users, you may be looking at an ideal option for team-wide functionality and success.


Data Quality Management Tools
As your business grows, so will your customer data, which can lead to potential gaps in quality like accuracy, completeness and consistency. Think about automation possibilities for data cleansing and compare each CRM's multi-source data aggregation capabilities to ensure you can create a comprehensive view of your operations.


Custom Object Associations
What other data are you collecting that might not fall within standard CRM properties? Will the new CRM allow you to store and report on such data? Think payment status for financial institutions or subscription information for SaaS brands. The optimal CRM should have the ability to comprehensively manage custom objects and shouldn't require you to enlist an external system or manual process for these functions.


Security Features
Your CRM stores a host of sensitive information about your business, prospects and clients. What sort of security features - think encryption, two factor authentication and password policies - will arm you against data breaches and cyber threats?


Administrative Support
Even the most user-friendly systems require ample time for your team to learn, get comfortable with and fully understand. Is administrative support readily available for your team as they run into questions or roadblocks? Doing some digging into support services, hours and resource availability may save you from potential hold-ups down the road.
5. Consider costs and ROI

When reviewing price, weigh long-term value. How will an optimal and efficient system that solves your team's most pesky pain points serve and support you in the long run? If the platform can resolve all or many of the challenges your team faces, how might this impact the value of your business as a whole?
Alleviating some pressure off your employees and making their jobs easier does more than allow them to accomplish more each day, it also boosts their morale and increases the likelihood that they'll stay with the company for a longer period of time. Similarly, when you have positive customer relations, your brand will reap the benefits of sustained growth.
So, you've landed on a CRM that has proven to be the most effective for meeting team and customer needs and it may just happen to be one of the higher ticket items. Rather than letting the price tag scare you off, both you and your stakeholders should consider the long game.
Something a bit more budget-friendly might serve your needs for a year or two, but what happens when you've outgrown it and find yourself stuck without any additional opportunities to scale or customize? Think about how you and your team would feel being back at square one (again) after all. this. work. What does it look like for you down the road if you default to the cheaper option right now?
The classic saying "you get what you pay for" is no exception here, and taking the higher ticket item upfront is likely to save you, your team, your customers (and your collective sanity) in the long run. That low-cost solution may actually become more expensive over time. Weigh your time and cost of starting from scratch every few years versus the ability to scale up your powerful, existing platform. Get it right the first time and your team, customers, business – and yes, even your wallet – will thank you later.
Step 6: Outline your implementation plan
So, you've done your due diligence and believe you've found the right CRM solution for all parties involved. To launch effectively, you'll need to create an internal plan to guide setup, launch and implementation of your new system.

To get you started…
Identify resources to support implementation
Which teams will be spearheading your technical efforts to make installation and implementation possible? Determine which resources – like your internal or external tech teams and implementation partners – will lead the migration.
Create a realistic timeline
Develop a high-level timeline for purchase, implementation, migration, configuration and go-live. Consider potential delays and build some buffers for QA testing before you onboard your teams onto the new platform.
Develop an adoption strategy
Here lies your make or break final details of CRM implementation. How are you going to handle critical tasks like data migration, team training and maintenance needs? Planning for these at a high level will ensure best practices from day one.
In conclusion…
Though choosing the right CRM will have you balancing internal challenges, customer needs and business-level constraints as you shop, the value of your new business backbone should lie in its ability to support your growing organization for years to come.

Perhaps more importantly, your CRM should serve as the foundation of your customer experience by evolving with you as you delight your growing customer base of today and refine your offerings to meet the needs of tomorrow's market.
Thinking about a test run?
Now that you're equipped with a comprehensive CRM purchasing guide, we recommend taking one for a spin to explore functionality and proper fit.
Pro Tip: HubSpot offers a free CRM, and we can help your organization set it up.
Contact the HubSpot expert team at ManoByte today for more information on smart, scalable solutions through HubSpot.
Ready to Dive In?
Work with our team of HubSpot experts and watch us take clunky systems, tech stacks, websites, and portals and turn them into tailored, intelligent workflows that deliver business outcomes.