Oh email, some people love you, some people hate you. Personally, I love checking my email in the morning, it's very exciting to see all of the new opportunities the day presents and to receive offers and deals for shopping later. As a marketer or business owner you know email is still pivotal to reach out to your customers. Even though technology is rapidly advancing email has not gone anywhere. Technology has affected how people read email, now many will be checking their inboxes on their phones, but email is still an important part of your marketing process.
In fact, email marketing is still so lucrative that 80% of marketers who utilize automated marketing saw their leads increase when they implemented automation. Maybe you're doing some email automation, or maybe you need to expand on your efforts. Either way, a well-designed email can be the difference between someone clicking through your links and someone clicking "unsubscribe me". Before you make another email that's a flop, check out some great email designs to get inspired to create something great for your next campaign. Whether your brand leans towars modern, bare-bones design or something more eclectic every business can take something away from this blog for their next email design. Remember, people are blasted with emails everyday -- make sure yours stands out in a good way.
1: What's your point?
So, how do you hook people into opening your email in the first place? Maybe your design is spot on, but your text is not doing you any favors to get people to click. An interesting subject line in the email design makes all of the difference, but there is a fine line between engaging and spamming. Buyers are very resistant to emails when businesses are spamming them. Don't be pushy trying to generate interest in your email with your subject line, but try being personal. Content that is tailored to the email recipient will be easier to personalize without looking like a blanket offer.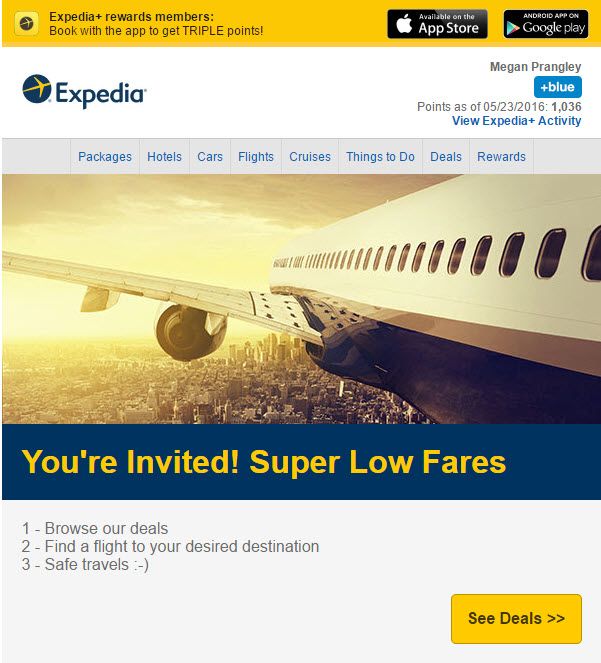 This email from Expedia hooked me with, "Lucky you! You are invited: grab these awesome low-fare flight deals." And you bet I opened it! As a frequent flyer, this subject line really appealed to me. People love receiving things that don't sound too gimmicky or fake. Obviously, "You will win a million dollars if you open this right now!" or "You get a free iPad!" are too unrealistic. People will steer clear of emails with subject lines that look and sound like spam, so to avoid this remember to speak to your buyer like you're speaking to a friend. Try being personable throughout the body of your email and you will be surprised how your CTR soars. Consider if there's a holiday coming up you can leverage, or if they have not refilled their order with you in a while and need a helpful reminder. Using this text throughout your email will help guide your buyers to where they need to click. Also, think about how text can enhance your clickable call-to-action. Designing a button with, "Click here" will almost always get more clicks than one that says, "submit" or simply, "go."
2: Color them interested.
With so many colors at your disposal make sure you choose the right ones for your design, business, and company culture. Even if you're not a designer, you must know that every color elicits a different emotion from people. Maybe you've heard yellow makes people feel energetic, think Ferrari and Nikon logos, whereas blue is a very confident and trustworthy color, imagine Samsung and GM logos. The colors you choose directly and indirectly affect your buyers' feelings towards your brand. Surely, you have spent a great deal of time stressing over the colors for your logo, striving to represent your business accurately and stay in your customers' minds. You need to put just as much consideration into the colors you put in your emails. A white background with black text is boring. Don't be afraid to add some color like this email below.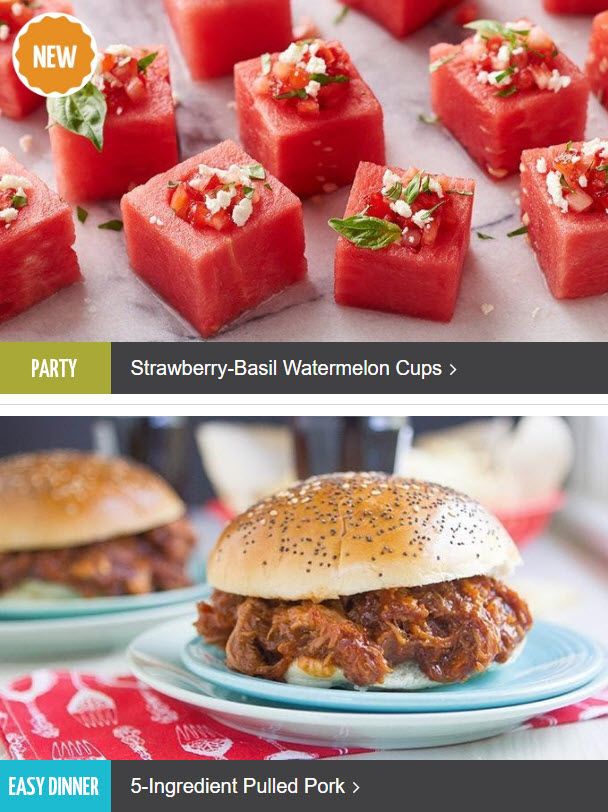 Mmm, something about warm colors like red just makes people hungry. Notice how this email guides your eyes through delicious photo all with warm colors that just make you want to dig right in. It's no coincidence a food newsletter is utilizing these colors! For their purposes, it is best if the reader sees this email and gets hungry, so they will engage with the content. The great design continues with highlights of cool colors making certain words like, "Easy dinner" stand out to someone who is scanning this email. The information they want people to click on is easy to find due to the color contrast, and the email is enticing overall. Next time you're designing an email take some time to research your color choices and how they are working for you, maybe there's a better option you have yet to explore. Now, if you'll excuse me, I'm going to learn how to make Starwberry-Basil Watermelon Cups!
3: Guide their eyes while they're learning.
The best email blasts and newsletters for inbound marketing are focused on educating and not selling. I know, the balance as a business owner might be tough to wrap your head around, but remember with inbound you are giving your buyer the tools to make a decision without pushing your brand. Don't be afraid to educate them with your emails and link to your blogs. Beautiful design mixed with the ability to inform the reader will lead to more interactions, clicks, and traction on your content. Take a look at this example below.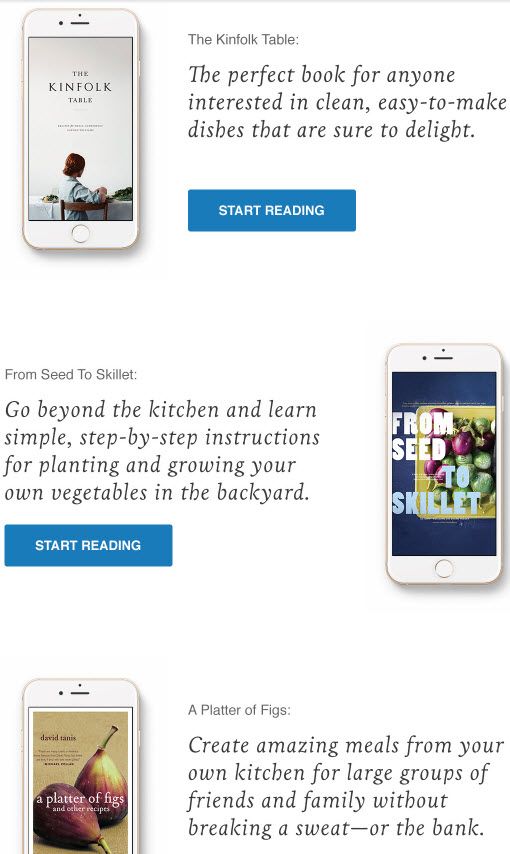 This headline hooked me by telling me I would see five fresh reads. Instead of putting all the titles in a list, the design makes you scroll to see the five books plus an image and interesting description. The background is clean and modern, free from clutter that would distract viewers from the blue CTAs. This design is not only simple and minimalistic but causes readers to stay in the email longer to see every featured book as they scroll through the email. Writing the informatio in a boring paragraph would have made the readers spend less time engagaing with your content. The more time a viewer spends in your email the better. Not only are they reading more, but they are more likely to click on a link. Think about how your next email can help your target audience learn through your unique design.
4: Be friends with format.
The format of your email is important in terms of design as well as viewing format. Make sure your design looks good on all devices and internet browsers to maintain professionalism. As I mentioned earlier, most people read emails on their cell phones, so if your email design looks terrible formatted on mobile that is a huge problem. The example below has an unusual format and was not skewed on mobile.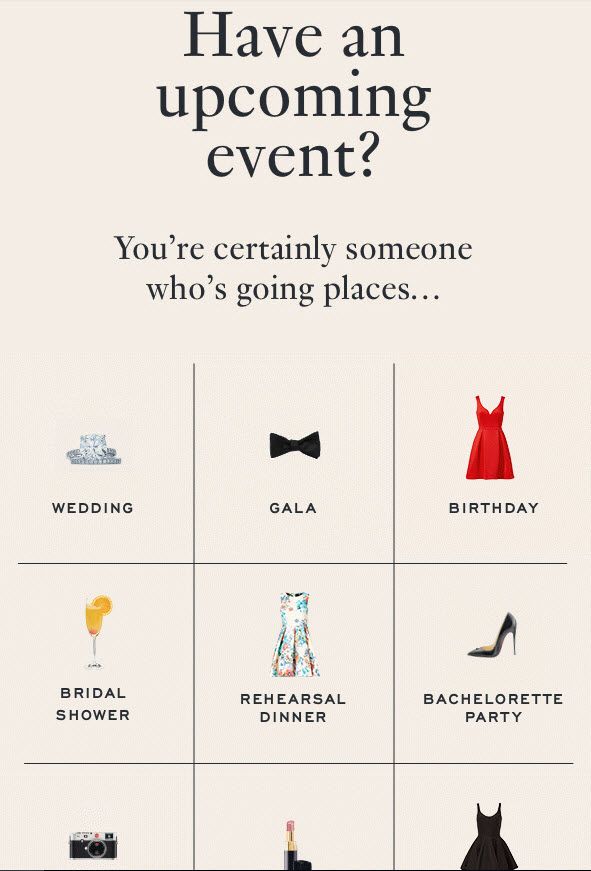 Each box has an image that relates to an event the reader might be going to. Likely their buyer persona is attending multiple of these events soon, and the grid helps them see everything they might need products for in one place. This friendly reminder is also quirkily captioned, "you're someone who's going places," which is a great subject to hook their reader. The background isn't white but is muted, so the products are what stands out. Instead of scrolling through images one at a time, which would be tedious with this many products, this design takes on a grid form to present ample options to the buyer. Consider how you can present content in a different and unexpected format for the viewer in order to catch their interest while ignoring the standard one column email in favor of something more personalized.
5: Picture them reading your email.
Content like high-quality photos and videos are paramount in the context of inbound marketing. Using photos in your emails, especially if you're selling a physical product, is critical for a high CTR. But everyone uses photos so how can you stand out from the crowd when it comes to all of those snapshots people receive daily in their inboxes? Check out this example below.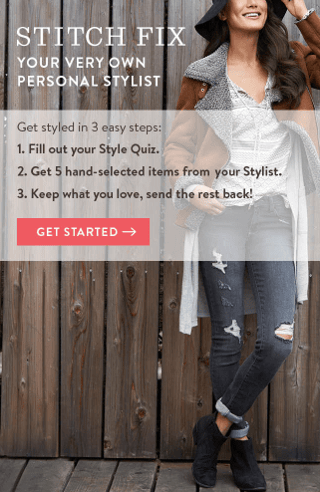 Sometimes less really is more, especially when it comes to images. This email uses one appealing photograph to frame their email. This is great design because their CTA stands out on the wooden background and their clothes are getting all of the attention in the image. Images like graphs, charts, and infographics are all interesting design additions to an email that will help keep your reader looking at your content longer. Consider how graphics can inform and educate your persona and lead them further though the buyer's journey. If you're using an image in your email make sure you try it on all platforms to make sure it maintains a viewable resolution.
Conclusion
There you go, five great emails designs you can borrow from to improve your own email marketing efforts! Even if you're not a skilled designer, it's easy to implement some of these tips to step up your email game. Big blocks of text on a white background, void of color and images, will not gather you the click through rate you're aiming for. Even though content is king, a good design is crucial for inbound marketing since your leads receive many emails daily! Stand out and try something new with your next email. Let us know how it goes in the comments section.