20 Important Customer Service Stats You Need to Know in 2018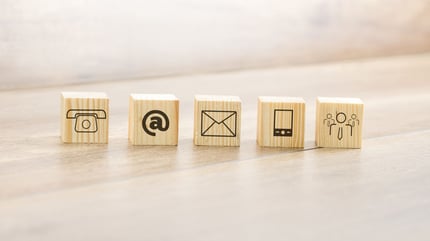 Customer service should be a key element of all business processes. But customer service as a whole is experiencing dramatic changes as your clients do more and more of their research and problem-solving online. Does your business know how you should be adapting your customer experience processes for today's digital-savvy buyer? If we can't convince you, maybe these 20 new stats regarding modern-day customer support will help you to reevaluate your current customer service approach.
1. It's predicted that 3.6 billion people will have at least one messaging application on their smartphones by the end of this year, which catches up to the total number of internet users, and surpassing the amount of social media users. (Source)
2. 80% of today's customer engagements can be supported by bots. (Source)
3. 55% of consumers today are willing to pay more if they are guaranteed a good experience. (Source)
What exactly should customer support look like in 2018? Find out here.
4. Acquiring one new customer costs around 6-7X's more than retaining an existing one (Source)
5. There's a 92% retention rate among companies who deploy a well-crafted customer service program for their customers (Source)
"Although your customers won't love you if you give bad service, your competitors will."
-Lauren Freedman, President, E-tailing Group
6. The #1 reason customers say they switch away from products and services? Feeling unappreciated. (Source)
7. Customer frustrations lead to: 13% will tell 15 or more people about a negative experience. On the other side, 72% of consumers will share if they have a positive experience with a brand with 6+ people. (Source)
8. Just 1 in 26 unhappy customers will actually take the time to make a complaint. The rest will churn and seek other vendors. Companies shouldn't view the absence of feedback as some sign of satisfaction. (Source)
9. 75% of today's consumers expect a consistent customer service experience wherever they engage, whether that be on social networks, phone, online, or in-person. (Source)
10. 87% of consumers think brands need to do more to provide a seamless experience. (Source)
11. Artificial Intelligence is expected to become a mainstream customer service investment in the next 2-3 years. 47% of organizations report they will use chat bots for customer support and it's estimated that 40% will deploy virtual assistants. (Source)
12. American companies lose over $62 billion each year because of poor customer service. (Source)
13. After just a single negative experience, 51% of today's customers will never do business with that business again. (Source)
14. A moderate enhancement in customer experience processes generates an average revenue uptick of $823 million in three years for a $1 billion company. (Source)
15. 75% of customers believe it takes too long to reach a live agent. If you are providing a live service via chat or phone, a live person must be available to them within 2 minutes. Any longer and you run the risk of an unhappy customer. (Source)
16. In 2017, 35% said they reached out to businesses through social media channels, that's up from 23% in '14 and 17% in '12. Of the respondents who used social media for customer service, 84% said they did received a response or resolution quickly, up significantly from 65% in '14. (Source)
Fact: In the past 5 years, American auto insurance carriers that provide customers with consistently great customer experiences generated 2-4X's more growth in new business and roughly 30% higher profitability than competition with an inconsistent customer focus.
17. Of all the self-service options available today for customers, the most frequently used is knowledge bases. (Source)
18. 6 of 10 American consumers report their go-to channel for simple customer support inquiries is a digital self-serve tool (such as a website, knowledge base, mobile app, phone, or online chat). (Source)
19. 86% of today's B2B executives prefer to use self-service tools when they're reordering, instead of talking to a salesperson. (Source)
20. 50% of brands plan to make a direct investment into customer experience technologies in the near future. (Source)
If you are seeking a way to invest more into your customer experience processes this year, the HubSpot platform can help you provide a comprehensive experience in all digital customer support areas. Contact us today below to get a complimentary demo of the tools.
Ready to Dive In?
Work with our team of HubSpot experts and watch us take clunky systems, tech stacks, websites, and portals and turn them into tailored, intelligent workflows that deliver business outcomes.