10 Signs it's Time to Adopt a New CRM System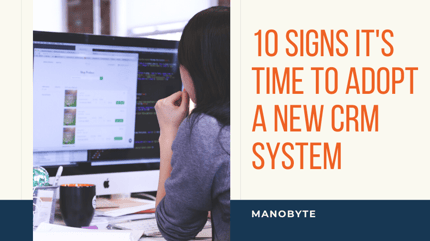 If your business has had difficulty sustaining growth or keeping up with sudden growth, you may need an updated customer relationship management software (CRM). Modern CRMs, like HubSpot, are able to centralize data, quickly segment lists, and generate reports to assist with decision making. When updated, a CRM can become an integrated piece of your digital ecosystem, and a daily part of your team's workflow.
What Is CRM?
Customer relationship management is a term that refers to practices, strategies, and technologies that companies use to manage and analyze customer interactions and data throughout the customer lifecycle, with the end goal of improving business relationships with customers, increasing retention rates, and driving sales growth. Additionally, CRM software places all your customer data into a single location that can be accessed from a cloud-database.
CRM Facts
65% of businesses adopt CRM in their first year of business
More than half of top-performing companies use CRM to boost sales and productivity
80% of businesses that use CRM increase lead generation
Half of CRM users experienced a substantial increase in customer satisfaction
4 of 5 businesses that use CRM report increased access to critical customer data
Signs You Need a New CRM
You've outgrown your CRM
If your business has multiple departments, your business needs to have advanced tools to manage your operations successfully. As your business grows and capabilities increase, your technological needs will transform.
Your current CRM may not support the functionality available on newer systems, such as:
IP telephone (VoIP) to make calls straight from your CRM
Live chat to communicate with your customers in real-time
Scripts to automate workflows and consumer-facing business processes
Integration with special apps to enable the use of digital signature
Interactive dashboards for easier business analytics
Integrated web forms to capture more high-quality leads
As a result, your database structure becomes outdated, data input methods become obsolete, business capabilities decrease, and integrations with the latest SaaS applications for sales or marketing become inconceivable.
Your CRM is expensive to maintain
Maintaining an on-site CRM is a significant investment. On-site software requires expensive infrastructure, a specialized IT-department, many hours to maintain, and additional costs for security and updates. As your business grows, your on-site costs increase dramatically as your needs increase. Additionally, as your business grows, on-site CRMs can run slow, despite constant upgrading and manual implementation.
Cloud-based CRM solutions allow your business to scale up and down with modules and features as demands increase or decrease. Most cloud-based systems are subscription based, which allows for easy integration, with billing and maintenance factored into your annual cost. Additionally, many cloud-based CRMs like HubSpot come with built in support and 24/7 help desks to troubleshoot any problems you may encounter. Cloud-based solutions also follow strict regulations, ensuring your data is safe and any information you have is compliant with HIPAA, GAAP, and follow the Gramm-Leach-Bliley Act. According to SherWeb, moving to the cloud can save an organization an average of 79% on its IT budget by reducing maintenance and infrastructure setup costs.
Your CRM is not mobile-friendly
Today's workforce is able to work from anywhere in the world, including their homes. Teams are constantly traveling on site and may need to add a new contact into their CRM or update current contact information away from the office. With an on-site CRM, updating information in real time is completely impossible. With modern cloud-based software, information can be updated from an app or website. In order to keep up with business demands of the modern age, it is important to provide your teams with a mobile-friendly way to access your platform.
Your sales analytics come from various sources
When data is collected from various sources, it can conflict with itself and cause a strain on a company's departments. Using conflicting data often leads to ineffective strategies, difficulties in decision making, and wasted efforts.
Cloud CRM platforms allow you to integrate your sales analysis from a variety of mediums, including social platforms, email marketing campaigns, and website clicks. By using only one platform to collect data, you are able to create a seamless stream of accurate data that can assist your growth.
Not enough staff training
One of the most common problems with integrating a CRM is getting staff on board. In fact, 49% of the people-centric problems related to CRM success were due to slow user adoption. Most often, employees believe the current solution has been inadequately deployed, the business requirements aren't clear, and that the technology just isn't sufficient for their needs. Updating a CRM to a user-friendly, cloud-based system that offers continual support and onboarding is a great way to ensure your employees are not overwhelmed by the platform and use it to its full capacity.
You're not tracking leads in your CRM
If you're tracking website clicks, social media leads, and attempting to manage segmented lists of clients, an updated CRM would be of use to your business. Many systems are not able to handle the full demands of modern businesses, which leads to lost client activity and delayed follow up times. Modern cloud-based CRMs ensure you are using technology efficiently. Additionally, a cloud-based CRM can be combined with an ERP system to help your financial team create accurate projections and manage project costs and deadlines.
Your current CRM doesn't support email
Many CRMs do not manage or send emails, despite email being the most effective form of digital marketing.
Industry leaders leverage the benefit of integrating their email selling with the rest of their CRM activities. In order to remain competitive, you need to choose a CRM that allows seamless integration, which will limit the number of informational mistakes and make it easier for sales staff to automate appropriate marketing materials.
Social media monitoring has become a burden
Social media channels are quickly becoming a vital part of sales and marketing tactics, yet many businesses still find social to be daunting. Running a social strategy takes time, attention, and creativity to turn posts into profit, which can be difficult for companies that are attempting to do it independently of their CRM platform.
By integrating your social media marketing with your other customer relationship activities, you save time and have a better idea of the leads and sales you gain from social channels. Additionally, many cloud-base CRM platforms continuously track data across your social channels and website to help you gauge behavior and implement the findings in your strategy.
No clear sales improvement
Additionally, if you have been interacting with your CRM and have not seen measurable improvement for over three months, it may be time to consider another option. Many CRMs come with built in subscription plans that vary based on your company's needs. Oftentimes, businesses choose a plan too advanced for their needs, and end up overwhelmed, resulting in them not using their software effectively. In contrast, companies may under-purchase their CRM subscription, and find the lack of features actually detrimental to their end goal.
You're having trouble analyzing and leveraging data
When your data is stored in several locations or on cumbersome spreadsheets, it's very difficult to interpret and use. Additionally, it is difficult to send data to various departments and stakeholders, and oftentimes businesses run into incompatibility issues or meet delays. For example, a member of your sales team might follow up with a prospective customer that another sales rep has already contacted; or you might send promotional emails to a group of customers who have already told you they're not interested in a product or service. By not being able to track data such as this, you are diminishing trust and hurting your end goal. Newer CRMs have the ability to access robust reporting and use data analysis capabilities to better understand and serve your customers.
Get ready for the CRM switch
If you found a few areas your business needs improvement in based on the information above, it may be time for an upgrade.
Moving to a new CRM is not as frightening and difficult as you may think. Partnering with an agency ensures your integration goes smoothly.
Role of an Agency
Help you clearly define what is missing in the old CRM and what new functionality you want to get in a new system
Help re-define what business goals you want to achieve, what operations you wish to improve, and how you're going to measure them
Outline the necessary steps you need to take in the CRM buying process, as well as your budget
Consult with your employees and take their feedback and requirements onboard
Analyze your database, it's structure and content, and decide what needs to be transferred or conduct a major data clean-up
Your CRM system can work wonders for your business. However, if you want the best results it is important to stay up-to-date with the latest and best software. Our Business Growth Consultants are ready to help you take the next step in upgrading your software to match your needs.
Ready to Dive In?
Work with our team of HubSpot experts and watch us take clunky systems, tech stacks, websites, and portals and turn them into tailored, intelligent workflows that deliver business outcomes.