Imagine being able to transport yourself backstage with your favorite celebrity, like Ellen DeGeneres or Jimmy Fallon - you would be able to talk with them on the set in real-time and ask all of your burning questions. With live streaming apps like Periscope, Meerkat, and Facebook Live, this seemingly impossible feat is now right at your fingertips, or more accurately, in your App Store.

Live streaming is still a very new concept for marketers, and there is a lot to consider before choosing which app is best for your audience. It's important to look beyond the trendiness and realize that investing time in these applications early can give you a serious advantage in the future.
What is Live Streaming?

Live casting or live streaming is sharing a video in real-time that your audience can watch on the internet. Many people use their phones to live stream, but you can also use laptops, tablets, etc. but keep in mind that it's not a fancy way to video conference or hold a webinar. Live streaming provides a unique opportunity for marketers to connect with a target audience in a manner that's similar to face-to-face communication.

So, what place does live streaming have in your Inbound Marketing strategy? Video is becoming a premium and desirable content type for businesses, and if you have a video campaign, live streaming can be a perfect addition to your plan. However, if your company doesn't have the resources to create perfectly edited and professionally made videos, then live streaming could be a perfect solution. All you need is a device with the right app and some willing participants.

Live streaming can be utilized during exciting office events like parties, moving days, and presentations that your persona may find helpful. It can also be used during trade shows to give an insider look. These apps can also be a platform to share industry insights, contests, polls, and even hold Q&A sessions with your audience. No matter what your business, live streaming applications can benefit your Inbound strategy.

Meerkat Versus Periscope

Ding, Ding! Let the fight begin! There are many applications available for free that allow live streaming, and the competition to reign supreme is fierce between the apps Meerkat and Periscope. On the surface they are very similar, both enable live streaming, allow commenting, and social sharing options. However, the nuanced differences make a huge impact on the user experience and marketing capabilities.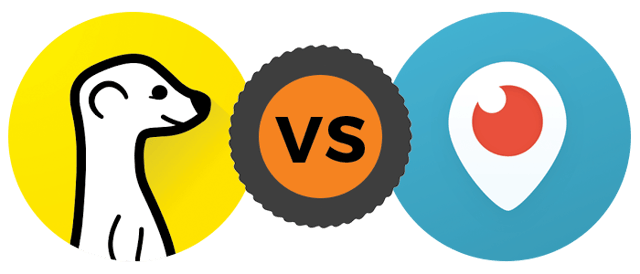 Meerkat may have been released first, but the battle began when Twitter bought and pushed Periscope as their live streaming application. One of the biggest advantages this presents is that Periscope is fully integrated with Twitter. That means sharing your broadcasts and finding your followers is very simple. Many users also report Periscope is more aesthetically pleasing, which is not surprising considering that Meerkat was developed in just eight weeks and Periscope took much longer.

How do you know which is best for you and your audience? We recommend taking them both for a test drive with your mobile device. Within a few days of testing, it became clear for some of us here at ManoByte that we preferred the interface and functionality of Periscope. After you have given them both a fair try focus on the live streaming application that you find the most helpful. Investing time into building an audience and gathering followers is crucial in the early on stages of these live streaming apps in order to gain a competitive advantage in the future.
Follow ManoByte on Periscope
That being said, make sure you follow ManoByte on Periscope, we're @ManoByte! We will be live streaming from ArtPrize in the upcoming days, sharing a tour of our brand new office, and of course, posting all the best Inbound Marketing advice for our followers. Next time we have a HUG event we will definitely be sharing an insider's look, if you're not already on Periscope download the free app to join all of our broadcasts.
See you there, and don't forget to send us a lot of hearts!