Inbound Best Practices: 4 Tips to Creating Your Buyer Persona

Welcome to our inbound best practices blog series, today we'll dive into developing your buyer personas. Personalization helps your inbound marketing efforts soar, and to personalize your content you need an absolute knowledge of your buyer personas. A buyer persona is an ideal customer you're aiming to attract with your inbound marketing campaigns. In other words, they're the person who has a problem that you're ready to solve with your solutions and products.

If you're one of the many businesses or marketers whose not yet crystal clear on their personas, stay tuned to learn step-by-step tips to crafting the perfect persona, so you don't miss out on inbound success! While this fictional creation may seem like fun and games, it's a crucial aspect to target content offers, email workflows, landing pages, blogs, and so much more.
Step One: Do Your Research
Put on your detective cap and begin researching who your buyers are. Your current customer base is the perfect place to start because it serves as the truest representation of your target audience. Look at records of previous clients and your contact database; identify common threads or similar demographics among your consumers to start forming similar groups.
Most businesses have 3 or 4 defined buyer personas, so don't segment your comprehensive research into hundreds of tiny groups. Try polling your current customers or take a peek at their LinkedIn profiles to gain even more information about their interests, career, education level, etc. LinkedIn and other social sites can provide irreplaceable insight into your buyers.
Step Two: The Basics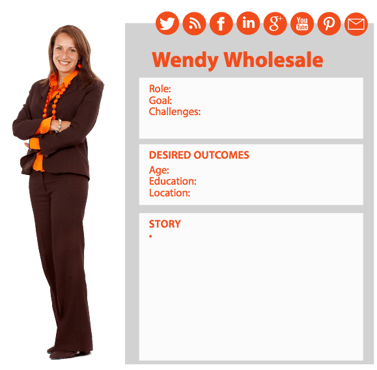 Once you find some common threads and have a better understanding of key demographics, use that newfound information to create the 3 or 4 main personas of your ideal customers. Consider your research and identify demographics like education level, age range, average income, job field, key challenges in their field/role and anything else that helps you define who they are. By specifying the goals and difficulties of your personas, you can easily create content that addresses their needs throughout every stage of their buyer's journey.

Now comes the fun part - make sure you give each persona a real name for easy reference like, "Rebecca Relator" or "Matt Manufacturer." Then use an image for visual reference to make these personas tangible. Imagine you're playing a game of the Sims, but you're building a representation as close to the real thing as possible.

Start writing this down in a shared application like Box or Google Slides, so your entire company can reference these personas or use software like this one from HubSpot.
Step Three: The Nitty Gritty Details
By this step, you should have an excellent framework to build on! Now's the time to fill in more of the details about their individual motivations, buying preferences, and their story. Go into detail; you can even use direct quotes from your customer research to help you understand the language each person uses. The more information you include, the easier it will be to tailor content to them, which will lead to more successful inbound results. For example, according to Statistica, the open rate for emails with a personalized message was 17.6%, compared to 11.4% without personalization.
Also, consider where this persona spends time online and how they research products. Include what social channels they use, how often, and at what times during the day they're most active What publications do they read online such as Forbes, Inc., or Fast Company? All of this will help determine where to distribute your quality, targeted content and helps you find influencers of your personas.
Step Four: Consult the Sales Team
To help enable the sales team, marketers should include them in the persona creation process and update them as they change. Sales can be instrumental while editing and creating these target clients because they spend the most time facing customers. Collaborate with sales reps, so they know the language each persona uses. Understanding your buyer personas will help sales effectively speak to each buyer's problems and present the perfect solution, or opportunity. Include a sample elevator pitch that the sales team has created and some marketing messages in your buyer persona template to round it out.
Next Steps
The perfect buyer persona isn't created overnight, or during an end-of-the-year panic. They require extensive research and constant updating. There are multiple ways to research and gain insight to develop realistic and helpful buyer personas, but remember assumptions without adequate research will halt your inbound efforts in its tracks. As a marketer, it's important to be constantly developing, analyzing, and improving to your buyer personas. Now that you're an expert on creating your personas get to know the buyer's journey, another critical component of successful content creation and inbound campaigns in our free eBook, specific to selling more building materials to end users, below.
Ready to Dive In?
Work with our team of HubSpot experts and watch us take clunky systems, tech stacks, websites, and portals and turn them into tailored, intelligent workflows that deliver business outcomes.