---
Today is the day. If you haven't heard, April 21st marks the beginning of the Google mobilepocalypse for sites that haven't yet optimized for mobile. The blogs are calling this google update mobilegeddon, though Gizmodo notes that "seems a tad over the top." In fact, it's a shift in Google's mobile algorithm that will reward pages that use mobile-friendly designs and could hurt rankings for those sites that are not optimized for mobile viewing.
Google went live with this update today, though it will likely take a few weeks for all the effects to be felt. So whether this is the first you've heard of mobilegeddon or you just want to be sure you're doing everything you can to boost your mobile search ranking, here are five things you absolutely must know and do right now.
---
1. Don't Panic
Sound advice for almost everything in life, Adam Dorfman at Search Engine Land reminds us not to panic about the impending changes. Not only did Google announce this particular update almost two months ago (which they don't always do), it only applies to mobile search traffic. Further, unlike other updates (e.g. Panda and Penguin), not adhering to the best practices laid out by this mobile search update does not result in any penalties. If you don't have a mobile optimized website right now, take your time to make thoughtful changes that will make your users' mobile experience better. This will be a lot more useful - and fun - than panicking and trying to make a hundred changes today.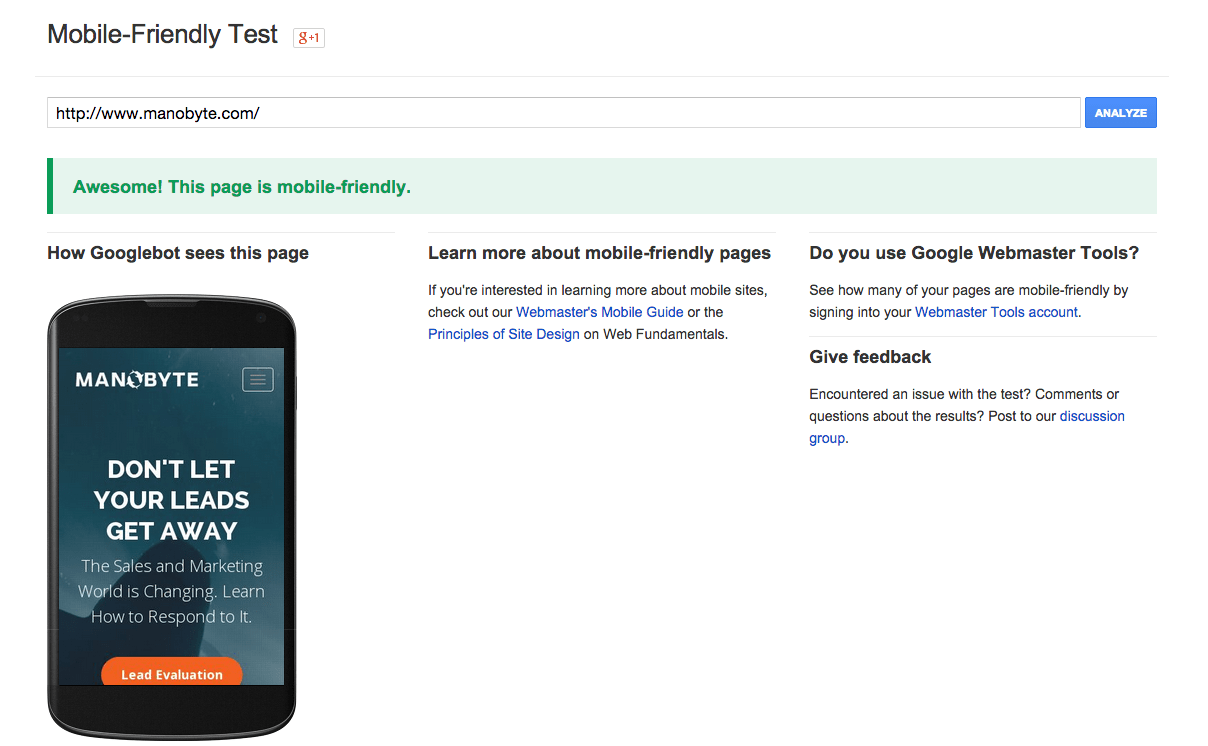 2. Test Your Site
Still not sure if your site is mobile friendly? That's not a problem at all. Along with the initial mobilegeddon announcement, Google put out a free tool that lets you enter your site's URL and will tell you whether or not you pass the test. The Mobile-Friendly Test is a lot nicer than so many of Google's secretive algorithm updates that force SEOs into a frenzy of trial and error. If your site doesn't pass the test, Google will tell you why and give you tips on how to fix it. It doesn't get much easier than that. For more in-depth information on mobile optimization, check out the Google Developers step-by-step guide.
3. Consider Your Traffic
The new algorithm applies only to mobile web traffic, which, while definitely climbing steadily, is still less than half of all web traffic. If you are feeling concerned that you're not on track to have a mobile-friendly website by today, remember that your desktop ranking is safe. That includes desktop computers as well as tablets. The update applies only to smartphones.
4. Look for More Optimization Opportunities
Even if you have a mobile-friendly website that is ready for the coming storm, there is no time like the present to look towards other optimization opportunities. For instance, traffic you can get from social media is completely unaffected by this update because those sources don't even go through a search engine. Take some time today to spiff up your neglected Twitter profile or your lagging Facebook page. Write a great blog post that speaks to your personas and keep them coming to your site.
5. Think About Going Further
A mobile-friendly site is now absolutely necessary for remaining competitive in the mobile search game. But that doesn't mean once you get the green go-ahead from Google that you're done. If you really want to stay competitive, you have to think beyond a mobile optimized website. That might mean taking the time to develop your own app, or using features that users have on their smartphones and don't have on their desktops to actually enhance the mobile experience. If you go beyond friendly with mobile and really offer an optimal mobile experience, both this Google update and your users will reward you.
---
Keeping search engine optimization in mind is certainly important in the competitive online space. However, the most important thing to remember, and to strive for, is an easy and valuable user experience. In 2015, a great user experience definitely includes mobile optimization. When your site is easy to read, easy to navigate, and more importantly when it is chock full of useful information and great content, you will have to worry a lot less about finicky search engine updates.
---