Did you know Twitter has been around since 2006? You may think this social media platform is on its way out the door as a tool for marketers, but falling into this myth is a trap that will live to haunt many business owners. While some nay-sayers consider Twitter to be over-saturated or a one-sided conversation, the fact remains that Twitter is still an important business tool to connect with potential clients and build brand awareness for both small and large companies. Failing to incorporate Twitter into your inbound strategy is a rookie mistake.
#TheBasics
If you're not on Twitter yet, this section is for you. Twitter is a social media platform that limits posts to 140 characters and updates in real time, so timelines are always changing with new, fresh content. This sounds great, but be warned that the average Twitter user spends only 2.7 minutes on the mobile app each day, so knowing when your target person is most active on Twitter will help you run a more successful campaign that incorporates this channel.
A few more key demographics to note, Twitter acquires 317 unique users each month, is predominantly male, and most of the population on Twitter is 18-29 years old according to Hubspot. While this may not sound exactly like your target persona, keep reading to discover why you still definitely need a company Twitter profile.
#PeerPressure
The biggest reason Twitter is still relevant for business is simply because everyone else is doing it, sounds a lot like high school, right? Taco Bell, Wendy's, Ford, your neighbor, your doctor - they all use Twitter! By actively not participating in this widespread and popular social media channel you're sending the wrong impressions to your potential clients.
Since Twitter is a business staple, much like Facebook and LinkedIn, that means you have to have one to be on a level playing field with your competitors. A website is no longer enough to appear, "with-it" and "tech-savvy" to your audience. There's no harm in having a profile, and a lot to gain in the form of leads, brand awareness, and connections.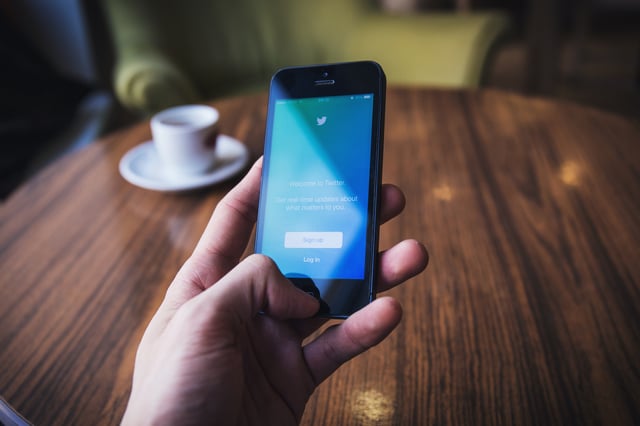 #GetTheWordOut
Twitter is important for businesses who want to provide real-time updates to their clients. Assuming you've connected with customers and leads, Twitter is a fast way to provide information to your audience. Leveraging trending hashtags is a great way to expand your reach and show you're knowledgeable of industry trends.
Participating in Twitter chats and event hashtags will allow your business to connect and network in an invaluable way you wouldn't normally be able to. Twitter can help you find potential speakers, guest bloggers, and other partners for industry collaboration.
#BrandLoyalty
Connecting with customers on Twitter is a smart way to utilize the "delight" phase of inbound marketing. Engage with your audience as much as possible, by responding to their comments, articles, and retweets. Beware of becoming so wrapped up in automation software that you cease having connections with potential customers. Instead of pushing out content blindly spend time listening to what others are saying about your product, services, business, and competitors to have genuine, lead-nurturing conversations on Twitter. With no profile, your business is missing out on these connections, while others are taking advantage of your absence.
Although Twitter is already eleven-years-old, it's still a necessary social media platform to leverage as a B2B company, even in the manufacturing sector and beyond. There are ample chances to reach out to new clients, participate in real-time conversations, share your content, and update your followers on happenings in your organization. Since Twitter is very commonplace, it's easy to take it for granted, but not being on Twitter is a mistake. When it comes to using Twitter for marketing, let's just say it's not over until it's over.
Want more in-depth Twitter tips and actions? Check out our free eBook, "How to Navigate Events Successfully with Twitter," to make the most of your next trade show appearance with help from Twitter.