Simply put, we're inbound marketing professionals that have the power to completely transform your brand and increase sales, but only if you'll let us.

We work face-to-face with our clients, developing a lasting and rewarding partnership. Together we create a custom-tailored marketing campaign that addresses all of your unique industry needs. Whether you need a new website designed to funnel leads, an increased social media presence, or a professional video made - we have you covered. Or, we can take the reigns entirely by managing blog creation, carefully-crafted content offers, email workflows, and more!
We know you are probably thinking,"But Mano... Byte, what does that even mean?"

It's the Hawaiian word for the almighty shark! It's also an acronym we use to represent our ferocious Marketing, Analytics, Networking, and Online skills. Unlike traditional marketing agencies, we make a splash with consumer specific-content, which is a key element of Inbound Marketing. Our approach is strategic, targeting leads based on characterstics of the buyer personas we've created based on your business and target customers. Our content helps educate consumers until they are ready to make a buying decision, anticipating their questions and building their loyalty to your brand.

While traditional, old school marketing is all about cold calls and snooze-inducing sales tactics, we work to seamlessly lead your customers through the buyer's journey, which converts strangers into leads. Say goodbye to cold lists and bombarding prospects with interruptions.

Okay, cool. Now that you understand the basics of what we do you're probabley wondering what sets us apart from the rest?
OUR TEAM
Our team is comprised of energetic, diverse, and skilled individuals ranging from Designers and Developers to Content Creators and a fully-staffed film team. We're armed and ready to represent your brand positively and professionally. We're up-to-date on all the marketing trends and we are practically bff's with HubSpot as we strive to become a Diamond partner. With annual trips to the INBOUND conference and continual streaming of HubSpot content on our giant TV screens, we are experts who know HubSpot inside and out.
OUR SHARK TANK
Our workspace, affectionately named the 'The Shark Tank' is as versatile as we are. This new space allows us to have impromptu team meetings, collaborating around the huge whiteboard or even take a time-out in a cozy conference room. (Yep, we just said "cozy" to describe a conference room - couches and blankets instead of tables and chairs, please.) Whether we need to brainstorm as a group or escape for some quiet thinking, our Shark Tank enables success. The technology in every unique space allows us to Chromecast and share the week's completed videos or important meeting notes. Our Theater is well-stocked with freshly popped popcorn, candy, and a well-deserved Coca-Cola to keep us running. The variety of conferencing solutions, coupled with our top-of-the-line video technology makes us a powerhouse that is ready to tackle any task.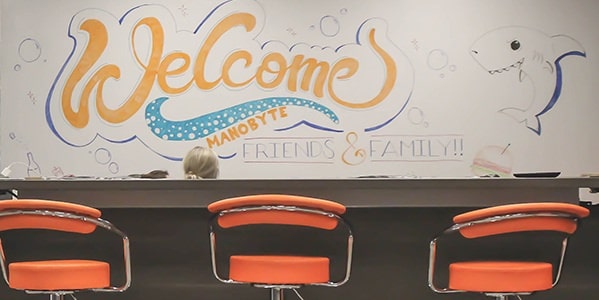 "WAIT, LET'S GO BACK TO THAT HUBSPOT PART FOR A SECOND..."
Maybe you've heard of HubSpot, but, do you know what exactly this massive marketing platform does for millions of companies every single day?

Quite literally, HubSpot is a hub- a portal- that houses all the social sharing, blog posting, email-sending capabilities that we have, as well as the data analytics, charts and metrics to prove our success. Every single one of our team members are certified in at least the Inbound Methodology, and more than half of us hold certifications for several courses.
I guess you can also call us the Mano-know-it-all's about all things HubSpot and inbound marketing. It may sound boastful, but who said being informed is a bad thing? ;-)