Channel Management Solutions
To Become Your Customer's Preferred Brand
Channel Management Solutions
You're tasked with improving the effectiveness and efficiency of your channel program - but HOW can you do it?
Channel management requires optimizing the entire channel system and systemizing it to keep it running smoothly. At a high level, this means establishing structure and resources to
Doing less to get more results from your channel
Increase visibility into shared deals and indirect sales forecasts
Fostering loyalty and trust among partners and customers at every step
Use this 5 minute Channel Readiness Assessment to evaluate your channel effectiveness and where your team should focus first.
Get your organization AND your channel partners up to speed with digital technologies like CRMs, PRMs and MarTech Integrations to enable smoother and more scalable sales, marketing, and operations. Once a scalable digital foundation is laid, ManoByte is able to come alongside and support business growth with Through Channel Marketing Automation (TCMA) and inbound marketing strategy to help your direct and indirect sales teams sell more building materials, better.
Gain a cross-functional team of digital marketing and sales enablement experts at the ready. We're here to enable your manufacturing company's success and digital well-being. And, unlike most agencies, we aren't afraid to get into the trenches with you and your organization to actually set you up for success.
Channel Management Program Process
Discovery
Your channel is the biggest piece of your overall go-to-market strategy. This means there's a lot to understand about your business model, your channel partners, your missed opportunities, and how to seamlessly bring everything together. There's plenty for you to know about us as well. During multiple discovery conversations, we'll begin unpacking all of this with you to firm a solid roadmap for your Channel Management Program Strategy and Implementation.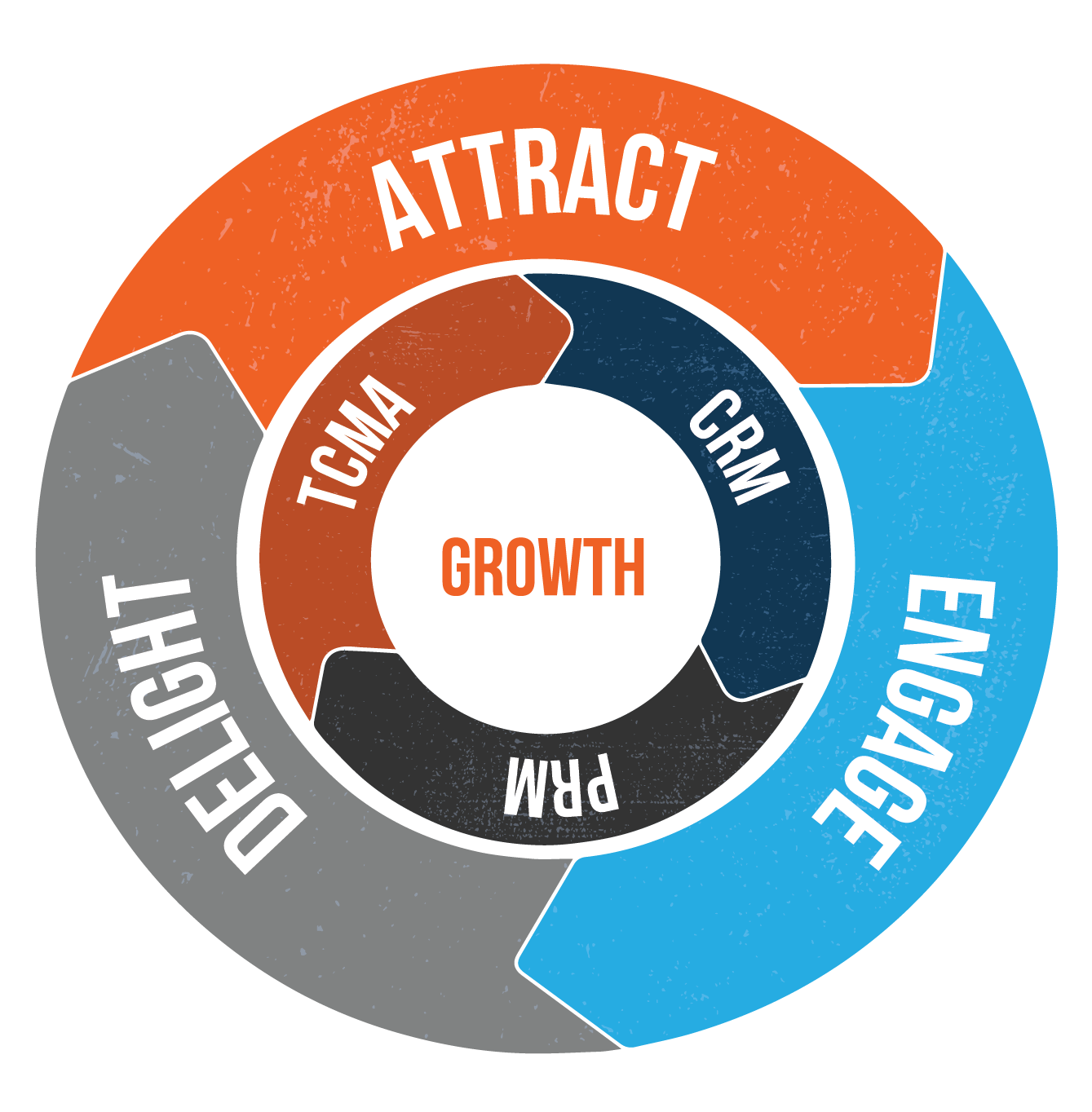 Phase 1: Sales Playbook
Sales enablement and clear sales plays for direct and indirect reps is the answer to helping salespeople add value to the sales conversation. Help them to know what the buyer already knows and then give them the clarity of persona purchase motivation necessary to personalize their sales conversations. Sales enablement is also a way to connect distributor sales reps with leads who show interest and who are most likely to close.
Here's how UFP Industries feels about their Sales Playbooks and Sales Enablement systems:
This translates into:
Less time wasted chasing poor fit leads

Personalized conversations based on. marketing content the lead engaged with.

Stronger partner relationships by handing off more leads likely to close.
ManoByte comes alongside your mid-size or enterprise sized team to optimize your existing CRM system or setup a new CRM system. We are HubSpot partners but are also versed in integrating Salesforce and HubSpot if you're not ready to move your legacy CRM data into something new just yet.
Anything we implement on your behalf is followed with extensive training of all stakeholders and users of the system.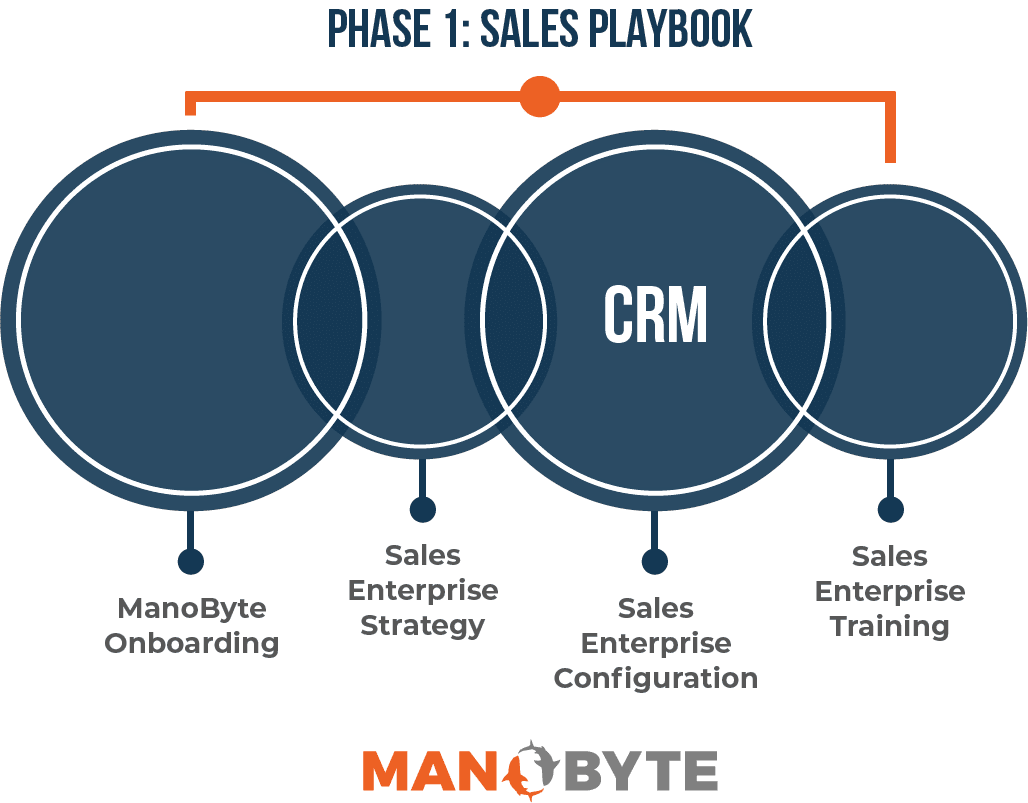 Phase 2: Channel Program Strategy
We did some internal sales strategy during phase 1, but now we will strategize with you how to be successful with your various indirect selling partners. We uncover:
Can your indirect sales reps differentiate between a good and a bad prospect?

Do your indirect sales reps know, and can they effectively communicate, your UVP?

Do your partner's indirect sales reps have the skills to close the deal?
When answering these questions, we take into consideration various strategies including:
Partner Deal Registration & Tracking

Self-Service Order Placement and Automated Lead Time Communication

MDFs and Co-Op Programs

Channel Marketing Content Syndication

Product and Promotions Communication
We are partnered with MindMatrix, a partner relationship management software, and are versed in other popular PRM applications like Impartner and Zinfi.
This partnership allows us to focus on the strategic elements necessary for your channel program to scale through your partners knowing that we will be able to build it in the next phase. We won't have to jerry-rig various third party options together and hope we can get them all to work correctly.
See pages 8-10 in our Channel Strategy Overview Guide for a more detailed breakdown of each stage of this Channel Program Strategy phase.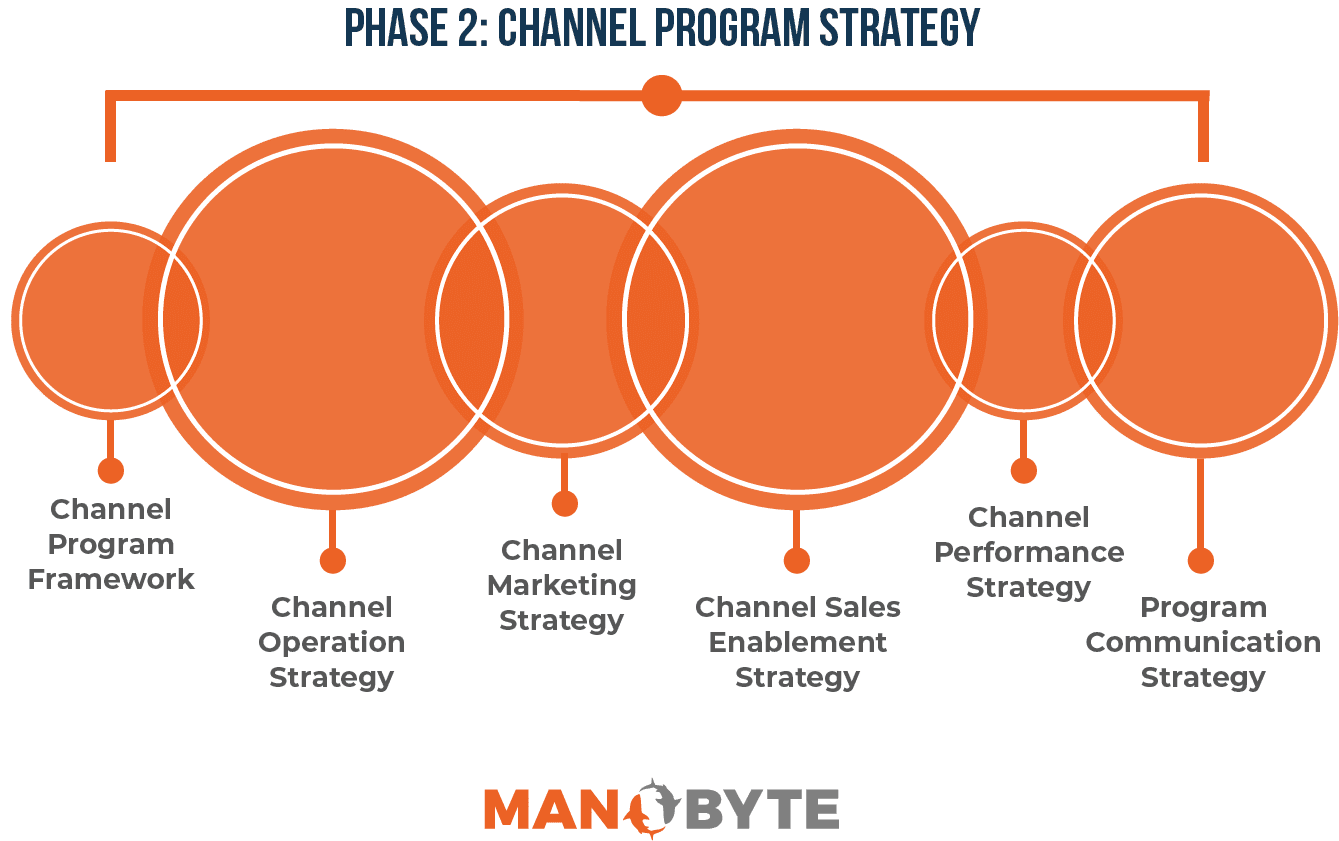 Phase 3: Channel Partner Portal
"If I only had an hour to chop down a tree, I would spend the first 45 minutes sharpening my axe." – Abraham Lincoln.
That principle is what Phases 1 and 2 focus on. Now, entering Phase 3, the axe is sharp and it is now time to chop down the proverbial tree.
The strategies for your channel marketing, channel sales enablement, channel performance and channel program communication are defined. Next we leverage MindMatrix's robust PRM software to bring the strategy into reality.
We plan it, we design it, we build it, and we populate it for you.
Then we test it, build out any partner enablement related website pages and features, and then launch the portal.
Sometimes you need to start with a minimum viable product before launching a full scale PRM.
You have several options that we can also talk you through:
It's better to focus on the strategy and process of your channel program and grow into a full scale PRM solution than it is to think a PRM will solve all your problems. We can talk you through those options.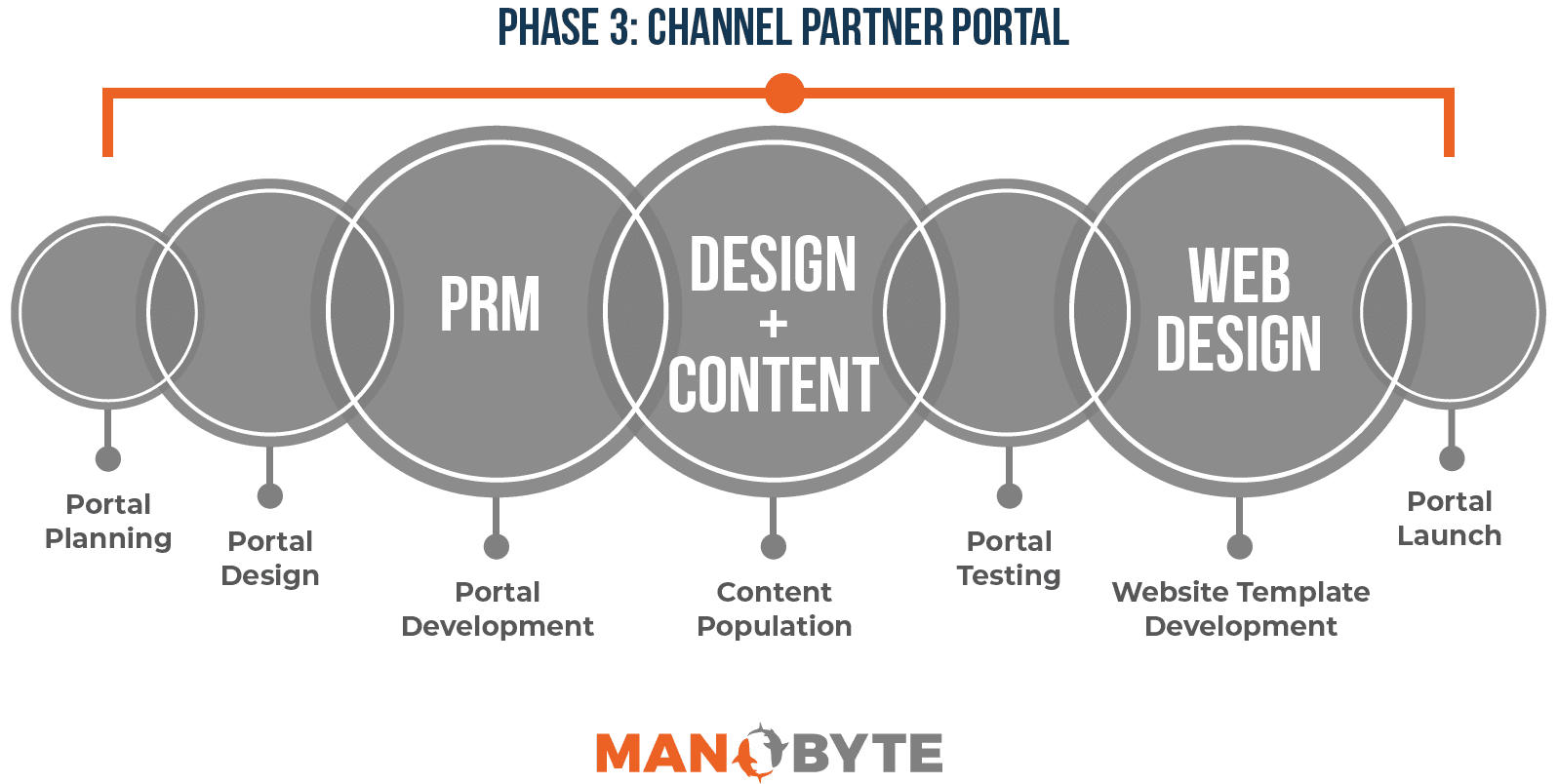 Phase 4: Pilot Program
The users of the software and the systems are the best sources of feedback for resolution and improvement of your PRM system and channel sales enablement program.
To launch the pilot program, we ensure you have adequate partner resources. If you do not, we can help you develop those resources.
We also look at the digital foundation of your partners. How is their website and digital presence? How are they managing customers?
For a channel management program to be successful, we highly encourage you, the manufacturer, to allocate funds towards improving your partners' digital foundation.
This could include a CRM subscription, website upgrade, custom website features like product visualizers and pricing calculators, integrations subscriptions, etc.
We then prioritize the onboarding and training of your partners onto the various digital tools that have been setup for them to leverage.
Then, management of channel marketing campaigns using Through Channel Marketing Automation (TCMA) would ensue.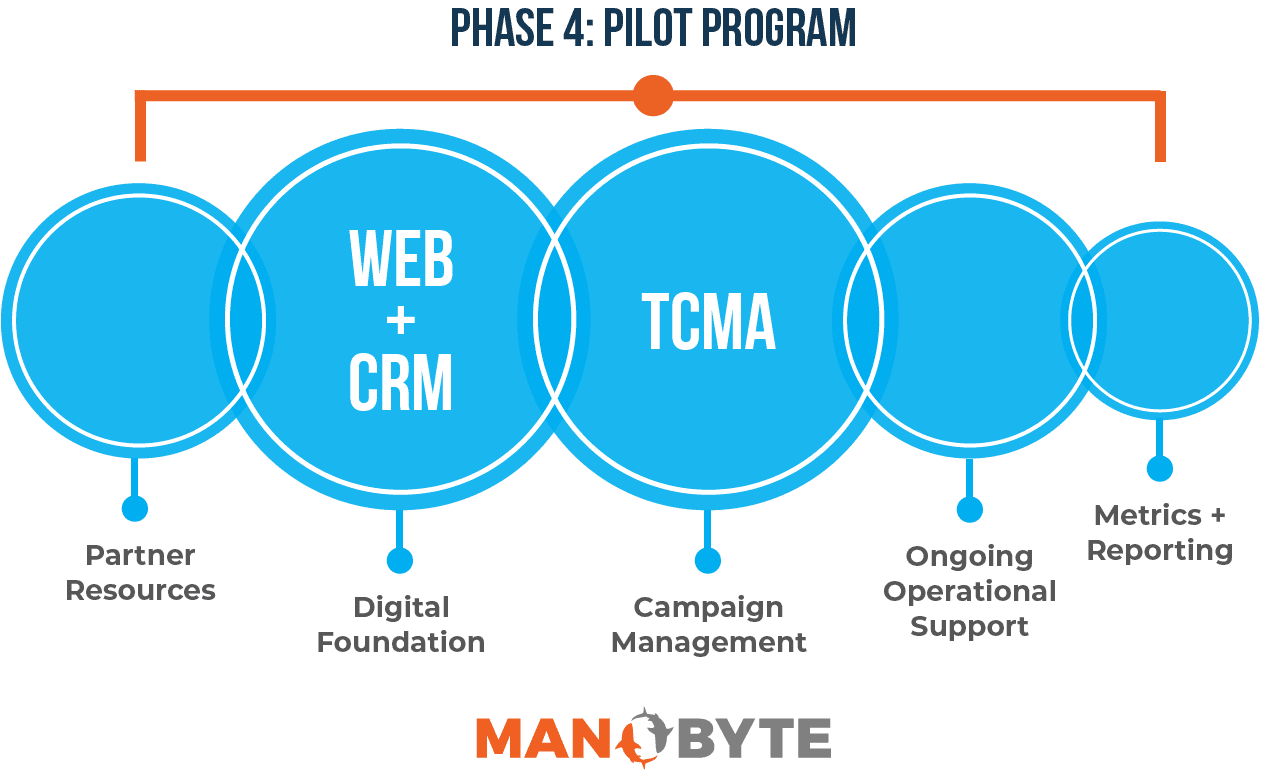 Best Ways to Leverage ManoByte
HubSpot Website Development
eCommerce / Digital Product Libraries
Custom Portal Development
Custom Integration / App Development
Inbound Marketing & Digital Advertising
Through Channel Marketing Automation (TCMA)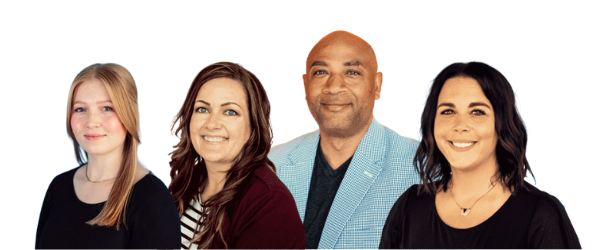 Jump point: #contact-form
Finally achieve a 10:1 ROI from your Indirect Sales Channels
Apply to leverage the ManoByte team to kickstart and manage your channel program. Start enabling your distribution channel strategy to drive more indirect sales. Schedule a consultation to evaluate if a channel management program is right for your organizational objectives. We'll talk you through the nitty gritty and give you a clear picture of what returns you could expect to achieve by implementing this program.