Best Ways to Leverage ManoByte
CRM Customizations, Automations, and Integrations
User Training and Onboarding
The Need
When Bargain Hunt engaged with HubSpot's direct sales team, they had an urgent problem and a big picture problem.
The urgent problem was to migrate 150,000 contacts off of Emma's email marketing software before their annual renewal date that was a mere 30 days away from the anticipated close date.
Their big picture problem was their website. It was holding them back as a business and it was past time to get up to speed with modern web applications and contact management strategies.
HubSpot
HubSpot clearly had the right TechStack to solve for both of these problems so the primary need was to find the right enterprise level HubSpot Marketing Hub, Sales Hub, and CMS Hub implementation partner.
This implementation partner needed to:
Have a proven track record implementing Enterprise level HubSpot features seamlessly for complex business processes
Have the availability to implement quickly
Have experience working with customers in the retail space.
Have the sales prowess necessary to prove HubSpot's value to Bargain Hunt before the implementation engagement even began.
ManoByte fit these four qualifications and even carried to the table bonus experience migrating large companies off of email marketing platforms, including Emma. For these reasons, ManoByte was the first and only partner HubSpot's Direct Reps had to reach out to in order to keep the sales conversation moving at breakneck speed.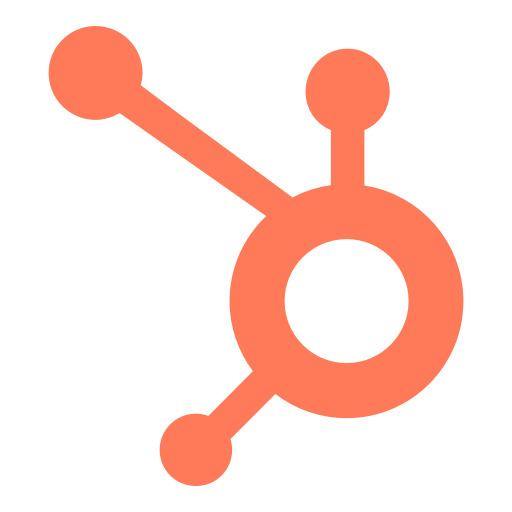 Closing
To reduce the risk of sales disengagement and increase the time to closing, HubSpot chose to loop ManoByte into the sales process early, during the Discovery phase.

This allowed the major implementation concerns and risk-aversion questions to be answered from the outset by ManoByte's team. These answers substantiated that the transition to HubSpot would be the right business decision for Bargain Hunt to make.

Even when a HubSpot sales rep change was made due to an internal promotion, ManoByte's inclusion in the entire sales process filled the gap and reduced risk of deal loss while a new agent was brought up to speed.

From start to finish, the sales process took about 9 weeks and ManoByte was able to deliver on a couple week migration window out of necessity for Bargain Hunt.

The annual MRR is expected to be $60,000 per year, with known contact limit increases to add to that amount moving forward.


Strategy & Development
The initial plan would be as follows:
Weeks 1-2: Data Migration, Property Alignment, and CRM Configuration from Emma to HubSpot Marketing Hub Enterprise
Weeks 2-4: Custom Email Template Development
Weeks 2-12: Advanced Website Development using HubSpot CMS Hub, including customization of

ManoByte's FindIt App

to develop a Store Locator website feature.
Everything followed the timeline above except the website build. Instead of taking until week 12, the build was completed by week 8 and launched early, much to Bargain Hunt's delight.
After launching with HubSpot's Microsoft Dynamics 365 Integration, Bargain Hunt was missing a few key functions and started manually importing the data. When ManoByte's team heard they were doing this, we immediately offered to build them a custom integration that would be a bit more robust to account for their specific needs.
This offer further delighted Bargain Hunt about their decision to migrate to HubSpot.
We continue a marketing strategy and implementation engagement with the Bargain Hunt team to optimize existing programs and to take to market new initiatives.
Before & After
Before their migration from Emma to HubSpot, Bargain Hunt's email marketing efforts were disconnected from other campaign efforts and reporting. After migrating onto HubSpot Marketing Hub Enterprise, their team could painlessly launch, analyze, tweak, and repeat their email marketing touch points based on clear data and buyer segmentation.
Before their website redesign onto HubSpot CMS, their digital storefront wasn't helpful to customers. Their store locator didn't work and the value proposition of Bargain Hunt's existence was unclear. Their new website solves for all of that.
With their new Brand Style Guide, Bargain Hunt looks like their ideal customer, too. Slide the arrows left and right on the following images to compare their original website pages to their new website pages.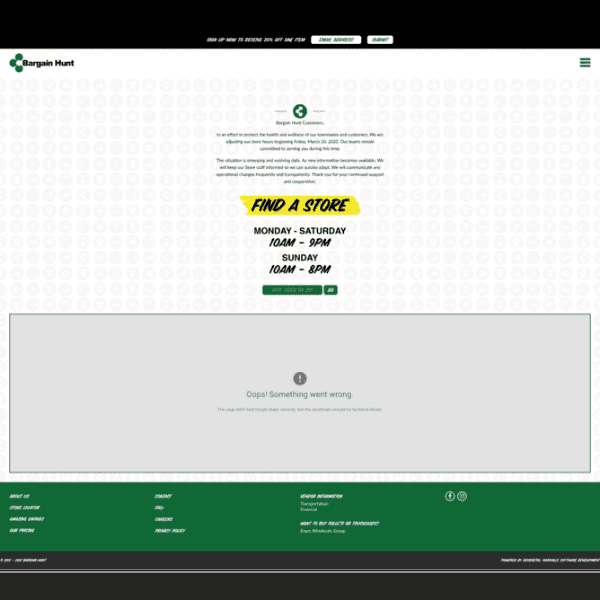 In Other's Words
"All I can say about the website is WOW, what a change. Really awesome work." - Elle Midey, Head of Corporate Sales, HubSpot

"The site looks awesome and it's so cool to see the progress you all have made in such a short period of time. Thanks for being a fantastic HubSpot partner throughout both the pre-sale process and continuing on now that Bargain Hunt is a customer!" - Roxanne McCool, Corporate Account Executive, HubSpot

"I've never questioned your team's ability to deliver, but I'm especially impressed with the speed here. I know how critical "time to value" is in the partner/client relationship and I've gotta imagine this has far exceeded BH's expectations." - Robert Barnes, Principal Growth Specialist, HubSpot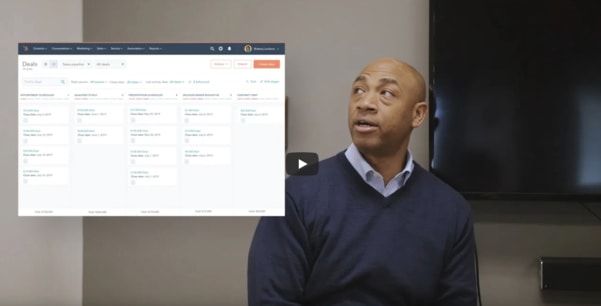 Will you recommend alternative marketing and sales software than HubSpot?
Do you help with "random" requests?
What is your "Quadruple Win" Philosophy?
Add to Your HubSpot Arsenal
Delightful HubSpot Implementation
We pride ourselves in making the sale that much easier for you, delivering on the plan at lightning speeds, and identifying additional ways customers can leverage HubSpot to scale their business. "Yes, and" is our go-to attitude because we have the will to find a way. If that's the kind of implementation partner you're looking for, contact us.
Contact
Get pricing and delivery timeline information to share with your prospect.