1. Campaign Tool
We use HubSpot to track all marketing and sales effectiveness, so the campaign tool is a MUST for calculating, analyzing, and adjusting campaign effectiveness. It works by tying all marketing efforts you're executing (emails, workflows, blogs, social media posts and ads, and much more) and provides data on how your efforts are working collectively. This can help you to see exactly which areas need changing or adjustments. The marketing campaign tool is located under the "Productivity" tab in the Marketing Dashboard.
Here's an example of one of our campaigns: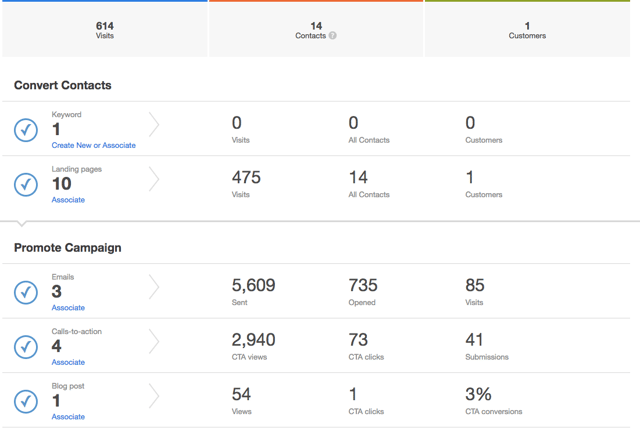 As you can see in the screen capture here, the campaign we ran for a "video marketing" keyword was executed on with the development of 10 landing pages, with four different call-to-actions and a blog post.
The efforts yielded over 614 site visits, 14 new contacts (these are leads we worked) and a new customer. This provides a more comprehensive view of how your efforts are working all together. We simply link every effort we do to an associated campaign name and this area pulls all the details together.
Sidenote: When people ask what makes marketing efforts like ours different, this is one of the key elements: data you can see and use to make adjustments. For example, when you look at this report, we know this campaign was effective, but our blog post CTA had a low conversion rate. That information can help us leverage different blog CTAs for the next campaign to see if another effort may be more effective. Additionally, this report shows us that our other supplemental CTAs outside of the one we used on the blog were effective in conversions, so we should perhaps change the blog CTA to more closely align with the other associated CTAs to increase our blog conversion rates. The headline and subheader tell us what you're offering, and the form header closes the deal. With these, you can explain why your offer is so great it's worth filling out a form for.
2. The Workflow Tool
Here's what the workflow tool looks like: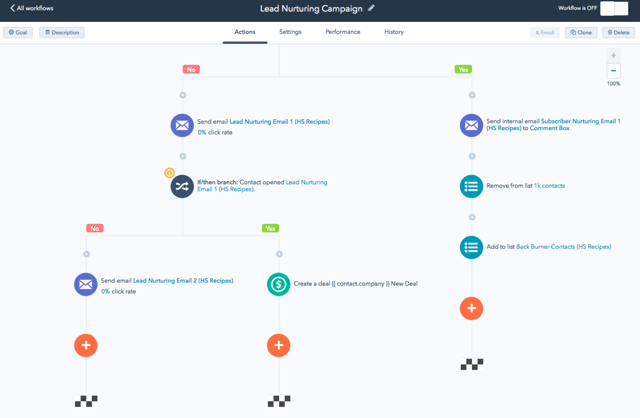 Let's say you want to create an email workflow that's based on the specific needs of your target persona. We would then use HubSpot's workflow tool to develop automated emails that are based on specific user activities and interests. For example, let's say you are targeting medical offices, and a physician downloads one of your eBook content offers. They can then be automatically enrolled in an email workflow with content that's written specifically for those physicians. Or, let's say your other persona is a hospital executive, and they download your free webinar. They are put into a series of different email workflows that are catered specifically for their interests. Then, the reports begin populating with interested leads who are engaging with the content created for their unique needs. This makes things easier when striking up a sales discussion. (Imagine your sales reps being able to customize their conversations: "I see you downloaded our eBook about maximizing efficiency at your hospital, I have a solution that can help you with that.") The Workflow tool can be found in the "Contacts" section of the Marketing Dashboard.
Want a guide to help craft perfect workflows? We've got step-by-step directions right here.
3. The Content Strategy Tool
Merely going after a few select keywords are going to be a thing of the past in the coming years. As voice search and Google searches become more advanced, it's going to become more about the precise terms being searched and the quality of the content that matters most. The HubSpot Content Strategy tool provides assistance that helps us to build out content around more advanced search terms, linking them all together to establish value so they perform more effectively in search results for SEO. It all starts with what's known as "pillar content" at the center of the strategy. That pillar content sits on one of your web pages and leverages a set of terms you want to rank on search engines for, you then build out supplemental content (HubSpot calls this "cluster content") around it with elements like blog posts that support the topic in the pillar. Doing these things establishes the pillar content as an authority, which helps it to rank higher on search engines like Google. Keep in mind, all of this content in your content strategy should be high-quality, informational elements people want to read.
Here's a hint: the content you are reading now is serving as pillar content for us, and throughout the text you will find links to our supplemental content "clusters" that are sitting on our main website's blog. Content strategy is found under the "Content" tab on the HubSpot Marketing Dashboard.
Here's what content strategy looks like in HubSpot: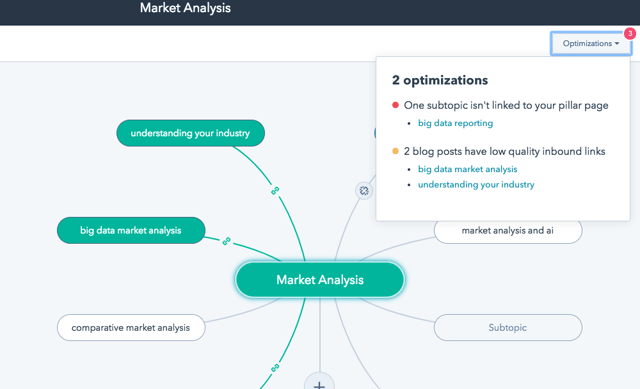 4. Reporting Tools
Effective marketing strategies in today's digital landscape require that data-driven decisions are at the forefront of your efforts. From things like website traffic to content and keyword strategies to lead creation processes and email performance, the "Reports" section should be one of your most visited areas of the marketing platform. For quick reference, the Dashboard area also provides a glimpse into the most important data, and it can be customized to your needs with whatever information is most important.